Q: What made you want to play football?
JB:I've wanted to play football my entire life. My dad, my grandfather and my uncle all played college football at the University of Arkansas, so I grew up an Arkansas boy. I'm always rooting for the Razorbacks and wanted to do what my dad and a number of members of my family did, which was play college football and hopefully professional football one day. Just growing up with my family and trying to live that legacy, that's what I wanted to do is play ball.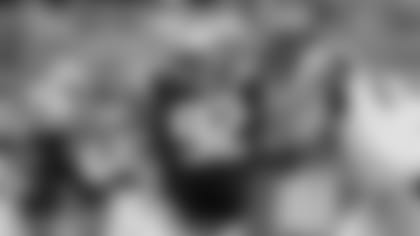 Q: What do you love about football?
JB:What I love about football is the physical nature of the game. It's a very passionate, sometimes violent sport which is a lot of fun. I mean, there are not many games like it where you can go out there and mix it up on the field and just play hard for 60 minutes. There's really no other game like it. The team nature of it is also very special. There are 11 guys on the field, and you're all working together for one common purpose.
Q: What makes football different from other sports?
JB:I think football is different from other sports mostly because of the physical nature of it. If you're out there on the golf course or the basketball court or the baseball diamond, you're not really worried about getting blindsided. But football's great because you get to run and hit and tackle guys, and just have a lot of fun. And also just the sheer size of the football field and the number of competitors on there at the same time. It's the ultimate team sport.
Q: What is your first memory of football?
JB:My first memory of football is going to Arkansas games as a kid. Arkansas plays two home games in Little Rock, which is my hometown, every season, and we'd go to the old War Memorial Stadium there and have hot dogs and watch the games. That's what I remember.
Q: Who pushed you into playing football in the beginning?
JB:I wouldn't say I was pushed by anyone. I played a number of sports before I even played football. I only started playing football in ninth grade in high school. I played basketball, baseball, golf, soccer, pretty much everything but football until ninth grade, and then my dad finally let me play because I was kind of skinny and small back then. So by the time I started lifting weights and getting ready to play, I was ready to go in ninth grade. I would say the encouragement of my family allowed me to start playing the game, and I played it well.
Q: Who is most influential in you making it to be a professional football player?
JB:I would definitely say my dad has been most influential to me. We have a very close relationship. He's been nothing but supportive of me from day one. He's pushed me in the right times and encouraged me in the right times, and came down on me in the right times, and that's all been very helpful. It's great now to spend time with him and talk about the game and talk about our other passions, and just enjoy that relationship.
Q: What is your favorite football memory?
JB:There's a bunch of them, but I'd have to say there are two: winning the Cotton Bowl my senior year at Arkansas was great – there in Dallas, surrounded by my family – and then getting drafted by the Patriots. That was a very special time, although it wasn't on the football field, just having my family there and getting that phone call from Coach Belichick and Mr. [Robert] Kraft. That was a very special moment.
Q: When did you realize it was possible to make this a career?
JB:My junior year of college I realized it was possible that I may play in the pros. I was a starter as a redshirt freshman and a sophomore, but then my junior season was really a breakout year for me. I had some really good numbers and we had a great team that year, and I finally started getting some attention from the coaching staff and the scouts in regards to my future. I had always been a hard worker, but that encouragement really propelled me to work even harder and make that a goal that I eventually achieved.
Q: Take us back to draft day. Where were you and what were you doing?
JB:On draft day, it was a Friday night, I was there at my house, in Little Rock, my parents' house. It was just a very small setting: it was my parents, my brothers and my grandparents, my mother's parents. We were just there, we had a nice family dinner. We weren't even watching the Draft, it was on the TV in another room, and we were just having a conversation. All of a sudden, my phone rang and I looked down and I answered it. It was the New England Patriots with pick 90 in the third round. That was just such a special moment for me and my family. Just to experience that and for them to be there was a very special moment that I'll remember forever.
Q: When you got that phone call, who were you most excited to meet when you walked into the locker room?
JB:I would say the people I was most excited to meet in the Patriots organization were Mr. Kraft and Coach Belichick, the two men that I talked to on the phone that night. I'd always been an admirer of theirs from afar and watching them and their success, but I was very excited to sit in a team meeting with Coach Belichick and listen to him coach and get a more personal understanding of that, and also watch Mr. Kraft's leadership around here, which is excellent, and just see how he's turned the Patriots into such a successful organization from an ownership standpoint. I was very excited to meet them, and I continue to enjoy learning from them.
Q: What was that like to walk into the locker room and realize you were going to play with guys you grew up watching?
JB:I remember the first time I walked into the locker room, you feel some butterflies, because you've watched some of these guys on TV and winning Super Bowls, and now you're here, you're a member of that team, that organization. It was very special, but I got over that very quickly because we got straight to work and started grinding out the weight workouts and the OTAs, and we didn't really have time to worry about the awe of being a Patriot. You're expected to work hard, and that's what we've been doing.