We sat down with running back LeGarrette Blount to talk about some of his earliest and most unforgettable football memories. Blount was acquired in a draft day trade with the Tampa Bay Buccaneers on April 27, 2013. He led all rookie running backs in rushing in 2010, posting 1,007 yards to become only the second undrafted rookie running back to have a 1,000-yard season in league history.
Q: Why do you love football?
LB:I love football because it grew on me as a young guy, as a kid. My dad played and my uncles played, everybody played. Every kid wants to be like his daddy obviously so I took it on from my dad. He coached all the teams that I played on, all the way to middle school and high school and from then on, it just kind of took off.
Q: What part of the game do you love most?
LB:The part of football that I love the most is winning. Nobody likes losing at all, no matter – it can be a card game, nobody likes losing. I obviously love winning.
Q: Did you always want to be a running back? Did you want to play quarterback or defense?
LB:I feel like everybody wanted to play quarterback as a kid. That was the position to play, that was the most popular position and that was the most popular person. As a kid, that was probably the best player on the team. I played a little quarterback when I was younger but it wasn't my strong point so I had to switch. My dad played linebacker so I played opposite him when I went to running back.
Q: Who influenced you the most?
LB:My mom and my dad were a really strong influence. They went to every single game, every single practice. They were there throughout the whole journey. They were both a huge influence in me being able to continue this and pick this as something I wanted to do.
Q: Who was your favorite player and who did you try to emulate as a kid?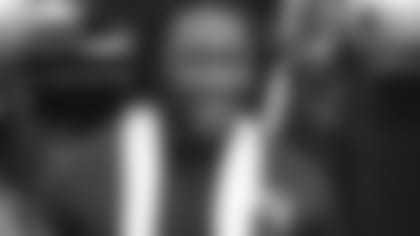 LB: **I don't know who my favorite player to watch and emulate was as a kid. I feel like back then, all I watched was cartoons. As I got older, eighth grade, high school, I started watching people on YouTube and NFL Network and they'd always show Barry Sanders and Walter Payton and guys like that. After that, that's when I started trying to be like those guys, like some of the greatest that ever played. I outgrew them by a little bit and I outweigh them by a little bit so now I have to become my own kind of back.
Q: When you were a kid, did you like to copy other people's moves or deliver the pain?
LB:When I was a kid, when I was playing, my first carry of flag football, I was just so used to playing tackle at the church right across the street, the first time I got it in flag football, I got it and put my head down and just tried to run through everybody and they just moved out of the way. I got on the sideline and my coach said, 'Hey LeGarrette, this is flag football, you can't be putting your head down, you can't run anybody over in this.' I don't know who I was emulating then. I just felt like that's how I learned how to play so that's how I was supposed to play. I still play that way today.
Q: What's your best football memory?
LB:My best football memory I would have to say is probably a game I rushed for 300 yards in high school. I rushed for 300-plus yards and like six touchdowns and we won. That was my best high school memory. It was a blast, it was real fun. That's still my best memory. Until I go win a Super Bowl, nothing is going to top it.
Q: When did you first realize you could do this as a profession?
LB:I realized I could do this as a profession after my first year at Oregon. I felt like I was going to be a real good player and make a huge impact at the college level. I felt like I could take my talents to a greater level and continue to get better and see what my potential was. After that, I felt like I could be a really good player in this league.
Q: Did you play any other sports?
LB:I played a lot of sports. I played football, I played basketball, baseball, ran track. I did all that but I feel like I was just always better at football so I just had to let some things go. [Football] was a lot more fun and a lot more exciting to me.
Q: What made football so exciting?
LB:Just knowing that I could go out there and make a huge impact. It was just an exciting atmosphere, just having all the fans out there. Everybody looking at you, paying attention to you, seeing what you're going to do and you going out there and impressing. You go out there and do something, do some crazy play or you have an impressive, 300-yard game or something like that, and it's just, 'Hey, I just did that.' And there's not that many people who could do what I just did.
Q: When you were doing well, did you ever have any celebrations?
LB:I've always let my actions do my talking. I wasn't one of the guys that was going to keep amping it up and amping it up and then I turn around and not do as well as I thought. So I just go out there and whenever I play as well as I can, that should let them know, I don't have to talk to you, you can see what I can do.
This article originally appeared in the October 27, 2013 edition of the New England Patriots GameDay magazine.