Foxborough, Mass. - The New England Patriots placed four players on the 2005 AFC Pro Bowl team announced Wednesday by the NFL.
The Patriots, second in the AFC with a 12-2 record, are sending quarterback Tom Brady, defensive tackle Richard Seymour, kicker Adam Vinatieri and special teams player Larry Izzo to represent the team in the Feb. 13th game in Honolulu, Hawaii.
It will be a repeat accomplishment for each of the Patriots voted into the Pro Bowl, as Brady (2001), Izzo (2000, 2002) Seymour (2002, 2003) and Vinatieri (2002) have all earned the trip at their respective positions. Three Patriots were named to the Pro Bowl last season, with six selections in 2002 and four in 2001.
"I humbly accept any accolades that I get at this level," said Seymour, who has two Pro Bowl appearances in his three NFL seasons. "It's an honor, first and foremost, to play in the National Football League, and then to be considered one of the best, it's always an honor. I'm definitely excited about it."
Said Vinatieri, "You never think about it but it's in the back of your mind. It's a great feeling and great honor but you try to think about Patriot football and this is just a fun perk if you have a good season."
For Seymour, who said it goes without saying the Pro Bowl is an individual goal of most players, this trip might be the most rewarding of his young career. The 25-year-old, who is making his third consecutive appearance and has twice been named AP All-Pro, lost his father last spring.
"Throughout everything, I think I've stayed focus on the task at hand," Seymour said. "When things are tough, that's when you have to pick up your play or focus even more. I think I've been able to do that. I think throughout my growth as a player, both mentally and also spiritually, I think I've grown in all those areas. I humbly accept any of the things that happen to me. But, if it didn't happen, at first you'd be a little disappointed but at the same time it's one of those things you can't control."
The Patriots most noticeably not on the list are safety Rodney Harrison, linebacker Tedy Bruschi and running back Corey Dillon. Harrison is having perhaps the best season of his career, leading the Patriots and ranking fifth in the NFL with 125 total tackles, the most of any defensive back. Harrison, who also has three sacks, two interceptions, three forced fumbles and eight passes defended, finished behind Baltimore's Ed Reed and Pittsburgh's Troy Polamalu at strong safety and Denver free safety John Lynch. Bruschi, who has 106 tackles, 3.5 sacks and two interceptions, fell behind Pittsburgh's James Farrior and Baltimore's Ray Lewis in voting for the two inside linebacker spots.
"It happens every year," Seymour said. "Some guys that should be in the Pro Bowl don't make it. [Harrison has] been one of those guys throughout his career. But what he brings to this football team, we need that. You look at our defense - I think definitely about guys like Harrison and Bruschi - [are] guys that more than deserve it but just don't go. I see the work that they put in. Just to get snubbed, that's a bad thing to happen. But at the same time I don't think it's something that takes away from their play."
Dillon, who has been named to three Pro Bowls in his career, is third in the AFC in rushing yards (1,430) and has a career-high 11 rushing touchdowns this season. He also set a career-high and shares the NFL lead with eight 100-yard rushing games this season, needs just six more yards to break his personal career high of 1,435 yards (set in 2000 with Cincinnati) and is closing in on Curtis Martin's franchise record (1,487 yards in 1995) with two games remaining.
"Rodney, Corey Dillon ... there's a handful of guys that had real good years that you sometimes wonder why [they don't make it]," said Vinatieri. "Not everybody that has a season that should qualify him gets picked but I'll take those guys on my team any day."
Voting for the Pro Bowl is done by fans, coaches and players, with each weighing in as one-third the total vote.
Here's a capsule look at the Patriots 2005 Pro Bowl players:
]()Tom Brady, QBPrevious Pro Bowl(s):** 2001
Has completed 245-of-412 passes for 3,202 yards, 24 touchdowns and 13 interceptions for a 90.3 quarterback rating this season. Tied for second in the AFC in touchdown passes.
Holds a 46-14 record in 60 consecutive starts, giving him the best winning percentage (.767) of any active quarterback in the NFL.
Completed 26-of-38 passes for a season-high 335 yards and three touchdowns in a season-opening win over the Colts.
Is 7-0 in overtime games and has an 18-2 record (4-1 this season) in games where the final margin was less than a touchdown.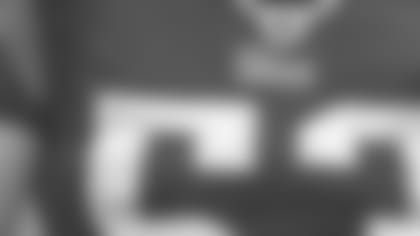 ]()Larry Izzo, LB** Previous Pro Bowl(s): 2000, 2002
Leads the Patriots with 26 special teams tackles for the fourth consecutive season.
Has led his team in special teams tackles in each of his last five seasons, dating back to 1999 with the Miami Dolphins.
Has been voted special teams captain of the Patriots in each of his four seasons with the team (2001-04).
Accumulated 194 career special teams tackles in nine-plus NFL seasons, tying for the NFL lead with 22 in 2001.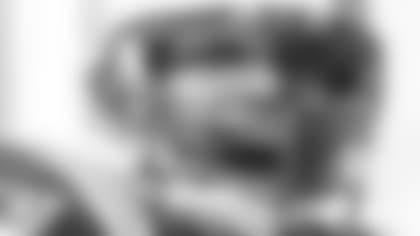 ]()Richard Seymour, DTPrevious Pro Bowl(s):** 2002, 2003
Leads Patriots defensive linemen with 64 total tackles according to coach's grading, is second on the Patriots with 5.0 sacks and also has one forced fumble.
Recorded a career-high 16 tackles, including eight solo, against Pittsburgh on Oct. 31.
Is starting at defensive tackle for the AFC for the third consecutive year, and is the first Patriots Pro Bowl defensive lineman since Julius Adams in 1980.
Had five tackles, a sack, and scored his first career touchdown on a 68-yard fumble return in a 31-17 win over Buffalo on Oct. 3.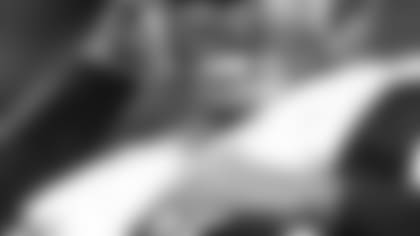 ]()Adam Vinatieri, KPrevious Pro Bowl(s):** 2002
Has made 28-of-29 field goal attempts this season and leads all NFL kickers with 127 points, tying a career-high he set in 1998.
Has eclipsed the 100-point mark in each of his nine seasons, joining Denver's Jason Elam as the only two kickers in NFL history to accomplish the feat.
Scored 17 points, including hitting all five of his field goal attempts, against Buffalo on Nov. 14 to join Gino Cappelletti as the only Patriots with 1,000 career points.
Was named the AFC Special Teams Player of the Month after a remarkable November in which he was a perfect 14-of-14 in field goal attempts and 10-for-10 in point-after-touchdowns for a total of 52 points, the most of any four-game stretch in his career.