With the lights of prime time shining brightly in Foxborough this past Thursday for the Patriots Week 3 tilt against the visiting Houston Texans, some of the town's high school football players and coaches got to enjoy the national spotlight at Gillette Stadium with some NFL legends.
As part of Thursday Night Football's pregame show on CBS and NFL Network, the Patriots invited Foxborough High head coach Jack Martinelli, assistant coaches Michael Bordieri and Jim McGowan and a dozen players to participate in an on-field demonstration with NFL greats-turned-analysts Deion Sanders and Bill Cowher.
After assigning each player a position, Sanders, a Pro Football Hall of Fame defensive back, worked with the defense while Cowher, a Super Bowl champion head coach with the Pittsburgh Steelers, instructed the offense. The Warriors played the roles of both the Patriots and Texans to assist the analysts in previewing critical aspects of the game.
"It was a great experience for the kids – a chance of a lifetime for them," said Martinelli. "Even though [Gillette Stadium] is in their own backyard, I think this was an extra special treat. I won't lie, I thought it was a great treat for the coaches as well."
After a practice run, the TV cameras rolled and the Warriors executed perfectly – wrapping up the segment in just one take and delighting Sanders and Cowher.
"One take! One take! That's how you do it," said a fired up Cowher. "I wish we could use this team every week."
Following the taping of the demonstration, which aired on NFL Network later that evening, the FHS players and coaches chatted with Cowher and Sanders before taking a group photo.
That experience had players smiling ear-to-ear with excitement.
"I got to line up with Deion Sanders; he basically covered me," said Foxborough wide receiver and captain Jamaine Few. "That's the best thing I ever experienced."
Warriors' quarterback and captain Mark Clagg was equally excited to work with Sanders.
"It was really surreal to meet Deion Sanders and coach Cowher," Clagg said. "Deion talking to me was probably my favorite part of the experience because he's probably one of my favorite football players of all time."
Foxborough captain Padraig Farmer enjoyed going over what to expect in the game with the analysts.
"It was pretty cool running through some of the scheme and going over what the game is going to be like," Farmer said. "That was a lot of fun."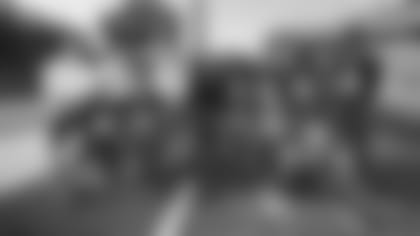 The team later connected with an old friend when Patriots Chairman and CEO Robert Kraft visited with the players following their national TV debut.
"Seeing Mr. Kraft again was pretty sweet," said Clagg, who recalled the Patriots owner attending one of their games last season. "He wished us luck for the rest of the season."
Mr. Kraft also provided the group with tickets to Thursday's game so they could stay and watch after filming the segment.
"We are certainly grateful for everything Mr. Kraft and the Patriots do for the town and especially the kids," Martinelli said. "The Kraft family has been terrific to us as a program over the years."
Farmer added the opportunity was "extra special" for the seniors.
"This is one of those things you get to have that will stay with you forever," Farmer said. "Not a lot of people get to have this experience and we are very fortunate and appreciative to get this opportunity. It was pretty great."
RELATED LINKS