The news of the day was the lack of tight end talent on the field for the Patriots as both Rob Gronkowski and Aaron Hernandez did not take part in the workout. Gronkowski had also been in sweats for Sunday's practice, but this was the first time Hernandez has missed time in camp. It could be argued that Hernandez has actually been the most impressive, consistent Patriots player on the team this summer.
Tom Brady was actually without what could be three of his top four potential 2012 targets on the day as Brandon Lloyd also did not practice.
Beyond the personnel update, here are one man's observations from the Gillette Stadium practice fields.
Those players not taking part in the Britt Davis (shoulder), Eric Kettani, Alfonzo Dennard (leg), Malcolm Williams, James Ihedigbo, Spencer Larsen, Dane Fletcher (knee), Tracy White, Markus Zusevics (pectoral/NFI), Matt Kopa, Kyle Hix, Sebastian Vollmer (back/PUP), Aaron Hernandez, Visanthe Shiancoe, Brandon Lloyd, Daniel Fells ( reported shoulder and leg/PUP), Rob Gronkowski, Jake Ballard (knee/PUP), Myron Pryor (shoulder/PUP), Gerard Warren and Jonathan Fanene. Logan Mankins was on the field in helmet and shells, serving his secondary mandatory day not wearing pads after being removed from PUP on Sunday. Guys seen wearing shorts observing the practice included Kettani, Dennard, Ihedigbo, Larsen Zusevics, Vollmer, Hernandez, Lloyd, Fells, Gronkowski and Pryor. Julian Edelman was examined by the training staff between the two fields late in practice. Edelman appeared to be experiencing something with his right hand/wrist area, as he removed his glove and kept shaking the hand out. But he returned to his teammates for the conclusion of practice. After the practice ESPNBoston.com reported that Davis had been released with an injury settlement after hurting his shoulder in the preseason opener.
During special teams drills the focus was on some plus-50 punting. Gunners such as Matthew Slater and Sterling "Silver" Moore running behind the returners near the goal line to try to keep the ball out of the end zone. To save the gunners' legs the players started near the returners rather than running the full 40 or 50 yards down the field.
Couple fashion updates to get out of the way. Matt Patricia wore white socks pulled up to his knees. Both Jermaine Cunningham and Derrick Martin wore red cleats with red socks pull up above the calf. The look makes them easy to spot on the field and gives they the appearance that they're moving faster than they are.
Ryan Mallett seemed to get more reps during the workout, followoign up Brady in many portions of practice. He worked alongside Brady with the wide receivers and defensive backs going one-on-one early in practice while Brian Hoyer worked handoffs with the running backs.
During portions of practice with a nickel defense Cunningham lined up at left defnsibve end, Ron Brace and Brandon Deaderick got some reps at tackle with Rob Ninkovich at right end. Dont'a Hightower and Jerod Mayo were at linebacker with the customary secondary of Devin McCourty, Patrick Chung, Steve Gregory, Kyle Arrington and Ras-I Dowling. Later a nickel group included the same secondary but Brandon Spikes a linebacker and a line from left to right of Ninkovich, Wilfork, Brace and Chandler Jones.
Often coaches or ball boys throw blocking pads at or around the feet of the quarterbacks in some drills to simulate the pass rush and traffic at their feet. Until Monday I'd never seen a quarterback throw the bag back, but that's exactly what Mallett did. He seemed irked when a bag hit him squarely in the midsection as he was about to throw. After releasing the ball he picked up the bag and threw it right back where it came from.
Possibly celebrating National Left Handers' Day together, punter Zoltan Mesko and scouting assistant Chris Simms played catch early in practice. Both throw left handed.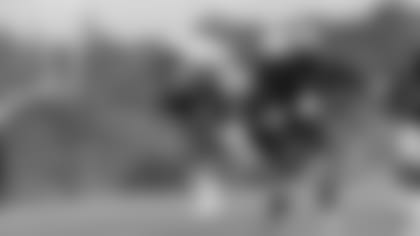 We've seen more two-back sets this summer than in quite some time. That's included traditional I sets with a fullback. But it's also been with some split backs. Once such group on Monday had Shane Vereen and Brandon Bolden in the backfield to each side.
Bolden struggled to catch the ball a bit in practice, having a number of drops. The undrafted rookie still shows some spark running the ball, but may have plateaued a little bit after opening some eyes quite a bit early in camp.
Could have used the officials back on the practice field to get after receivers for pushing off. A number of pass catchers seemed to push off to gain the advantage and make the reception on the afternoon.
The offensive line working with left tackle Nate Solder included left guard Donald Thomas, center Dan Koppen, right guard Dan Connolly and right tackle Marcus Cannon. Another group had Darrion Weems at left tackle, Derek Dennis at left guard, Ryan Wendell at center, Jeremiah Warren at right guard and Kyle Hill at right tackle. Nick McDonald took reps at right guard, after having seen some time at tackle in recent days.
There was a lot of down-and-distance and situational work throughout the practice. Much of it included the units on both sides of the ball working against a scout team running plays off cards. There was some ones-vs-ones team work and red zone action later in the practice.
Alex Silvestro continues to make the transition from defensive end to tight end. He even looked the part quite nicely on one big play when he caught a pass deep down the right seem from Brady. The quarterback seemed to wait for Silvestro to return to the huddle to celebrate the play with him. It's not every day that a "defensive end" makes a nice catch from a Hall of Fame passer.
With no fullbacks active for the practice, Tyler Urban played a lot of fullback for the scout offense at one point. The undrafted tight end also wore a beanie on his head, seemingly to indicate that he was indeed working as a fullback and not a tight end. But that's just my speculation from afar.
Mayo came on a blitz on one play against a scout offense running off cards. He hit running back Stevan Ridley so hard that he knocked the second-year back off his feet. Bet the little card didn't tell Ridley that an All-Pro linebacker would be coming that fast and with that much power. That little X on the card didn't look that daunting.
Ridley and Hoyer had to run a penalty lap after mishandling a handoff.
There was a lot of punt work on the day. Mesko seemed to be working on a lot of directional stuff and situational stuff, leading to some shorter kicks than we've been seeing. During the punt work Marquice Cole, Moore, Josh Barrett and Slater worked as gunners.
During the punt work, Donte' Stallworth was on the opposite field with the quarterbacks. He worked on getting off the line in the red zone for some back-shoulder throws in the left front corner of the end zone. Josh McDaniels served as the defensive back, bumping and fighting Stallworth at the line of scrimmage.
For the first time in camp we saw the media's favorite drill – the quarterbacks trying to throw the ball into a garbage barrel from about 40 yards away. The barrel was positioned on the goal line on the left hash. Each passer took only a couple tosses, with Brady hitting the barrel on the bounce once. McDaniels – a former college quarterback at John Carroll who was converted to wide receiver so that current Patriots director of player personnel Nick Caserio could play quarterback – missed badly on one attempt but then also hit the barrel on the bounce. To be fair McDaniels made his throws from about 5-10 yards closer than Brady, Hoyer and Mallett did.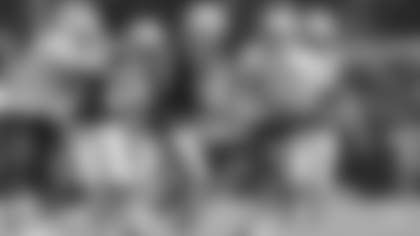 The ball carriers had the bulk of the success in the usual open field tackling drill. Surprisingly Hightower whiffed a couple times, first against Wes Welker.
Jake Bequette beat Solder in one rep during one-on-one pass rush drills. Jones also had another solid day getting to the cone – ie the quarterback.
Nate Ebner — the former rugby player and walk-on special teamer at Ohio State – seemed to get one rep at safety with the top defensive unit in the red zone at one point. Not sure how or why that rep came about.
Mallett had a bad throw right to Ebner for an interception in team action.
Jeremy Ebert had a punt bounce off his chest in scout punt return action.
Danny Aiken had one really bad snap in one of the many punt reps, throwing a ground ball back toward Mesko.
Jones batted a Brady pass intended for a crossing receiver in red zone team action. Jones – who has a basketball player-like wingspan — has shown a knack for batting down passes in camp action, making it almost a daily occurrence.
Ridley hauled a TD pass from Brady in the front right part of the end zone, easily leaving Hightower in his dust for the score.
Players talking to the media after practice included Jones, Deion Branch, Ebert, Will Allen, Tavon Wilson, Mallett, Wendell and others.
The team returns to the field on Tuesday for another afternoon session from 1:30 to 4 pm.