As Bill Belichick predicated in his early afternoon press conference, the workout included plenty of situational work. That saw both units for New England working against their counterparts running plays off cards. The team worked on such things as hurry-up, down-and-distance and red area.
It certainly wasn't the most crisp, clean, energetic session of the summer. Lackluster may be the best way to describe the practice. That included Tom Brady who was very inconsistent with his accuracy, causing him to yell out a couple vulgarities after missed opportunities.
Here are one man's observations fresh from the practice field:
Thirteen players did not take part in the practice: Alfonzo Dennard, Spencer Larsen, Tracy White, Markus Zusevics (pectoral/PUP), Matt Kopa, Logan Mankins (knee/PUP), Sebastian Vollmer (back/PUP), Visanthe Shiancoe, Daniel Fells (shoulder/PUP), Jake Ballard (knee/PUP), Myron Pryor (shoulder/PUP), Ron Brace and Jonathan Fanene.
This is the first time that Brace has missed time with an unknown injury. Not a great sign for a guy who'd made some waves early in camp might be fighting for a roster spot.
Matthew Slater (white) and James Ihedigbo (blue) finally got out of the red non-contact jerseys and donned the colors of their respective units.
Jeremy Ebert was on the field for the first time, apparently removed from PUP. He was in helmet and shoulder pads, but not practicing as he has to go through the mandatory non-contact period to open camp. * As has been the case seemingly every day, a few players did not finish the workout. Most notable was Kyle Love, who seemed to get poked in the eye by Dan Koppen in a one-on-one drill. Love stayed down on the field for a few minutes while being looked at by trainers, moved to the sidelines between the fields and then eventually walked off with a towel over his head, accompanied by New England Director of Rehabilitation Joe Van Allen.
Tackle Darrion Weems also limped of the field and back into Gillette Stadium with a member of the medical staff. Weems seemed to be dealing with some sort of leg injury.
Tackle Kyle Hix missed the last few reps of practice with what appeared to be an upper body issue. During the last team drills of practice Hix was on the sideline trainer Jim Whalen. Belichick came over to check on the player and chatted with Hix and Whalen for a few minutes. * With Robert Gallery having retired, all the injured players and the guys going down during the workout the depth of the offensive line is really being challenged on a daily basis. Sunday that necessitated Dan Connolly – who has started at both guard and center in New England – to take some reps at right tackle with the second unit. * During one group session early in practice the quarterbacks threw to the tight ends and wide receivers while the running backs were in another area working with Ivan Fears. With no backs to run out of the backfield, backup quarterback Ryan Mallett actually lined up and ran the routes to give his veteran passing teammates a full look. * The team worked on a somewhat stouter version of the 4-3 front that saw Brandon Deaderick taking reps at the left defensive end spot that has primarily belonged to Rob Ninkovich to open the summer. The rest of the line consisted of Love, Wilfork and Chandler Jones. The front was working to the strength of the offense, so Jones and Deaderick actually saw reps at both end spots.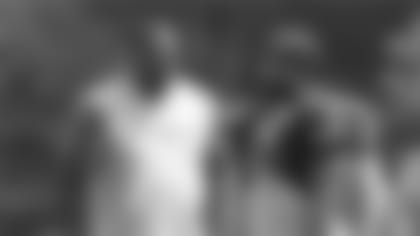 Another day of seeing the three linebackers in the SEC D – Brandon Spikes in the middle, Jerod Mayo at Will and Dont'a Hightower at Sam.
Always a possibility to knock someone on his butt, Spikes shot and inside gap on a run play in team action. He put a shoulder on Dan Koppen and knocked the veteran center right on his can. It's not just ball carriers that have to be on their toes with Spikes around, he knocks plenty of lineman to the turf as well. He's clearly at his best when his moving forward at the line of scrimmage.
Ras-I Dowling made a nice interception on a deep ball down the left sideline as Brian Hoyer tried to his Matthew Slater. Will Allen was also helping out in coverage on the play. Hoyer's throw seemed to be a bit late and also got hung up in the air.
Kickoff return was the focus of special teams action on Sunday. Danny Woodhead and Shane Vereen made the first duo of returners, followed by Julian Edelman/Slater and Stevan Ridley/Donte' Stallworth.
Donald Thomas spent another practice working at left guard next to Nate Solder. That line consisted, from left to right, of Solder, Thomas, Koppen, Connolly and Marcus Cannon. They were followed by a group that included Weems at left tackle, Jeremiah Warren at left guard, Ryan Wendell at center, Dustin Waldron at right guard and Hix at right tackle. The recently added Waldron was knocked back badly and onto his butt on one snap.
During a goal line segment for the offense Ridley followed the blocks of Eric Kettani for a pair of touchdown runs off tackle.
Fullback is another position that's been depleted. Larsen continues to be absent with an unknown injury. Tony Fiammetta was placed on the reserve/left squad list as he deals with what Belichick described as a "personal" issue. The team signed Kareem Huggins on Saturday, but subsequently released him Sunday morning as he wasn't ready to get on the field.
When the defense went against the offense running plays off scout cards the front four consisted of Ninkovich, Love, Wilfork and Jones. They were backed up by the SEC D of Mayo, Spikes and Hightower. The first guys off the sideline to sub in were Deaderick at defensive tackle, Cunningham at end and Tavon Wilson swapping in for Steve Gregory at free safety.
Wilson continues to have a solid rookie training camp as a surprise second-round pick. He's getting more reps by the day and doesn't seem to be having any trouble keeping up with the defensive schemes and coverages that have been thrown his way. I haven't seen him make a lot of plays, but I haven't seen him give up too many either.
On the flip side of that Trevor Scott seems to be falling off the map. He was getting regular reps with the top unit to open camp and now seems to be a forgotten man. He hasn't done anything positive to stand out early in camp. The newcomer is clearly in a battle for a job and a roster spot.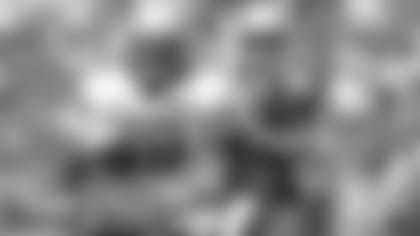 Sunday's open field tackling drill was "live," meaning defenders could bring the ball carrier all the way to the ground by just about any means necessary. Mayo just got Aaron Hernandez to the turf by wrapping up the tight end's ankles as he was about to get by him. Bobby Carpenter whiffed on Vereen. Maybe the biggest stunner came when Hernandez broke Hightower off at the knees and got by the rookie with ease. Julian Edelman had just about as easy a time making Josh Barrett look silly with a fake. Carpenter whiffed again later on Brandon Bolden.
Beyond getting blown up in team action, Waldron had to take a lap for a false start in one-on-one drills with the defensive linemen. Deaderick had to take a lap later in the same drill.
Much has been made of the Solder vs. Jones matchups in one-on-one pass rush drills during camp. They went at it again on Sunday. One rep in particular they seemed to fight for a draw. Jones tried to bull rush Solder and did push him back and bend him over some. But Solder was able to hold his own to some degree. Solder clearly needs to continue to get stronger, as those power moves could be a problem for him. On the other side, Jones continues to show that he has a variety of skills to turn to for his pass rush moves. Both guys are going to be fun to watch develop on the edge of their respective fronts. And if everything goes as the front office plans/hopes, the consecutive first-round picks might someday have similar practice field wars on a practice field in Hawaii in February.
With Love not available for the latter part of practice, Deaderick lined up alongside Wilfork at defensive tackle.
Thomas took a false start lap in team action that really seemed to draw the ire of Brady. As Thomas took the lap, the undrafted rookie Warren filled in at guard.
Brandon Lloyd then also took a lap for a false start lined up wide to the right.
Things got a little sloppy late, as the defense was called for having 12 men on the field. Belichick did not seem happy.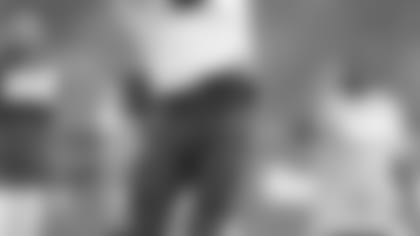 Bolden continues to show impressive hands, making a nice jumping, twisting adjustment for a catch come out of the backfield to the right late in practice.
Matt Patricia had black socks pulled up to his knees.
At one point late in practice Rob Gronkowski did planks behind the offense. Guess you gotta keep those Abs in shape if you are going to appear naked on magazine covers.
Aaron Lavarias did a number of sprints by himself after practice. Thought still listed as a defensive lineman on the roster, the second-year undrafted player has been doing more work as a linebacker this summer.
Deion Branch did extra work with wide receivers coach Chad O'Shea after practice.
Brady met with the media after practice, as did the likes of Hoyer, Stallworth, Solder and Arrington.
The Patriots will switch things up and practice at 9 a.m. on Monday morning at Gillette. The practice is open to the public.