One of the stories of the day was Brandon Spikes getting into the action. Spikes opened up camp on PUP, was activated shortly thereafter but had not really done much the first four days of practice, and had yet to do any team work.
In his pre-practice press conference Bill Belichick was asked if Spikes had any physical limitations at this point. Foreshadowing No. 55's active afternoon, Belichick said Spikes was doing what he could do, but that that changes for every player every day.
When practice rolled around Spikes took part in drills, group drills and then team action. He was very physical and active throughout the session, including throwing his body around in team red zone work. He was playing with his usual instinctive, physical style. The only downside is that he did appear to be walking with a bit of a limp as he walked off after some team reps. That's worth watching in coming days as Spikes comes back from an offseason knee procedure.
Beyond the action for Spikes, here are one man's observations from the beautiful green grass practice fields behind Gillette Stadium:
Fifteen players did not take part in the practice, including new absentees Tony Fiammetta, Jamey Richard and Visanthe Shiancoe.
Those players continuing to be out of action were Alfonzo Dennard (leg), Nate Ebner, Brian Waters (resrve/did not report), Tracy White, Nick McDonald (PUP), Markus Zusevics (Pectoral/NFI), Logan Mankins (knee/PUP), Sebastian Vollmer (back/PUP), Jeremy Ebert (leg/PUP), Daniel Fells (PUP), Jake Ballard (knee/PUP) and Myron Pryor (shoulder/PUP).
James Ihedigbo and Matthew Slater continue to wear red non-contact jerseys. * Former Patriots linebacker Matt Chatham watched the practice with his young son. * Former Giants linebacker Carl Banks was in on the practice fields. Banks wore a Patriots t-shirt and team shorts, and seemed to have a script of the practice. Afterwards, lienbacker Bobby Carpenter said that Banks in going to be in Foxborough for a couple days helping out. Banks not only played for Bill Belichick's defense in New York, but also played alongside New England linebackers coach Pepper Johnson. Carpenter's father, Rob, also played for the Giants in the 1980s. * I try not to fall into the trap of saying that a player "looks" heavier, bigger, lighter, faster, etc. But it does appear that Vince Wilfork dropped some pounds this offseason and that his midsection is smaller than it has been previously in his career in New England. * During early positional drills Josh McDaniels had the quarterbacks working on taking hits in the pocket and stepping up through the contact to make throws. McDaniels and ball boys either hit the QBs with pads or threw then at them. * The wide receivers also worked with pads, catching a pass and then turning up field to split two ball boys who hit them with pads.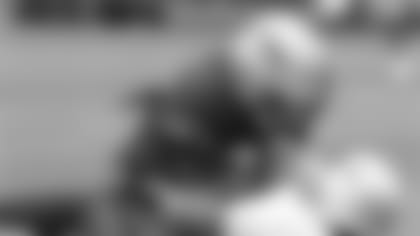 During position drills the receivers also worked on make toe-tapping touches. The first came in the back of the end zone with a ball boy waving a tennis racquet in front as a distraction. Later, they worked on catching balls in the front right corner of the end zone. There were varying degrees of success. Brandon Lloyd made a spectacular catch in the drill, although it clearly would have been checked closely on replay in a game situation.
The wide receivers and running backs then did some one-on-one battles. Wes Welker beat Kyle Arrington twice pretty easily. Arrington looks like he'll be playing in the slot a lot this year, and covering Welker is clearly the measuring stick at that position. Ras-I Dowling got pretty physical with Lloyd, who wasn't able to make the catch. Devin McCourty did a nice job against Britt Davis, but then allowed a score to Donte' Stallworth. Later Lloyd beat Dowling to make a nice catch in the back left corner for the score.
Speaking of Dowling, I'm still not solid that he has the fluid hips and quickness to be a good cover corner. He's still a work in progress and the fact that he's healthy and on the field is a big plus. But I still want to see more in terms of his coverage ability, especially against quicker receivers. I'm sure the idea/hope is to match him up against big, physical targets but it doesn't ways play out that way on the field.
During one portion of group drills, Tom Brady worked on inside handoffs out of the shot gun with the running backs. That's something he and the backs will probably do a lot of this season, as a staple in the New England attack in recent years.
The tight ends went one-on-two against safeties/corners in group work. Not surprisingly, Rob Gronkowski and Aaron Hernandez had great success. Gronkowski bounced back from Sunday's drops and poor showing for a typical Gronk day. He caught everything thrown his way and dominated the safeties. He was so wide open at one point that a defensive coach seemed to yell on the field that they'd forgotten to cover the tight end.
During kickoff return reps Danny Woodhead was alongside Shane Vereen, Julian Edelman was up next with Matthew Slater.
One thing I've noticed with the kickoff return is Nate Solder working as the middle blocker right in front of the returners. I know Belichick doesn't worry about injuries, but I'm not sure I like the team's only real option at left tackle playing that spot on special teams. Dan Connolly also takes reps at that spot.
It's interesting that both Stallworth and Deion Branch have taken reps at kickoff and punt returner, respectively. I haven't seen Jabar Gaffney do any returning. If there is a battle between the veteran trio of receivers I wonder if the possibility of contributing as a returner might help Branch and Stallworth.
The offensive linemen went one-on-one with defensive linemen in some full-contact group work. Though it was tough to see the action behind a wall of players, Chandler Jones seemed to get the best of Solder yet again. Jermaine Cunningham had a nice inside spin move to beat Matt Kopa. Jones also beat Kyle Hix on an inside move. Showing up for the offense was newcomer Darrion Weems, who threw Jake Bequette to the ground with ease. Solder and Jones battled to a draw on another rep.
The defense got some nickel team work, with a front line that consistent of Trevor Scott, Kyle Love, Vince Wilfork and Jones with Carpenter and Jerod Mayo at linebacker.
The running backs had sort of a tough day as a group. Brandon Bolden had a fumble that was recovered by Ihedigbo. Bolden had a to carry a football on his subsequent penalty lap. Vereen had a bad drop on a short outlet pass, seeming to turn his head up field to run before he actually caught the ball. Bolden and Stevan Ridley also had drops.
Aaron Lavarias made a nice break on a Ryan Mallett throw intended for Salter. Lavarias deflected the ball in the air where it was intercepted by Ross Ventrone.
Edelman fumbled the ball at the end of his rep as a ball carrier in open field tackling.
Fashion update: Defensive coordinator Matt Patricia wore black socks pulled up to his knees on Tuesday. This is a more traditional look than the gray socks he'd been sporting the last couple practices.
Branch didn't seem to do much on Tuesday. The veteran didn't appear to take any reps in group or team work. He was on the field in full pads, but mostly held his helmet and watched the offense from behind the action.
With Spikes finally getting onto the field, what I like to call New England's SEC D was in full effect. The linebacker group of Spikes, May and first-round pick Dont'a Hightower displays three big, athletic potential playmakers from the top conference in college football. That is certainly a very intriguing look. They were flying around and hitting people in the short time they worked together on Tuesday.
Brandon Deaderick has been getting some tackle reps in 4-3 looks, subbing in for Wilfork alongside Love. He appears to be next in line at that spot so far in camp.
Tim Bulman, a Massachusetts native and NFL veteran, has been working at defensive end. The 280-pounder has also played tackle in his career. He was not only playing end today, but was lining up on two-feet as an edge rusher for some of those reps. This surprised me, as I envisioned him as more of an inside guy.
Bolden continues to bounce runs to the outside with regularity. He paid for it on one rep in team action when the defense strung it out and he was stopped for a loss on the right side. Later, though, he bounced outside to the left in the red zone and got to the pylon for the score.
Tyler Urban had another nice day. The undrafted tight end caught the ball well, including in traffic. With all the injured veteran players at his position, he seems to be making the most of his reps.
During goal line action the front line, from left to right, consisted of Scott, Ron Brace, Wilfork, Love, Deaderick and Jones. Mayo, Spikes and Hightower and Patrick Chung and McCourty in the secondary.
For the second straight practice Rob Ninkovich was on the field in full pads but didn't seem to get a lot of reps. The defensive end was running with his group for conditioning at the end, as was the case on Sunday. Not sure if he might be dealing with something.
Always a fun rookie tradition, being injured didn't get Dennard out of carrying in the pads for some veteran teammates.
After practice Brady ran sprints off to the side by himself, seemingly holding a stopwatch to time each rep.
The Patriots will practice Wednesday evening at 6:30 on the game field inside Gillette Stadium. The special season ticket holder practice is open only to those with a ticket. Bill Belichick is expected to do his daily press conference at 5.