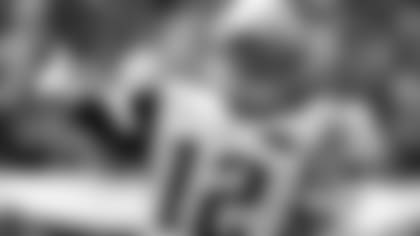 BRADY HAS SECOND BEST RECORD FOR MOST PASSING THROUGH FIRST FOUR GAMES**
Brady has 1,553 through the first four games of the season, which is the second best ever in NFL history.
MOST PASSING THROUGH A TEAMS FIRST FOUR GAMES OF THE YEAR
Player    ------ Completions
Kurt Warner - 1,557 (2000)
Tom Brady - 1,553 (2011)
Kyle Orton - 1,419 (2010)
Drew Bledsoe - 1,417 (1994)
Drew Brees - 1,410 (2011)
Steve Young - 1,382 (1998)
Dan Marino - 1,370 (1994)
Peyton Manning - 1,365 (2010)
BRADY PASSES HIS CHILDHOOD IDOL JOE MONTANA FOR MOST TOUCHDOWS
Tom Brady threw two touchdowns against Oakland to move past Joe Montana (273) on the NFL's All-Time list. Brady is now in 9th place with 274. Johhny Unitas is 7th with 290 touchdown passes. Brady also now has 114 career wins, three behind Montana.
BRADY ON A GOOD PACE
Tom Brady is on pace to finish the season with 6,212 passing yards. Only two NFL players have thrown for 5,000 or more yards in a season with Dan Marino's NFL record 5,084 in 1984 and Drew Brees' 5,069 in 2008.The most yards Brady has ever thrown in a season is 4,806 in 2007.
BRADY ON A GOOD PACE PART 2
Brady has 13 touchdown passes through four games and is on pace for 52 touchdown passes. Brady has led the league in touchdowns passes three times in his career and can tie Len Dawson, Brett Favre , Johnny Unitas and Steve Young (4) for the most seasons leading the league in touchdown passes.
Last season, Brady led the NFL with 36 touchdowns. He also led the NFL with a record 50 touchdowns in 2007 and 28 touchdowns in 2002.
BRADY HAS 13th STRAIGHT GAME WITH TWO OR MORE TDS DATING BACK TO 2010
With two touchdown passes against the Oakland, Brady had his 13th straight regular-season game with two or more touchdown passes to tie the NFL record with Peyton Manning (2004). The Patriots are 73-13 when Brady throws for two or more touchdowns in a game.
12 STRAIGHT GAMES WITH 2 TD PASSES
13 Tom Brady, 2010-11
13 Peyton Manning, 2004
12 Johnny Unitas, 1959
12 Don Meredith, 1965-66
12 Dan Marino, 1986-87
12 Brett Favre, 1994-95
CONSECUTIVE GAMES WITH AT LEAST ONE TOUCHDOWN PASS CONTINUES FOR BRADY
Brady has now thrown at least one touchdown pass in 20 straight regular season games to set a team mark. Brady's current streak started when he threw a touchdown pass in all 16 games in 2010 and all four games in 2011. The old record was 19 games set by Brady.
GREEN-ELLIS RECORDS 21st CAREER RUSHING TOUCHDOWN
RB BenJarvus Green-Ellis scored on a 1-yard touchdown run in the second quarter for his 21st touchdown run. He is now tied with Laurence Maroney and Antowain Smith for eighth place in franchise history with 21. Since the beginning of the 2010 season, Green-Ellis has 16 touchdown runs. Green-Ellis's total of 16 touchdowns since the beginning of 2010 rank second in the NFL to Houston's Arian Foster.
CHUNG'S FIRST INTERCEPTION OCCURS IN END ZONE TO END OAKLAND DRIVE
S Patrick Chung intercepted his first pass of the season when he picked off Oakland QB Jason Campbell in the end zone after Oakland reached the New England 6-yard line to preserve a 14-10 Patriots lead late in the first half.
WILFORK RECORDS SECOND INTERCEPTION OF THE SEASON
Vince Wilfork intercepted his second pass of the year after picking of Jason Campbell in the fourth quarter and returning the ball 19 yards. He recorded his first career interception in the win vs. San Diego (9/18).
WELKER ON A GOOD PACE
Welker has had six or more receptions in all four games so far in 2011 after finishing with 9 against Oakland. He had 8 at Miami, 7 vs. San Diego and 16 at Buffalo. His 2011 total is now 40 receptions. He is on pace for 160 receptions. Welker needs 100 receptions in 2011 to become the third player in NFL history with four 100-catch seasons. Welker can join Marvin Harrison and Jerry Rice as the only players with four 100-reception seasons. In 2009, Welker finished with a career-high 123 receptions. The 123 receptions are a Patriots record and match Herman Moore (Detroit in 1995) for the second most receptions in a single season in NFL history, behind Marvin Harrison's NFL record of 143 receptions with Indianapolis in 2002.
WELKER ON PACE TO SET THE NFL RACORD IN RECEIVING YARDS
Welker added 158 receiving yards and now has 616 receiving yards and is on pace 2,464 yards.The NFL record for most yards gained in a season is 1,848 by Jerry Rice in 1995. The Patriots team record is 1,493 yards by Randy Moss in 2007. Welker's career-high is 1,348 yards in 2009.
WELKER HAS 18TH 100-YARD RECEIVING GAME
Wes Welker registered his 18th NFL 100-yard receiving game and his third of the season after finishing with 158 receiving yards. He had 8 receptions for 160 yards at Miami (9/12) in the 2011 season opener and 16 receptions for 217 yards at Buffalo (9/25).
WELKER MOVING UP ON PATRIOTS ALL-TIME TOUCHDOWN LIST
Welker's 15-yard touchdown reception in the first quarter was his fifth of the 2011 season and the 27th of his Patriots career. He moved past Larry Garron (26) into 9th place on the Patriots all-time list. After just four games, Welker is closing in on his career-high in touchdowns. He had a career-best of 8 touchdowns in 2007.
WELKER IS STREAKING
Wes Welker extended his streak to 65 straight regular-season games with at least one reception as a member of the Patriots to set a franchise record for most consecutive games with at least one reception. Welker has an overall streak of 82 straight regular-season games with at least one reception, including his time with the Miami Dolphins. Welker has caught at least one pass in each of his 69 games with the Patriots, including four postseason games. The last time that Welker did not catch a pass in a game was December 24, 2005 when he was with Miami.
WELKER BECOMES SIXTH PATRIOTS PLAYER TO REACH 5,000 YARDS RECEIVING
Welker entered the game with 4,994 yards and added 158 to become the sixth Patriots player to reach 5,000 yards with 5,152 yards. He is now in fifth place on the Patriots all-time receiving list with ???? yards after passing Jim Colclough (5,001). Welker is  behind Stanley Morgan 10,352, Troy Brown (6366), Irving Fryar 5,726 and Ben Coates 5,471.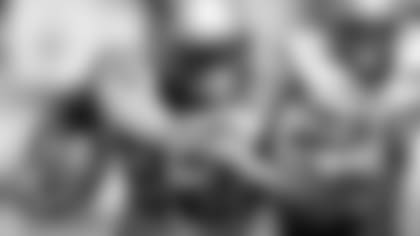 RIDLEY SCORES HIS FIRST NFL TOUCHDOWN**
RB Stevan Ridley scored his first NFL touchdown on a 33-yard touchdown run in the third quarter. Ridley finished the game with 10 carries for 97 yards.
12 STRAIGHT GAMES WITH 30 POINTS RANKS SECOND IN NFL HISTORY
The Patriots scored 31 points for their 12th straight game with 30 or more points. The Patriots' current streak of 12 straight games with 30 or more points is second in NFL history to the 14 straight games by the St. Louis Rams (1999-2000).
PATRIOTS SCORE ON FIRST DRIVE FOR THE FOURTH STRAIGHT GAME
The Patriots scored on their first drive of the game when Tom Brady culminated a 9-play, 80-yard drive with a 15-yard touchdown pass to Wes Welker. The Patriots have scored a touchdown on their first drive of the game in all four games so far in 2011.