WEEK 9 · Tue 12/05 · 1:00 PM EST
Commanders
Washington Commanders
AT
Patriots
New England Patriots
The New England Patriots will return to Gillette Stadium this week to face their third
NFC East team of the season when they host the Washington Commanders. The Patriots hosted Philadelphia and traveled to Dallas earlier this year and will face the New York Giants at MetLife Stadium on Nov. 26.
Washington is one of 10 teams that New England is undefeated against at home at Gillette Stadium in regular season play with a 2-0 record. The Patriots enter this week with four straight wins against Washington.
SCOUTING THE MATCHUPS
When the Patriots run - Edge: Patriots
The Patriots running game failed to build off the slight momentum it had gained in the win over Buffalo and once again was quite limited in Miami. While Rhamondre Stevenson ran with power and conviction, he and Ezekiel Elliott did not get much room to operate in South Florida. The pair combined for just 77 yards on 19 carries, and that total included a 17-yard run by Elliott in the second half when New England trailed by 14. Otherwise there weren't many holes created, and even though Stevenson broke many tackles and picked up plenty of extra yards after contact the production simply wasn't there. But the Patriots should get a chance to rectify that this week against a Commanders defense that has struggled in all areas this season. Washington allows 117.4 yards per game on the ground and 4.2 yards per rush, both numbers ranking 21st in the league. Based on personnel those numbers seem out of whack. Washington boasts a talented front with Daron Payne and Jonathan Allen inside of Montez Sweat and Chase Young. Linebackers David Mayo and Jamin Davis have struggled, however, and the Commanders run defense has been ineffective most of the season. With the Patriots offensive line finally healthy enough to feature the same group from week to week, expect Stevenson and Elliott to enjoy a more productive afternoon.
When the Patriots pass - Edge: Patriots
The Commanders secondary has been even worse than the front seven. Opponents average 256.8 yards per game passing and an astounding 7.5 yards per attempt, numbers that have Washington ranked 29th and 30th in the league. While the defensive line features talented players, there aren't many answers in the Commanders secondary. Veteran Kendall Fuller mans one cornerback spot but rookie first-round pick Emmanuel Forbes struggled so much that he lost his starting job recently. Benjamin St-Juste and Danny Johnson join Fuller, along with safeties Kamren Curl and Percy Butler in the starting lineup. Mac Jones should be able to take advantage of this group, even without DeVante Parker (concussion) and Kendrick Bourne (torn ACL). The emerging Demario Douglas has provided a lift, and the tight ends, including Pharaoh Brown, have chipped in as well. The offensive line will need to protect Jones, which has been a problem for the most part this season. The Commanders do have the ability to rush the passer with 25 sacks on the year, including a team-high 6.5 from Sweat and another 5 from Young. If the protection holds up, Jones should be able to make a few plays.
When the Commanders run - Edge: Patriots
The Patriots run defense remains the team's biggest strength. Lawrence Guy, Christian Barmore, Davon Godchaux and rookie Keion White were stout in the loss to Miami, preventing Raheem Mostert from generating much momentum throughout the game. On the season the Patriots allow just 97.9 yards per game on the ground (ninth in the league) and 3.4 yards per carry, which ranks second. The Commanders haven't had much success running the ball all season, averaging just 85.9 yards per game, which ranks 26th in the NFL. Part of that has been due to game situations as the Commanders have often been playing catch-up. The team averages 4.2 yards per carry, which is a respectable 12th in the league. The problem has been the deficits have prevented Brian Robinson (95 carries, 384 yards, 4 TDs) from being a real factor between the tackles. The Commanders offensive line has also dealt with some injuries, but overall the running game hasn't been much of a factor for the team all season long. Given the stout nature of the Patriots front seven, don't expect Robinson to enjoy a breakout game in Foxborough on Sunday.
When the Commanders pass - Edge: Commanders
Washington has been able to make plays through in air virtually every game this season. Second-year quarterback Sam Howell is still raw and takes too many sacks, but he also has been productive. He's completing 67 percent of his passes for 2,146 yards with 13 touchdowns, and as a result the Commanders have been involved in several shootouts this season. Washington has lost games while scoring 31 points twice, and also has a 35-point effort in a victory over Denver in Week 2. That's largely because Howell has solid weapons at his disposal with Terry McLaurin (42 catches, 495 yards, two TDs), Curtis Samuel (35-332-2), Jahan Dotson (30-291-2) and tight end Logan Thomas (29-280-2). As a point of comparison, Bourne (37) is the only Patriot with more than 25 catches. Pass protection has been an issue, however, as Howell has been sacked a league-high 41 times. Some of that is due to the unsettled nature of the offensive line, but the group of Charles Leno, Chris Paul, Tyler Larsen, Sam Cosmi and Andrew Wylie allowed just one sack on 53 dropbacks against Philly's vaunted front last week. The Patriots secondary struggled badly in Miami, allowing a pair of 100-yard receivers in Tyreek Hill and Jaylen Waddle. Their task won't be much easier against the Commanders less-heralded group of pass catchers unless the front seven can provide some heat.
Special Teams - Edge: Commanders
The Patriots continue to be inconsistent on special teams, particularly in coverage. After opening the game by allowing a 12-yard punt return, Bryce Baringer's second kick resulted in a touchback. On the next attempt, long snapper Joe Cardona was flagged for a false start. That's not the kind of discipline and consistency the Patriots are looking for in the kicking game. Rookie kicker Chad Ryland shook off a slow start to the season and has now made his last five field goals and has yet to miss a PAT. The Patriots haven't gotten any lift from the return game as Demario Douglas (punts) and Ty Montgomery (kicks) haven't shaken loose often. Washington's specialists have been solid with Joey Slye a perfect 17-for-17 on PATs and 10 of 14 on field goals. Punter Tress Way has just one touchback on 37 kicks and 13 downed inside the opponents' 20. Veteran Jamison Crowder handles punt returns for the Commanders and averages over 10 yards on 15 attempts. Antonio Gibson handles kicks but has just six returns under his belt. Both teams have struggled at times in kick coverage.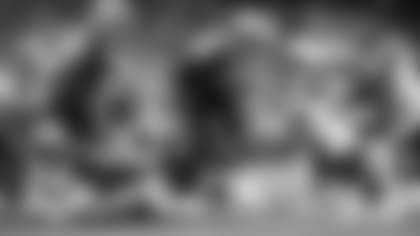 The New England Patriots and the Washington Commanders will meet in the regular season for the first time since a 33-7 New England victory at FedEx Field on Oct. 6, 2019. The Commanders will make their first trip to Gillette Stadium for a regular season game since a 27-10 Patriots win on Nov. 8, 2015.
While the two teams have played 23 times in the preseason, they have only played 11 times in the regular season. The Commanders hold a 6-5 edge in the series, but the Patriots have won the last four meetings.
The Patriots beat Washington 33-7 at FedEx Field in the last regular season meeting on Oct. 6, 2019. The Patriots are 3-4 all-time at home against Washington, including 2-0 at home against the Commanders at Gillette Stadium.
QUICK HIT
New England's victory over Washington in 2011 was their first win in Washington. With the victory, the Patriots earned at least one road victory against every NFL team. The Patriots are now 2-2 in the nation's capital.
Table inside Article

| 2023 REGULAR SEASON | NEW ENGLAND | WASHINGTON |
| --- | --- | --- |
| Record | 2-6 | 3-5 |
| Divisional Standings | 4th | 3rd |
| Total Yards Gained | 2,278 | 2,557 |
| Total Offense (Rank) | 284.8 (26) | 319.6 (20) |
| Rush Offense | 84.4 (27) | 85.9 (26) |
| Pass Offense | 200.4 (20) | 233.8 (12) |
| Points Per Game | 14.8 (31) | 21.4 (17T) |
| Total Yards Allowed | 2,569 | 2,993 |
| Total Defense (Rank) | 321.1 (10) | 374.1 (29) |
| Rush Defense | 97.9 (9) | 117.4 (21) |
| Pass Defense | 223.3 (17) | 256.8 (29) |
| Points Allowed/Game | 26.0 (26) | 28.5 (31) |
| Possession Avg. | 26:58 | 29:52 |
| Sacks Allowed/Yards Lost | 18/117 | 41/256 |
| Sacks Made/Yards | 15/107 | 25/110 |
| Total Touchdowns Scored | 13 | 20 |
| Penalties Against/Yards | 54/401 | 49/396 |
| Punts/Avg. | 40/45.8 | 37/47.8 |
| Turnover Differential | -6 (29) | 0 (15t) |
QB Jacoby Brissett (2016)
LB De'Jon Harris (2020)
DL William Bradley-King (2021-22)
PATRIOT TO WATCH - DB Brenden Schooler had his second straight game with two special teams tackles and his fourth game overall with two special teams tackles last week at Miami. Schooler needs at least two special teams tackles this week against Washington to become the first Patriots player since 2014 with three straight games with at least two special teams tackles. Special teams captain Matthew Slater had three straight games with three special teams tackles that season – Sept. 21 vs. Oakland, Sept. 29 at Kansas City and Oct. 5 vs. Cincinnati. 
Schooler is leading the team with eight total special teams tackles. Schooler needs two special teams tackles this week to reach double-digit special teams tackle totals for the second straight season. As a rookie in 2022, he had a team-leading 14 special teams tackles. He can become the first NFL player to begin his career with two straight 10-plus special teams tackle seasons since LB Grant Stuard with 11 special teams tackles in 2021 when he played with Tampa Bay and 11 special teams tackles in 2022 when he played for Indianapolis.
UNDEFEATED AT HOME - Washington is one of 10 teams that New England is undefeated against at home at Gillette Stadium in regular season play. The Patriots are 2-0 against Washington at Gillette Stadium after a 52-7 win on Oct. 28, 2007 and a 27-10 win on Nov. 8, 2015.
PHARAOH BROWN - TE Pharaoh Brown had a 24-yard reception in the third quarter at Miami last week. It is his fifth reception of at least 20 yards in 2023. He has seven receptions for 170 yards for the year and is averaging 24.3 yards per reception. The highest average in a season for a Patriots player was Stanley Morgan with a 23.4-yard average in 1981 (44 receptions for 1,029 yards). The Patriots have had a player finish with an average of at least 20 yards per reception 11 times. The last Patriots player to accomplish the feat was Shawn Jefferson in 1998 when he had a 22.7-yard average on 34 receptions for 771 yards. Over the last 40 seasons, the most 20-yard receptions in a season by a Patriots player is 28 by Stanley Morgan in 1986 and the most by a tight end is 22 by Rob Gronkowski in 2011 and 2015.
J.C. JACKSON'S INTERCEPTIONS - DB J.C. Jackson leads the NFL in interceptions since entering the NFL in 2018 as a rookie free agent with New England out of Maryland. 
Jackson enters this week ninth on New England's all-time interception list with 25. He needs two interceptions to move into a tie with Maurice Hurst with 27 interceptions. Jackson has four two-interception games.
BRYCE BARINGER - Rookie P Bryce Baringer is tied for the NFL lead with Jacksonville's Logan Cooke with 20 punts inside the 20-yard line. He is on pace to finish the year with 43 punts inside the 20-yard line. The Patriots record for most punts inside the 20-yard line in a season is 36 by Jake Bailey in 2019
TELEVISION: This week's game will be broadcast by FOX and can be seen locally on WFXT-TV Channel 25. Kenny Albert will handle play-by-play duties with Jonathan Vilma as the color analyst. Shannon Spake will provide analysis from the sidelines. The game will be produced by Fran Morison and directed by Bryan Lilley.
NATIONAL RADIO: This week's game will be broadcast to a national audience by Sports USA. Larry Kahn will call the game with Rob Ninkovich providing analysis.
LOCAL RADIO: 98.5 The Sports Hub is the flagship station for the Patriots Radio Network. A complete listing of the network's 33 stations can be found here. Play-by-play broadcaster Bob Socci will call the action along with former Patriots quarterback Scott Zolak, who will provide color analysis. The games are produced by Marc Cappello.