WEEK 18 · Sun 01/09 · 4:25 PM EST
Patriots
New England Patriots
AT
The New England Patriots will close out the regular season when they travel to face the Miami Dolphins in a rematch of the 2021 season-opener, a 17-16, Miami victory. It marks the sixth time in team history that the Patriots will open and close the season against the same opponent. It also happened in 2003 and 2013 against Buffalo, 1974 and 1987 against Miami and 1981 against the Baltimore Colts.
The Patriots and Dolphins have split the annual series in each of the last four seasons, and Miami has not swept the Patriots since the 2000 season.
With the 17-game schedule being played for the first time, a game on January 9 in the latest the Patriots have ever played in a regular season game. Prior to this season the latest the Patriots ever played in their last regular season game was in 2001 when the Week 2 games were postponed and rescheduled to January 6 in the wake of the September 11 attacks.
PLAYOFF BERTHS UNDER KRAFT
New England has qualified for the playoffs 28 times in the team's 62-year history. The Patriots have earned 22 of those playoff berths, including an NFL-best 19 division championships, in the 28 seasons since Robert Kraft purchased the team in 1994. New England has won 22 division crowns overall (21 AFC East crowns) and has qualified as a Wild Card team on four occasions (1976, '85, '94 and '98). The Patriots also qualified for the playoffs in 1982 as part of a 16-team tournament following a players' strike.
AIMING FOR AN 11TH WIN
Bill Belichick owns the NFL record with 17 seasons of 11 wins in the regular season. Don Shula and Andy Reid are second with 13. With a victory over Miami this week, Belichick can extend his record to 18 seasons with 11 wins.
SCOUTING THE MATCHUPS
The Patriots will close the regular season with a trip to Miami as they look to keep the momentum going.
When the Patriots run - Edge: Patriots
When the Patriots offense is clicking it's usually because of the work done in the running game. The last couple of weeks it was Damien Harris getting things going. This week against Jacksonville it was rookie Rhamondre Stevenson. Harris' balky hamstring continues to be a problem and he was limited to 35 yards against the Jags but that didn't matter because Stevenson filled the void with a strong 107-yard performance in his place. Both have shown they're more than capable to leading the way, and getting both healthy and primed for the playoffs will be important. With that in mind it wouldn't be surprising to see Harris get some rest if the hamstring remains an issue, but regardless the Patriots should be able to run the ball against the Dolphins. Miami has been mediocre against the run this season, allowing 108.3 yards per game (11th in the league) and 4.4 yards per carry (19th). The Dolphins front of Emmanuel Ogbah, Raekwon Davis and Christian Wilkins does a good job of protecting linebackers Elandon Roberts and Jerome Baker, and that group did a solid job containing the Patriots ground game in the opener. Harris did rush for 100 yards but the Patriots needed 30 attempts to pick up 125 yards, and the Dolphins also forced a key Harris fumble late. This time around with both sides using virtually the same personnel, expect the Patriots to be more productive.
When the Patriots pass - Edge: Dolphins
Mac Jones enjoyed a solid afternoon in his NFL debut against Miami, completing 29 of 39 for 281 yards and a touchdown. But his team managed to put just 16 points in the board after going 1-for-4 in the red zone. He used Jakobi Meyers (six catches) and Nelson Agholor (five) often while sprinkling in tight ends Jonnu Smith (five) and Hunter Henry (three) as well. Agholor missed the last two games with a concussion so his status is uncertain moving forward, but Kendrick Bourne has emerged as a more reliable target throughout the season. The Dolphins secondary, led by corners Xavien Howard and Byron Jones, is solid, allowing 226.6 yards (tied for 14th) per game and 6.3 yards per pass (seventh). Safeties Brandon Jones, Eric Rowe and impressive rookie Jevon Holland, as well as Nik Needham round out a coverage group that benefits greatly from the varied pressure packages favored by coach Brian Flores. Flores blitzes as much as any team in the league, and they get there more than their share of times. Miami has 45 sacks on the season, led Ogbah with nine and rookie Jaelan Phillips' 8.5. Expect Flores to turn up the heat on Jones after getting a full season's worth of tape to watch the rookie's tendencies, putting the pressure on the offensive line to keep him clean.
When the Dolphins run - Edge: Patriots
The Patriots have had their struggles stopping the run at times this season but Miami simply cannot run it effectively enough to make them pay. Myles Gaskin is the Dolphins leading rusher but has only 613 yards on the season while averaging just 3.6 yards per carry. Veteran Duke Johnson has provided a spark lately, but he's more of a third-down back and has only 46 carries since being added for the stretch drive. The Dolphins don't have the most physical offensive line so this is a group that New England's front, led by Christian Barmore and Lawrence Guy, should be able to control. On the season Miami averages 85.8 yards rushing per game and 3.4 yards per carry, both figures rank 31st in the league and should allow New England an opportunity to head into the postseason with some momentum when it comes to stopping the run. Gaskin did have some success in the opener in limited work (nine carries, 49 yards) but most of that damage came in spread formations in passing situations. Anything more than 100 yards on the ground for Miami in this game would be a troubling sight for a Patriots defense that can't afford any let ups in the finale.
When the Dolphins pass - Edge: Patriots
Miami's passing game remains limited with Tua Tagovailoa at the helm despite the presence of talented receivers DeVante Parker, Mike Gesicki and rookie sensation Jaylen Waddle. Waddle has been outstanding and Tagovailoa has connected nicely with his former college teammate at Alabama, who has 99 receptions for 988 yards and five touchdowns on the season. But Parker has been slowed by injuries while free agent pickup Will Fuller missed most of the season and was limited to just four catches. Gesicki remains productive with 71 grabs on the season but Miami's passing game is still mediocre at best, averaging 221.8 yards per game (16th) and a paltry 6 yards per pass (25th). Part of that is on Tagovailoa, who's limited arm strength at times prevents him from pushing the ball downfield. But it's also due in part to poor pass protection, which often forces the ball out quickly. Tagovailoa is a rhythm passer who likes to use slants and quick timing routes, particularly with Waddle, to keep the chains moving. In two previous meetings, Tagovailoa has been able to be efficient while winning both times. Disrupting him in the pocket generally keeps that from happening, and that's what the Patriots will try to do Sunday.
Special Teams - Edge: Patriots
Both teams feature excellent kickers, but Miami's Jason Sanders has been a bit more erratic this season while Nick Folk has been almost perfect. Sanders is 21 of 29 on field goals after going 36 for 39 last season. Four of Sanders' misses this year have come from beyond 50 yards, and he has made 31 of 32 PATs. Folk remains solid with just three misses all season – all from beyond 50. Miami punter Michael Palardy is enjoying a solid year as well with 29 of his 74 punts downed inside the 20 against only five touchbacks. The Dolphins coverage units have been outstanding, allowing an average of 17.2 yards per kick return and 8.6 on punts. But Miami hasn't generated anything in the return department all year. Recently they've turned to Waddle in an effort to jumpstart things on both punts and kicks but he hasn't shaken free for any big plays as of yet. The Patriots have been inconsistent on special teams other than Folk, but the coverage was airtight against the Jags after some rough moments in losses to Indy and the Bills in the previous two games. Gunner Olszewski has been quiet recently and could be ready to provide a lift on a return.
The New England Patriots and Miami Dolphins will square off for the second of two meetings in 2021 when they play this Sunday at Miami. The Patriots will try to avenge a 17-16 loss to Miami in the 2021 season-opener on Sept. 12. The two teams have split the series in each of the last four seasons.
This week's game marks the sixth time in New England team history that they will open and close the season against the same opponent. It also happened in 2003 and 2013 against Buffalo, 1974 and 187 against Miami and 1981 against the Buffalo Bills.
The Patriots will be playing against Miami in the final regular game of the season for the 17th time overall. Of the 16 season-finale meetings, eight of them were played in Miami. The Patriots are 8-8 in those games, including 4-4 in those games played at Miami.
The Patriots have had the upper hand at home against Miami, holding a 36-19 record in games played in New England in the regular season, including a 16-4 record at Gillette Stadium. But the Patriots are 17-39 all-time in Miami, including two postseason contests. Miami beat New England at Gillette Stadium for the first time in the final game of the 2005 season. 
The Dolphins and Patriots met for the first time in 1966 and began playing twice a year during the 1967 regular season, except in 1982 during a players' strike.
The two have played three times in the postseason with New England holding a 2-1 advantage.
MIAMI 58, NEW ENGLAND 54 (Including New England 2, Miami 1 in Playoffs)
Record in New England: 37-19 (Incl. 1-0 in playoffs)
Record in Foxborough: 35-17 (1-0)
Record in Boston: 2-2
Record in Miami: 17-39 (Incl. 1-1 in playoffs)
Record at Dolphins / Hard Rock: 13-21 Record at Orange Bowl 3-18 (1-1)
Record in Tampa*: 1-0 Season Sweeps Patriots 10, Dolphins 13
Season Splits: 30 (Most recent 2020)
Bill Belichick vs. Miami: 26-19 (26-17 with New England)
*A Miami home game was played in Tampa in 1969
QUICK HITS
Since Bill Belichick became Patriots head coach in 2000, New England is 26-17 (.605) against Miami.
Since 2000, the Patriots are 96-35 (.733) against AFC East opponents. New England is 26-17 against the Dolphins over that span, 34- 10 against the New York Jets and 36-8 against the Buffalo Bills. The Patriots were 3-1 against Indianapolis from 2000 through 2001 when they were in the AFC East.
Table inside Article

| 2021 REGULAR SEASON | NEW ENGLAND | MIAMI |
| --- | --- | --- |
| Record | 10-6 | 8-8 |
| Divisional Standings | 2nd | 3rd |
| Total Yards Gained | 5,629 | 4,921 |
| Total Offense (Rank) | 351.8 (16) | 307.6 (25) |
| Rush Offense | 126.1 (8) | 85.8 (31) |
| Pass Offense | 225.8 (14) | 221.8 (15) |
| Points Per Game | 27.4 (8) | 19.3 (24) |
| Total Touchdowns Scored | 48 | 35 |
| Total Yards Allowed | 4,733 | 5,298 |
| Total Defense (Rank) | 311.6 (3) | 334.9 (15) |
| Rush Defense | 119.3 (22) | 108.3 (10) |
| Pass Defense | 192.4 (4) | 226.6 (14T) |
| Points Allowed/Game | 16.9 (1) | 21.8 (16) |
| Possession Avg. | 30:43 | 30:01 |
| Sacks Allowed/Yards Lost | 26/225 | 39/279 |
| Sacks Made/Yards | 35/250 | 46/364 |
| Penalties Against/Yards | 87/776 | 100/792 |
| Punts/Avg. | 49/44.4 | 74/44.3 |
| Takeaway/Giveaway Ratio | +10 (5) | 3 (20T) |
MAC JONES, QB, PATRIOTS
HT: 6-3 WT: 217 COLLEGE: ALABAMA
Table inside Article

| SEASON | COMP | ATT | YDS | TD | INT | LNG | SK/YDS |
| --- | --- | --- | --- | --- | --- | --- | --- |
| 2021 | 332 | 491 | 3,540 | 21 | 12 | 75 | 26/225 |

TUA TAGOVAILOA, QB, DOLPHINS
HT: 6-1 WT: 217 COLLEGE: ALABAMA
Table inside Article

| SEASON | COMP | ATT | YDS | TD | INT | LNG | SK/YDS |
| --- | --- | --- | --- | --- | --- | --- | --- |
| 2021 | 248 | 366 | 2,544 | 15 | 10 | 65 | 19/146 |
QB - Jacoby Brissett (2016)
DT - Adam Butler (2017-20)
CB - Justin Coleman (2015-16)
CB - Jason McCourty (2018-20)
LB - Calvin Munson (2018-19, 21)
LB/FB - Elandon Roberts (2016-19)
DB - Eric Rowe (2016-18)
GM Chris Grier - (1994-99)
HC Brian Flores – (2005-07, 2010-18)
DC Josh Boyer - Defensive Assistant Coach (2006-18)
Co-OC/TE Coach George Godsey – (2011-13)
Quality Control Mike Judge – Coaching Assistant (2005-06)
Coaching Ast. Steve Gregory – Player (2012-13)
RB Brandon Bolden - (2018)
DT Davon Godchaux - (2017-20)
Quality Control/QBC Bo Hardegree - (2016-18)
C Ted Karras - (2020)
LB Raekwon McMillan - (2018-19)
WR Malcolm Perry - (2020)
LB Kyle Van Noy - (2020)
Asst. OLC Billy Yates - (2003)
A Patriots victory this week and a Buffalo loss will give the Patriots the AFC East Division Title. It would be their 20th division title since Robert Kraft purchased the team in 1994.
Bill Belichick has guided the Patriots to 17 AFC East Titles and has a chance to lead the Patriots to a division title this week. His 17 division titles are the most by a head coach in NFL history. Don Shula and Tom Landry are second with 13 titles.
Belichick owns the NFL record with 17 seasons of 11 wins in the regular season. Don Shula and Andy Reid are second with 13. With a victory over Miami this week, Belichick can extend his record to 18 seasons with 11 wins.
Through 16 games, Mac Jones' completion percentage is 67.6. The best completion percentage for a season by a rookie quarterback is Dak Prescott at 67.7 percent in 2016, followed by Justin Herbert at 66.6 in 2020 and Ben Roethlisberger at 66.4 in 2004.
Jones is the 12th rookie quarterback to lead his team to a winning record and the 8th to lead his team to 10 or more wins during his rookie season. He would be the 7th rookie quarterback to lead his team to 11 wins with a victory this week against Miami.
Jones is leading all rookie quarterbacks with 3,540 passing yards in 2021. With at least 200 passing yards against the Dolphins this week, Jones would pass Dak Prescott, Kyler Murray, Baker Mayfield and Peyton Manning to land in 6th place for the most passing yards in a season by a rookie quarterback.
Jones enters the final week of the season with 21 touchdowns, tied with Gardner Minshew, Derek Carr and Cam Newton for the 9th most touchdown passes in a rookie season. He needs one more this week to move into an 8th place tie with Jameis Winston and two more to move to 6th on the list.
Hunter Henry enters this week tied with Baltimore's Mark Andrews and Buffalo's Dawson Knox for first in the NFL among tight ends with nine touchdown receptions (seventh overall). Henry needs one more touchdown reception to reach 10. Rob Gronkowski is the only other Patriots tight end to reach double-digit touchdown receptions in a single season.
With one more touchdown reception, Henry will reach 10 touchdown receptions and join Cooper Kupp (15), Ja'Marr Chase (13), Mike Evans (12) DK Metcalf (12), Davante Adams (11) and Adam Thielen (10) as the only players to reach double-digit touchdown receptions in 2021.
Damien Harris is tied for second in the NFL with 14 rushing touchdowns in 2021. He needs one more rushing touchdowns to move into sole possession of second place for the most rushing touchdowns in a season by a Patriot. Harris has scored five touchdowns in the last two games.
Harris has five 100-yard rushing games in 2021. Since 1970, only Curtis Martin (9 in 1995) and Corey Dillon (9 in 2004) have had more than five 100-yard games in a season for the Patriots.
Harris has rushed for a career-high 892 yards and if he gains 108 yards rushing this week, he will reach the 1,000-yard plateau. It would be the 17th time in team history, and first time since 2016, that the Patriots would have a 1,000-yard rusher.
Harris averaged 5.04-yards per carry (137 rushing attempts for 691 yards) in 2020, becoming the fourth Patriots player to finish with at least a 5.0-yard average (minimum 100 attempts) in a season. The best back-to-back average in team history was Craig James with a 4.9 average in 1984 followed by a 4.7-yard average in 1985. Harris enters the final week of the season with a 4.7-yard average.
Matthew Slater has played in 205 regular season games for the Patriots. With the game against the Dolphins this week, Slater will tie Julius Adams for third place for the most games played for New England.
Justin Bethel has reached double-digit special teams tackles in each of his nine NFL seasons and will try to reach 10 straight in 2021. He enters the final week with eight special teams tackles.
J.C. Jackson secured his 25th career interception last week against Jacksonville and is now in sole possession of 9th place on the Patriots all-time interception list. With two interceptions this week at Miami he would tie Maurice Hurst (27) for eighth place on the list.
Jackson enters this week second in the NFL with eight interceptions behind Dallas' Trevon Diggs with 11.
Jackson has 25 career interceptions, tied with Lester Hayes (25 interceptions) and Everson Walls (25) for the most by a player in his first four seasons since 1970 and needs one more to establish a new record.
Jackson leads the NFL with a career-high 22 passes defensed in 2021. He is the eighth Patriots player to reach 20 passes defensed in a single season He needs to defend one pass this week to tie Maurice Hurst (1994) and Ty Law (2003) for the third-most in a season for New England with 23 passes defensed, behind the 27 by Law in 1998 and the 24 by Asante Samuel in 2006.
LB Matthew Judon enters this week with 12 1/2 sacks in 2021. Judon is tied with Chandler Jones (12 1/2 in 2015) and Mike Vrabel (12 1/2 in 2007) for the most sacks in a season by a Patriots player under Bill Belichick and needs at least a half sack to have the most under his reign.
Nick Folk has a career high and is tied with Daniel Carlson (Raiders) for an NFL-leading 35 field goals in 2021. Folk, now in his 14th NFL season, has never led the NFL in field goals made. Since 1970, the Patriots have had a player finish first in the NFL in field goals five times – Tony Franklin in 1986, Adam Vinatieri in 2004 and Stephen Gostkowski in 2008, 2013 and 2014. 
Only two NFL players have reached 40 field goals in a season with David Akers (44) in 2011 with San Francisco and Neil Rackers (40) in 2005 with Arizona. Folk needs four field goals to become the third player in NFL history to reach 40 field goals in a season.
Folk tied the team record for most 50-yard field goals in a season with his five. If he connects on a 50-yard field goal vs. Miami, he will establish the team record for most 50-yard field goals in one season. Stephen Gostkowski had five 50-yard field goals in 2013.
Folk has connected on 54 straight field goals from under 50 yards, the second-longest streak in NFL history to the 56 straight field goals from under 50 yards by Ryan Succop (2014-17) while with Tennessee. He needs two more successful field goals under 50 yards to tie Succop. Folk's last miss under 50 yards was a 45-yard field goal attempt in the 2020 season-opener vs. Miami on Sept. 13.
Folk has connected on four or more field goals five times in 2021 and needs to kick at least four field goals this week at Miami to tie the NFL record. The NFL record for most games in a season with at least four field goals is six by David Akers in 2011 with San Francisco.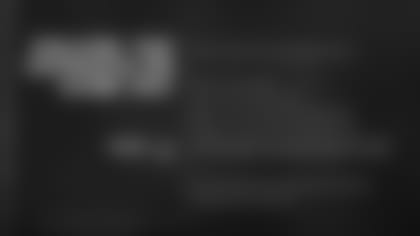 TELEVISION: This week's game will be broadcast by CBS and can be seen locally on WBZ-TV Channel 4. Spero Dedes will handle play-by-play duties with Jay Feely as the color analyst. Jenny Dell will work from the sidelines. The game will be produced by Jason Ross and directed by Jim Cornell.
SATELLITE RADIO: SiriusXM App: 821 (NE), 819 (MIA) | SiriusXM: 383 (NE), 228 (MIA)
LOCAL RADIO: 98.5 The Sports Hub is the flagship station for the Patriots Radio Network. A complete listing of the network's 35 stations can be found here. Play-by-play broadcaster Bob Socci will call the action along with former Patriots quarterback Scott Zolak, who will provide color analysis. The games are produced by Marc Cappello.