PATRIOTS (2-0) vs. BUCCANEERS (0-2)
Sunday, Sept. 22, 2013 at 1:00 p.m. EDT
Gillette Stadium (68,756)
The New England Patriots will attempt to improve to a 3-0 record for the eighth time in team history and for the fourth time under Head Coach Bill Belichick when they host the Tampa Bay Buccaneers on Sunday at Gillette Stadium. It will be the first of two straight games against NFC South opponents for the Patriots. After playing Tampa Bay, the Patriots will travel to face Atlanta on Sunday Night Football from the Georgia Dome on Sept. 29.
The Patriots conducted three days of joint practices with Tampa Bay this past summer during training camp prior to a nationally-televised preseason contest that was played at Gillette Stadium on Aug. 16. The Patriots won that game, 25-21. It marked the second straight season that the two teams worked together during training camp. In the summer of 2012, the Patriots held joint sessions with the Buccaneers in Tampa Bay prior to a preseason game, a 30-28 Buccaneers victory.
Tom Brady is 34-9 all-time against the NFC as a starter. Three of those losses occurred last season when the Patriots finished 1-3 against the NFC West, losing to Arizona, Seattle and San Francisco.
Bill Belichick's first game as head coach of the Patriots was a 21-16 loss on Sept. 3, 2000 at Foxboro Stadium against Tampa Bay.
TELEVISION:** This week's game will be broadcast to a regional audience by FOX and can be seen in Boston on WFXT-TV Channel 25. Kevin Burkhardt will handle play-by-play duties with John Lynch providing color and Erin Andrews will serve as the sideline reporter. The game will be produced by Pete Macheska and directed by Artie Kempner.
RADIO: 98.5 FM, The Sports Hub, is the flagship station for the Patriots Radio Network. A complete listing of the network's 37 stations can be found here. Play-by-play broadcaster Bob Socci will call the action along with former Patriots quarterback Scott Zolak, who will provide color analysis.
BILL BELICHICK IS CLOSING IN ON FIFTH PLACE ON THE ALL-TIME COACHING LIST
Bill Belichick won his 207th career game last week against the Jets, bringing him within two wins of Chuck Noll for fifth place on the NFL's all-time wins list.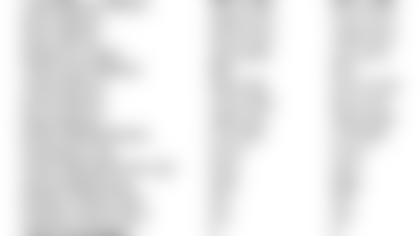 The Patriots and Buccaneers will meet in a regular season game for the eighth time overall and for the first time since the 2009 season when New England beat Tampa Bay, 35-7, on Oct. 25, 2009 in Wembley Stadium in London.
The two teams conducted three days of joint practices during training camp in August prior to a preseason game on Friday, Aug. 16, 2013. The Patriots prevailed in that game, 25- 21. The teams have played in the preseason for the last three seasons. It marked the second straight year that the two teams held joint practice sessions. Prior to a preseason game in 2012, the Patriots traveled to Tampa Bay for two days of joint sessions.
The Patriots are 5-2 against the Buccaneers all-time in the regular-season. Head coach Bill Belichick's first game as head coach of the Patriots came against Tampa Bay on Sept. 3, 2000. Tampa Bay claimed a 21-16 victory in that game, but the Patriots have won five of the seven total games in the regular season series, which dates back to 1976, the first year of existence for the Buccaneers franchise. New England won the first three games in the series from 1976-88. Tampa Bay claimed the next two meetings, before a Patriots 28-0 shutout victory in a meeting between the two teams in 2005.
The Patriots beat the Buccaneers in 1988 and then went 17 years before their next win against Tampa Bay in 2005.
The 17-year victory gap is the second longest for the Patriots, trailing only a 33-year win drought against the Washington Redskins, which lasted from 1973-2007.
SERIES TRENDS
Home Record................................. 2-1
Foxboro Stadium ............................ 1-1
Gillette Stadium ........................... 1-0
Away Record ................................ 3-1
Tampa/Houlihan's Stadium.................... 2-1
Raymond James Stadium ...................... 0-0
Played in London's Wembley Stadium ......... 1-0
Total Points in Regular Season Series ...... 124-83
Largest Margin of Victory .................. 28 pts (12/17/05 and 10/25/09)
Largest Margin of Defeat ................... 20 pts (11/16/97)
Longest Win Streak ......................... 3 games (1976-88)
Bill Belichick vs. Tampa Bay ............... 3-1 (2-1 with New England)
Buccaneers Co-President of the Glazer Family Foundation Darcie Glazer Kassewitz attended Suffolk Law School in Boston, Mass., where she earned her Juris Doctorate in 1993.
Buccaneers Defensive Coordinator Bill Sheridan was the linebackers coach at the University of Maine from 1987- 1988.
Buccaneers Head Strength and Conditioning Coach Jay Butler was the Director of Speed, Strength and Conditioning at Dartmouth College in Hanover, N.H. from 1996-2000.
Buccaneers Linebackers Coach Bob Fraser coached the defensive line at Holy Cross in Worcester, Mass. from 1992-1995. Fraser also served as the Offensive Tackles Coach, Tight Ends Coach and Special Teams Coordinator during his lone season at Northeastern University in 1996.
Buccaneers Assistant Strength & Conditioning Coach Bob Gilmartin, a native of Millis, Mass., attended Millis High School and graduated from the University of Massachusetts at Amherst in 1989.
Buccaneers Assistant Defensive Backs Coach Jeff Hafley served as the running backs coach at Worcester Polytechnic University in 2001.
Buccaneers Assistant Offensive Line Coach Steve Loney was an assistant head coach and offensive tackles/tight ends coach for one season (1994) at the University of Connecticut.
Buccaneers Defensive Assistant Tem Lukabu coached the linebackers at the University of Rhode Island from 2008- 2009.
Buccaneers Quarterbacks Coach John McNulty coached wide receivers for three seasons (1994-1997) at the University of Connecticut.
Buccaneers QB Dan Orlovsky is a native of Shelton, Conn., and played football at the University of Connecticut from 2001-2004.
Buccaneers Pass Rush Specialist Coach Bryan Cox played one season with the Patriots, earning a Super Bowl ring with the club in 2001.
Buccaneers Defensive Line Coach Randy Melvin served as the Patriots Defensive Line Coach under Bill Belichick from 2000-2001 and won a Super Bowl with the club in 2001.
Buccaneers Senior Offensive Assistant Jimmy Raye spent one season as the Patriots offensive coordinator (1990).
Buccaneers DE Trevor Scott signed with the Patriots on March 17, 2012 and contributed three sacks in 11 games during the 2012 season as a backup defensive end. Scott also recorded one forced fumble on the season to go along with 11 tackles.
Buccaneers C Ted Larsen was drafted by the Patriots in the sixth round of the 2010 NFL Draft and signed with the club on May 18, 2010 before being released during final cuts on Sept. 4.
Patriots CB Kyle Arrington was signed to the Buccaneers practice squad on Sept. 17, 2009 and spent nearly a year with the club before being waived on Sept. 11, 2010. * Patriots LB LeGarrette Blount was claimed off waivers by the Buccaneers on Sept. 6, 2010 and spent three seasons with the club before being traded to the Patriots during the 2013 NFL Draft. Blount rushed for 1,939 yards and 13 TDs in three seasons with Tampa Bay, including a 1,007-yard, 6-TD campaign during his rookie year in 2010. * Patriots CB Aqib Talib spent four-plus seasons with the Buccaneers from 2008-2012 after the club took him with the 20th pick in the 2008 NFL Draft. Talib amassed 159 tackles and 18 interceptions in three and a half seasons with Tampa Bay before being traded to the Patriots on Nov. 1, 2012.
Patriots S Steve Gregory and Buccaneers WR Vincent Jackson were teammates for six seasons on the San Diego Chargers from 2006-2011.
Buccaneers CB Darrelle Revis was teammates with Patriots RB Leon Washington (2007-2009) and CB Marquice Cole (2009-2011) for three seasons on the New York Jets.
Patriots TE Michael Hoomanawanui and Buccaneers DT Gary Gibson were teammates for two seasons with the St. Louis Rams from 2010-2011.
Patriots OL Will Svitek was teammates with Buccaneers P Michael Koenen for two seasons (2009-2010) on the Atlanta Falcons.
Buccaneers G Carl Nicks joined Patriots LB Rob Ninkovich and CB Marquice Cole for one season (2008) on the New Orleans Saints. Former College Teammates
Patriots DB Duron Harmon, LB Steve Beauharnais and CB Logan Ryan teamed up with Buccaneers TE Tim Wright for four seasons (2009-2012) at Rutgers University. Patriots DB Devin McCourty was teammates with this group at Rutgers for one season (2009) and was also Rutgers teammates with Buccaneers OL Jeremy Zuttah for two seasons (2006-2007) and RB Brian Leanoard for one season (2006).
Patriots LB Dont'a Hightower and Buccaneers S Mark Barron won two NCAA championships during their four years together as defensive teammates at the University of Alabama from 2008-2011.
Patriots LB Brandon Spikes and Buccaneers S Ahmad Black were teammates for two seasons (2008-2009) at the University of Florida.
Patriots CB Alfonzo Dennard and Buccaneers LB Lavonte David were defensive teammates for four seasons (2008-2011) at Nebraska.
Patriots LB Jerod Mayo was teammates with Buccaneers TE Luke Stocker for one season (2007) at the University of Tennessee.
Patriots RB Stevan Ridley and Buccaneers WR Russell Shepard were teammates for two seasons (2009-2010) at LSU.
Patriots DE Chandler Jones was teammates with Buccaneers WR Mike Williams during the 2009 season at Syracuse University.
Buccaneers DT Akeem Spence was teammates with Patriots DL Michael Buchanan and DB Tavon Wilson for two seasons (2010-2011) at Illinois.
Patriots LB Chris White and Buccaneers CB Johnathan Banks were teammates for two seasons at Mississippi State from 2009-2010.
Patriots LS Danny Aiken was teammates with Buccaneers WR Kevin Ogletree for two seasons (2007- 2008) at the University of Virginia.
WHAT TO LOOK FOR THIS WEEK VS. TAMPA BAY
Tom Brady needs one touchdown pass against the Buccaneers to extend his streak to 51 straight games with at least one touchdown pass. It is the second longest streak of all time, behind Drew Brees (54). * Brady tied Drew Brees with his ninth NFL game with four touchdowns, 300 yards and no interceptions against St. Louis (10/28/12) and needs one more such game to be alone in first place. * Brady has the fifth most 300-yard games in NFL history with 53, behind Peyton Manning (74), Drew Brees (69), Dan Marino (63) and Brett Favre (62). * Brady (337) needs five touchdowns against the Buccaneers to move into a tie with Fran Tarkenton (342) for fourth place all-time. * Brady needs three more touchdowns to become the fifth NFL player with at least 340 career touchdown passes.
Julian Edelman to keep his punt return average at 12.9. He has the highest punt return average in NFL history at 12.9 (81-1047) and is one of seven NFL players with a punt return average of 12.0 or above.
Edelman needs one more punt return for a touchdown to set the team mark with his fourth punt returned for a touchdown. He is tied with Irving Fryar and Troy Brown with three returns for a touchdown.
Stephen Gostkowski has seven career 50-yard field goals and needs one more to tie Adam Vinatieri for the most in Patriots team history.
Jerod Mayo to start the season with 10-plus tackles in the first three games for the second straight season. Mayo had 15 tackle at Buffalo and 10 tackles vs. the New York Jets.
Rob Ninkovich has the most fumble recoveries of any NFL player over the last four years (2010-13) with 10 and can add on to that total with a fumble recovery against the Buccaneers.
Leon Washington needs one more kick returned for a touchdown to set the NFL record. He is tied with Josh Cribbs with eight career returns for a touchdown.
The Patriots have forced a turnover in 29 straight games dating back to 2011. The NFL record for most consecutive games with a turnover since the merger in 1970 is 71 by Philadelphia from 1985-1990. The last time the Patriots did not register at least one turnover was on Oct. 9, 2011 vs. the New York Jets.
PATRIOTS OFF TO A 2-0 START
The Patriots are off to a 2-0 start for the 12th time in team history and the seventh time under head coach Bill Belichick. Belichick has led the Patriots to a 2-0 start in 2002, 2004, 2006, 2007, 2008, 2011 and now 2013. The Patriots also started 2-0 in 1964, 1974, 1986,1997 and 1999.
PATRIOTS ARE SHARP AT GILLETTE
The Patriots own an overall record of 74-15 (.831) at Gillette Stadium in regular season games.
PATRIOTS ARE THE NFL'S BEST AT HOME
Since their state-of-the-art facility opened at the beginning of the 2002 season, the Patriots own the NFL's best record at home overall. The Patriots own an overall record of 74-15 (.831) at Gillette Stadium in regular season games and an 84-18 (.824) record including playoffs.
PATRIOTS ARE TIED FOR SECOND-BEST OPENING MONTH RECORD IN THE LAST 10 YEARS
Getting off to a strong start is important. Over the last 10 years, eight teams have a winning percentage of at least .600 through the season's first month. Those eight teams have combined to win eight of the 10 Super Bowl championships during that span. The Patriots are tied with Dallas for the second-best opening month record in the last 10 seasons with a 23-10 (.697) record.
PATRIOTS 2013 TEAM CAPTAINS
The Patriots team captains were elected by their teammates. Quarterback Tom Brady and G Logan Mankins are the offensive captains. Nose tackle Vince Wilfork and LB Jerod Mayo are the defensive captains. Wide receiver Matthew Slater is the special teams captain. Brady has been chosen as a captain for the 12th straight season. Wilfork is a captain for the sixth straight season, while Mayo is in his fifth season serving as a captain. Mankins, and Slater are captains for a third time.