It came as little surprise when Bill Belichickannounced late Friday that RB Fred Taylorwould be among the inactive players Sunday in Denver. Taylor, according to multiple media reports, underwent surgery on his right ankle this week and could be out for an extended period of time, possibly the season.
"It's disappointing when any player is injured," Belichick remarked at his daily press briefing. "They train all offseason, training camp, preseason games. It's a lot of preparation to get ready to play and then not to be able to play is disappointing, obviously for the player and for the coaching staff and the rest of his teammates because everybody wants all the players to contribute and have an opportunity to play. Sometimes … that isn't a possibility."
What was more interesting was what Belichick said next.
"Fred and I talked a little bit about that yesterday. I'm sure he'll be back."
By that, did the head coach mean he expected Taylor to be back this season, a reporter wondered aloud?
The coach smiled, giving himself time to consider a response.
"We'll list him on the injury report weekly as we always do," Belichick replied after a moment. "Obviously, if he wasn't going to come this season, we would place him on injured reserve at some point. He's not there now, so that wouldn't be the expectation."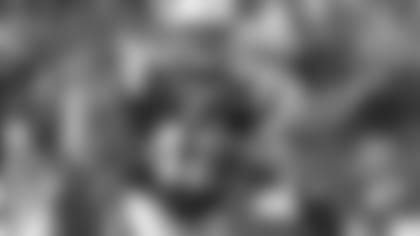 ]()In the short term, at least, Taylor will not be available for Sunday's game versus the Broncos. That could mean that second-year ball carrier BenJarvus Green-Elliscould be activated for the first time this season.
"It's a possibility," Belichick acknowledged.
"We have confidence in all our backs," he added. "BenJarvus has been productive whenever he's played for us. He's a solid guy. Can catch, can run, plays well in the kicking game. He's done a good job from the day he got here last year, undrafted."
In the locker room following today's practice, Green-Ellis spoke with reporters for a few minutes and revealed that he and fellow running back Laurence Maroneyvisited Taylor at his home last night to offer their support while he recuperates. Green-Ellis said Taylor appeared to be "alright."
As for the expectation that he might suit up Sunday in Denver, Green-Ellis responded, "Whatever they ask me to do, I'm going to be ready."
Friday locker room/practice notes
After practice, the players packed their equipment bags in advance of this weekend's trip to Denver. LB Jerod Mayo, who hasn't played in a game since Week 1 but has practiced the last two weeks, was among the players prepping for the trip. Whether or not he's active for the game remains to be seen, but all indications are that he will be in Denver, just in case.
In addition to Taylor, for the second straight day, LB Adalius Thomas were absent from practice. Thomas, meantime, was listed on the injury report as being absent for non-injury reasons. He's considered "probable" for Sunday's game.
With weekend weather forecasts for Denver constantly changing but with the ever-present threat of snow, the Patriots continued to practice outside to prepare for this Sunday's game. The team was dressed in shells and sweats for Friday's session, under cloudy, occasionally rainy skies here in Foxborough.