Amid the hoopla and excitement of "Andre TippettDay" at Gillette Stadium, it was easy to forget about the current version of the Patriots and their continued preparation for the 2008 season. But Bill Belichickis not one to let the details slip his mind, and he put his troops through a lively workout on the upper practice fields Wednesday afternoon.
And just in case not everyone was ready for action, Rodney Harrisonwas around to make sure the coach's message was delivered. The veteran safety returned to work Tuesday evening after missing the first five days of camp while on the physically-unable-to-perform list, but he didn't truly ring in his return until Wednesday when he was flying around the upper practice fields and delivering a few hits to keep everyone on their toes.
"It feels good to be back, 15th season, finally off the PUP list," Harrison began. "I'm excited to be out here with my teammates."
Harrison worked his way back slowly, feeling his way through the drills Tuesday evening while working alongside Brandon Meriweatherat safety. There was no such trepidation on Wednesday, and anyone in a white (offensive) jersey was well aware of his presence.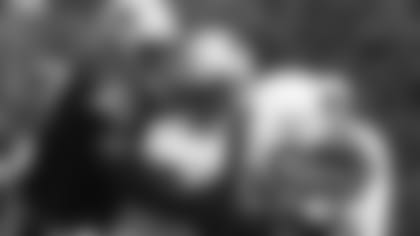 ]()Laurence Maroneywas the first to feel his wrath, taking a big shoulder in the midst of an off-tackle running play. Later, during a seven-on-seven drill, Harrison made sureSam Aiken wasn't making any touchdown catches with him on the field as he belted him when the receiver was airborne trying to haul in aMatt Cassell **pass.
"Maroney came through and I told him it was like a kiss on the cheek. I had to get him acclimated to my shoulder pads," Harrison said with his trademark wry grin. "It's fun to be back out here. Anytime you get the chance to play football, play on the Patriots team, play in National Football League, it's a tremendous honor. I don't take it for granted."
Harrison's physical play seemed to pick up the intensity level of the practice, even with Tom Brady taking the day off. Cassell and Matt Gutierrez gobbled up the bulk of the reps with rookie Kevin O'Connellhandling a sprinkling of leftovers in the various drills.
Belichick focused on down-and-distance work and the results were about as even as any day has featured thus far. Cassell found out how fortunate his mentor Brady is to have Randy Mossas a favorite target during a team period. His pass seemed well overthrown and primed to be intercepted, but Moss went high in the air and snared it with one hand, cradling it to his body on his way to the turf.
The pass rush seemed to dominate at times with Ty Warrenand Richard Seymourpushing the pocket into the quarterback's lap on several occasions. The defense also held an upper hand later when a two-minute ended with a well-timed Mike Richardsonpick in front of Aiken on a quick out. Richardson broke on Gutierrez' pass beautifully and would have gone the distance.
There was an injury scare that brought back memories of a year ago when Chad Scottwas lost of the year while in coverage. This time it was Fernando Bryant that was tended to by trainer Jim Whalen, but unlike Scott, Bryant was able to stay on the field and returned later in practice.
The injury actually overshadowed a terrific play by the defense as Tank Williamsmade a nice drop from his linebacker spot, got a hand on a Gutierrez pass and watched as Meriweather picked it off after several bobbles. During the return Harrison was itching to hit someone but his attempts to provide extra blocking didn't materialize.
The officials were on hand for the second of three days in Foxborough and for much of the afternoon their presence was barely noticed. But once the flags started coming, they were tough to stop. As was the case on Tuesday, the bulk of the problems took place at the line of scrimmage. Seymour anticipated the snap count once and was guilty of encroachment. Later, Nick Kaczur, playing left tackle in place ofMatt Light, tried to draw an offside penalty but instead was called for a false start. Belichick predictably didn't seem too pleased with either infraction.
Who's hot: Ty Warren, Richard Seymour –The defensive ends don't usually make headlines with their pass rushing abilities, but neither could be blocked on Wednesday. They pushed back a variety of blockers throughout the day and either batted or affected a number of passes. Seymour shot a gap while playing in a four-man line and stuffed LaMont Jordanin the backfield on a running play. Overall, it was the kind of dominance expected of such a gifted defensive front.
Who's not: Benjamin Watson –The tight end stands out one way or another – either for tough catches in traffic or troublesome drops on seemingly easier chances. He had some of both on Wednesday, but the latter seems to becoming a problem for him in camp. Even some of his catches haven't always been clean.
Play of the day: In the irony department, we give you Watson's touchdown catch to end a hurry-up drill. Matt Cassell found him on a post in the end zone and fired a strike to his back shoulder from about 15 yards out. Eric Alexander had nice coverage on the play but the execution was perfect, and Watson solidified his spot here by flipping the ball to a young boy watching from the grassy hill just beyond the end zone.
In addition to Brady and Light, who missed his sixth straight practice, the Patriots were without Jason Webster (who also was absent for the sixth straight workout), James Sanders, Vince Redd, Anthony Clementand David Thomas. Sanders also missed practice Tuesday evening while Thomas left Monday evening's session early with an apparent ankle injury. … Brady Seely's special teams worked on punting from deep in their own territory and Chris Hanson seemed to enjoy the challenge. With the ball placed at the 1, Hanson had little room or time to make his normal steps before kicking, but that didn't stop him from unloading three straight bombs that sailed high and deep. … A pair of Patriots alumns – Paul Franciscoand Vernon Crawford– addressed a group of young campers who watched practice behind the end zone. The children called for Moss before the start of the workout and the wideout obliged them by signing autographs for a few minutes. … Tippett enjoyed one last moment during his sendoff day when Owner Robert Kraft addressed the crowd after practice before turning things over to the man of the hour. Tippett once again took the opportunity to thank Belichick, his staff and the players for their support. For complete audio of the post-practice rally, download today's training camp podcast on patriots.com. … The Patriots will practice twice on Thursday with start time with the first scheduled from 8:45 a.m.-10:30 a.m. and the second from 4 p.m.-5:15 p.m.