[wysifield-embeddedaudio|eid="519591"|type="embeddedaudio"|view_mode="full"]Chris Hogan was having a strong playoff debut last Saturday against Houston before leaving with a thigh injury. The veteran receiver caught all four passes thrown his way and was just five yards shy of 100 when, midway through the third quarter, he retreated to the sideline. There he received extensive assistance from the team's medical staff.
After several minutes of evaluation, Hogan jogged with a member of the staff to the locker room and never returned to the game.
The good news, according to the receiver, is that he could have gone back in if there were an emergency at his position.
"There was, if I had to get back in there. But it was the right decision not to," he revealed Tuesday.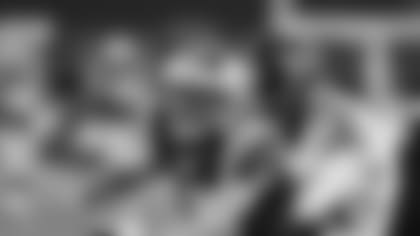 "I'm feeling good. Just had a little minor setback in the game, but I'm working back, feeling better every day."
Hogan, in his fourth NFL season and first with New England, had never experienced playoff football until Saturday. In his previous seasons with Buffalo, Hogan was always
"on the couch, watching football, wishing [he] was in this position" every January. He said the energy of his teammates and intensity of the fans inside Gillette Stadium really stood out to him.
"I'm beyond excited to be in this position, to play in the AFC Championship Game at home, with this team," he added.
"I was happy just to be out there [Saturday] and make some plays down the field and put us in some good positions to score. That's all I ever look to do, is take advantage of my opportunities, make some plays when I can, and just be available."
Whether Hogan can be available for the Patriots this Sunday night against Pittsburgh remains to be seen, but all indications Tuesday were that he'll be back in the lineup very soon. All he would promise, though, is that he'll take this week of practice as it comes.
"I'm looking forward to getting out there and practicing," Hogan remarked. "I'm going to give it everything I have to help this team win."