GLENDALE, Ariz. (AP) --Jimmy Garoppolo did just what Tom Brady always seems to do. Lead the New England Patriots to a late score and victory.
But the Patriots needed a little help.
Arizona's Chandler Catanzaro missed a 47-yard field goal with 41 seconds to play and the severely depleted Patriots escaped with a 22-20 victory Sunday night in the season opener.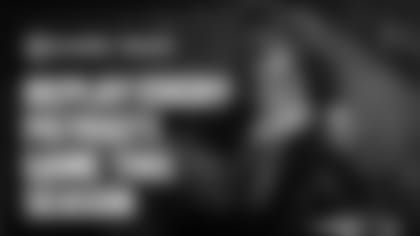 The snap from rookie-long snapper Kameron Canady was low and holder Drew Butler didn't get the ball in terrific position. But Catanzaro was making no excuses.
"Just an old-fashioned miss," Catanzaro said. "I'll make the next one."
The miss came after Garoppolo, in his first NFL start, directed the Patriots from their own 19 to the Arizona 15 to set up Stephen Gostkowski's 23-yard field goal for what proved to be the winner with 3:44 to play.
Garoppolo completed 24 of 33 passes for 264 yards with no interceptions. He never seemed rattled.
"When you have confidence in your teammates and they have confidence in you, it's easy to stay poised," he said.
Arizona's Carson Palmer threw for 271 yards and two touchdowns, both to Larry Fitzgerald.
Not only were the Patriots without Brady, suspended for his role in "deflategate," but they also didn't have tight end Rob Gronkowski, defensive end Rob Ninkovich and two starters on the offensive line.
A remarkable 45-yard run by David Johnson set up a 2-yard, sliding, over-the-shoulder touchdown catch by Fitzgerald that gave the Cardinals their only lead of the night, 21-20, with 9:46 remaining.
Ex-Patriot Chandler Jones sacked Garoppolo on the first play of New England's next possession, but the young quarterback still set up the winning kick by Gostkowski, who also booted a 53-yarder.got great e
"I am really proud of our team tonight," coach Bill Belichick said. "I thought we got great effort from all three phases. We played a good complimentary game."
A holding penalty hampered the final Arizona drive but a pass to Jaron Brown put the Cardinals within field-goal range. The snap was low and Catanzaro booted the ball to the left of the uprights.
New England, a five-point underdog, took the lead on its first possession and scored again to start the second half.
Up 10-7 at the break, the Patriots took the second-half kickoff and went 70 yards in nine plays. Rookie cornerback Brandon Williams was beaten badly for the second time on Garoppolo's 28-yard pass to the Arizona 8. LaGarrette Blount bulled it in from there and the Patriots led 17-7 with 10 minutes left in the first quarter.
"We came out too slow," Palmer said. "We were behind the 8-ball."
The first two Arizona touchdowns followed New England turnovers.
REMARKABLE RUN
Johnson's remarkable run featured about every tool in the running back kit.
He jump cut into the line, spun away from a would-be tackler, put his hand on the ground to steady his balance and stiff-armed another defender before racing down the sidelines. That set up a pretty over-the-shoulder catch by Fitzgerald, the 100th TD reception of his career.
"I thought I was going to take it to the house," Johnson said. "I didn't see the guy behind me. Hopefully it was a defensive lineman and not a linebacker.
FAST START
Garoppolo got off to a fast start, overthrowing the receiver on his first pass then completing four straight for 75 yards. He took advantage of blown coverage by Williams to throw to a wide open Chris Hogan for 37 yards and a touchdown .
On their second possession, the Patriots drove from their 8 to the Arizona 29 and Gostkowski's 47-yard field goal made it 10-0.
TURNOVER NO. 1
The only turnover of the first half led to Arizona's lone first-half score.
Garoppolo took a hit from Markus Golden and fumbled . Jones, acquired in an offseason trade with New England, recovered for Arizona at the New England 40.
NO DANCING
A celebration dance by Jones and D.J. Swearinger drew a 15-yard penalty but Arizona after the turnover but the Cardinals still drove for a score.
Palmer threw 2 yards to Fitzgerald to cut the lead to 10-7 with 6:20 left in the first half.