As the first joint practice with the Jaguars drew to a close on Monday, Joe Cardona hurried off the field and returned in a different kind of uniform. Both teams came together in a circle, leaving the competition that ran through a tough practice behind. 
With his right hand raised, Joe, who is a Lieutenant Junior Grade, swore in two members Navy who chose to reenlist.
Yeoman First Class (YN1) Kelci Rapier and Damage Controlman (DC) Jared Moon thought Joe was the perfect person to perform their reenlistment ceremony because of his dedication to the Navy community, despite balancing an additional job in the NFL.
"He's been given an opportunity to kind of draw away from it, but he doesn't," said San Diego native DC Moon. "He goes on the weekends and he works with the Naval Academy Prep School students that are there playing football. He's there, does a lot of the Play60 events with a lot of the kids around. It's very cool. It's nice and refreshing to see that kind of passion."
Both enlisted in the Navy at 18, and for YN1 Rapier, who has been in the Navy for six years, the camaraderie convinced her to stay longer than the four years she initially planned.
"When I got in here, I just kind of fell in love with the Navy, everything about it," said YN1 Rapier. "There are 'lifers,' as they call us, and I wasn't expecting to be one."
Once they finished taking their oaths, YN1 Rapier and DC Moon were met with applause from both the Patriots and the Jaguars. Before the teams cleared the field, many players stopped to shake their hands and congratulate them on their reenlistment, including Coach Bill Belichick and Tom Brady.
"I'm a huge Patriots fan," YN1 Rapier said. "I grew up in Georgia, and I came up here. It's great that Joe's letting us do this."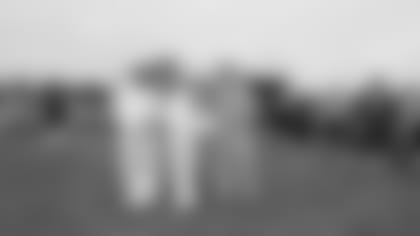 While this wasn't Joe's first time performing a reenlistment ceremony, the day was made special as he performed his military duties surrounded by his teammates, coaches, Patriots Nation and members of the Jaguars organization.
"It was a very special opportunity for me to be able to bring my teammates in, and even the Jaguars organization came out to support two military members stepping up and making that commitment for the second or third time in the their career," Joe said. "You know, committing to more years of service to our Navy and to our country.  So to get to share that with my teammates and our organization, as well as the Jaguars, it was a very special thing for me."
As they both commit themselves to serving their country, YN1 Rapier and DC Moon will remember this day for the rest of their lives.
"Reenlistments are always something that you want to do so that you can remember why you're reenlisting," DC Moon said. "And then getting the unique opportunity to do something like this is definitely once in a lifetime."