The Patriots have a major need at offensive tackle that we'll continue to discuss ways to fill throughout free agency and the 2023 NFL Draft.
With four offensive tackles set to hit free agency from a group that woefully underperformed last season, only incumbent starting left tackle Trent Brown is under contract for the 2023 season. After reportedly re-signing veteran Conor McDermott, the Pats still need to make free-agent decisions on 2018 first-round pick Isaiah Wynn, 2019 third-rounder Yodny Cajuste (RFA), and Marcus Cannon.
The Patriots must come out of this offseason with at least one starting tackle via the draft or free agency, while Brown might not factor into their long-term plans as he enters a contract year, so acquiring multiple players with the upside to start in the 2024 season and beyond would be ideal.
Luckily, the 2023 class features several intriguing options in the first two rounds that could realistically be plug-and-play starters. Plus, they can easily fill out their depth in the later rounds. This is a good year to need a tackle, with considerable depth and a small handful of top-tier options that are prime candidates to be first-round targets for New England.
Here are our top-ten best fits for the Patriots at offensive tackle heading into the NFL Combine:
1. Broderick Jones, Georgia
Round Projection: First Round
The left tackle for the back-to-back national champs tops our wish list as one of the most dynamic open-field blockers we've seen in the last few draft classes. Jones is built like an offensive lineman (6-4, 310 pounds) but blocks on the move like a tight end. His ability to explode out of his stance to connect with defenders on screens, pull blocks, reach blocks on the line of scrimmage and any other in-motion block an offensive coordinator can think up is rare.
Jones's athleticism also translates in how he walls off the edge and changes directions in pass protection, while he has the upper-body strength to latch on and finish. The Bulldogs left tackle will need to check some boxes at the combine in terms of measurables, as he might not have the ideal length for the position, and his technique in his pass sets needs work. Mainly, he carries his hands too low and needs to improve his anchor. But his potential is an All-Pro caliber left tackle in the league.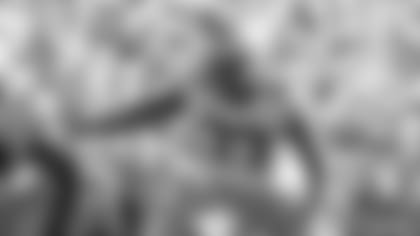 2. Paris Johnson Jr., Ohio State
Round Projection: First Round
Johnson is the classic left tackle prototype with the ideal measurables and physical tools for the position. The Buckeyes' left tackle comes in at 6-foot-6, 310 pounds, with a projected arm length of over 35 inches. He was built in a lab to play the position in the NFL. On film, Johnson gets great initial depth out of his stance to square up edge rushers as they attempt to turn the corner and is more than capable of mirroring pass-rushers on an island. He plays with NFL-caliber playing strength, demeanor, and active feet to sustain blocks throughout the rep. The one big knock with Johnson's tape is that his hand placement is often wide, off-target, and predictable, leading to him exposing his chest and failing to generate as much power as his functional strength should allow. Still, a good offensive line coach can develop his technique, and his baseline athleticism and prototypical size suggest he'll be a long-term starter.
3. Peter Skoronski, Northwestern
Round Projection: First Round
Although he doesn't initially jump out at you on film like Jones and Johnson, a closer look at Skoronski's 33 starts at left tackle shows a perfectly polished prospect. The 2022 AP All-American is an explosive mover coming out of his stance. He covers noticeable ground, generates power through the ground due to his excellent footwork, and plays with excellent natural leverage. Skoronski is also hyper-aware of moving parts, is seldom fooled by stunts or schemed pressure, and has advanced hand usage and contact balance to absorb blows to drop his anchor. There are very few technical flaws to his game, but the reality is that Skoronski is a thickly built-tackle with shorter arms, meaning his frame projects as more of a guard than a tackle at the next level. Skoronski's weigh-in at the combine will be top of mind. He's going in the top 20 regardless, but if he reaches the necessary thresholds for an NFL tackle, Skoronski won't last long in the first round.
4. Dawand Jones, Ohio State
Standout traits matter more when you get further down the board into the end of the first or early second round since prospects are less well-rounded. The Buckeyes' right tackle will enter the league as one of the NFL's biggest humans at 6-8, 375 pounds and 36 5/8 inch arms, according to his Senior Bowl measurements – a monster. His size translates immediately on film with ridiculous playing strength, and he uses a nearly 90-inch wingspan to control engagements in all phases.
This brick wall in pass protection plays with his food often because he's that strong. Jones has all the setbacks of a 375-pound tackle where he has heavy feet and could have issues keeping up on an island with speed rushers at the next level. But I'm willing to bet that he has enough foot quickness combined with his hulking power to be a mainstay at right tackle in New England.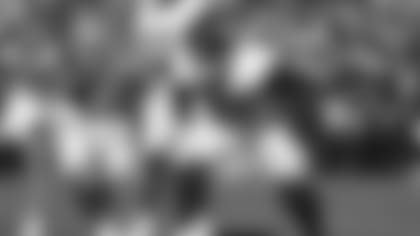 5. Anton Harrison, Oklahoma
Here's another multi-year starter at left tackle with the ideal build (6-5, 315 pounds) to start at the position for a while. Harrison is an easy mover with above-average foot speed, change of direction, and overall fluidity for one-on-one pass protection duties on the left side. His pass sets are balanced with good posture, and his athleticism gives him excellent range in the running game. The coaching staff at OU also refers to him as a strong communicator and a heady pass-blocker who sees schemed pressure coming in his direction. However, his technique as a run blocker leaves some meat on the bone in terms of his ability to strike, leverage, and drive defenders off the line of scrimmage. Harrison isn't a people-mover, but his smooth skills in pass protection and ability to block on the move make him a likely starting left tackle.
6. Darnell Wright, Tennessee
Wright is quickly becoming one of "my guys" among the early day-two tackle prospects who could easily sneak into the end of round one. The Vols' right tackle was at his best against top competition, shutting down the likes of Will Anderson (projected top-five pick) and most of the edge rushers in Mobile at the Senior Bowl.
He's a large (6-5, 342 pounds), powerful striker with cinder blocks for hands that stun and steer his opponents. There are several times a game where he'll strike with independent hands and bury his opponent immediately on contact. Wright played his best ball against the best pass-rushers college football had to offer, which speaks to his ceiling once he learns to play with better balance and timing.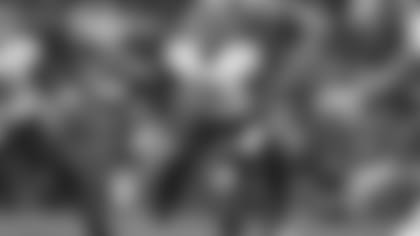 7. Jaelyn Duncan, Maryland
Round Projection: Day Two
Duncan is your typical day-two ball of clay who has the must-haves checked off in terms of athleticism, experience, and he's close enough from a build standpoint to keep him at tackle (6-5, 298 pounds, 33 1/2 inch arms). The Terps' left tackle can reach every landmark necessary with excellent foot speed to protect his edge, above-average range in the running game, and consistently gains good depth out of his kick slide in pass protection. However, Duncan falls into the ball of clay category where the physical tools are there, but he'll need a lot of seasoning to reach his ceiling as a pro. He ends up on the ground too often due to poor balance, struggles with pad level, or playing too tall in his stance, which leads to anchoring and issues moving defenders in the running game. If he gets with the right coach, Duncan has as much potential as any non-tier one tackle. But it might take him some time to improve his technique.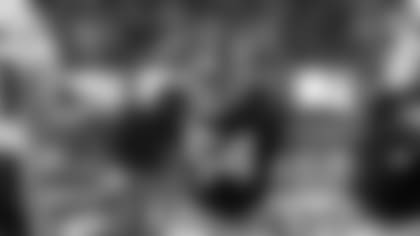 8. Tyler Steen, Alabama
Round Projection: Day Two
After beginning his career at Vanderbilt, Steen transferred to Alabama, where he started all 13 games for Bill O'Brien at left tackle. Steen is also a very athletic mover who can win with his feet in pass protection by cutting off the angle to the quarterback and successfully reach landmarks in the running game. He also came in with decent size for the position at the Senior Bowl with a 6-foot-5, 325-pound frame and 33-inch arms. Some view Steen as more of a guard than a tackle, but if he can improve his functional strength and be more consistent with his technique, he's a nuanced athlete with starting-caliber traits at tackle.
9. Wanya Morris, Oklahoma
Round Projection: Third or Fourth Round
Morris might be the other tackle from the Sooners' offensive line, but his tape was extremely impressive when he was on his game. Morris was a three-year starter at the collegiate level after transferring from Tennessee to Oklahoma and has all the physical tools to develop into a starter. Morris is a long and well-built prospect with an arm length of over 35 inches at 6-5, 317 pounds. His range at the position seems more than adequate, while there are quick wins all over Morris's film using his power and length. As a run blocker, he can generate movement and flashed in space. Morris had some ups and downs due to inconsistent technique. But he has the tools to start on the right side.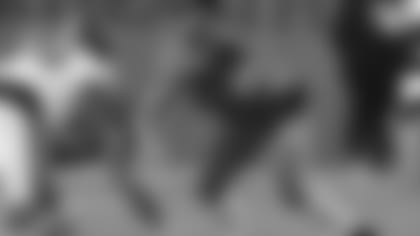 10. Cody Mauch, North Dakota State
Round Projection: Day Two
Look, there are too many people I trust saying that Mauch is an interior player at the next level. It's what's best for his body type (6-5, 305 pounds, 32 1/8 arms), aggressive playing style, and to mask his limitations with range and footwork on an island in pass protection. However, he's someone that I want on my football team. Mauch has the best first-step explosiveness outside of Broderick Jones in this class, exploding out of his stance to make effortless climbs to the second level and blocks on the move while generating significant power due to that initial quickness. He's also collected pancakes at the FCS level like he was opening an IHOP. His ideal NFL position will likely be moving him inside to guard, but if the Pats feel like he can play right tackle, I'd entertain the idea simply because Mauch's road-grading style is what playing offensive line is all about.
11. Matthew Bergeron, Syracuse
Round Projection: Day Two
The Syracuse left tackle is a very positionally sound blocker who plays with excellent balance, timing, and leverage. Although he's built more like a guard, Bergeron is a crisp-moving player and has an advanced understanding of the game by diagnosing moving parts quickly. There's a lot to like about Bergeron's body control, lunch pail approach, and ability to change directions with power in his base funneling to his upper body. However, limited range in pass protection and lack of length (33 5/8 inch arms) suggest his best fit in the pros will be at guard.
Honorable mention: Blake Freeland (BYU), Carter Warren (Pittsburgh), Warren McClendon (Georgia), Ryan Hayes (Michigan)