A familiar jersey number 72 was spotted on the field at Patriots camp Saturday. Though he was mostly just an observer, left tackle Matt Light suited up in full pads with the rest of his teammates for the first time since re-signing with the club earlier this month.
Light, who's not quite ready for full-contact after offseason shoulder surgery, is easing his way back into football shape.
"I'm just trying to make sure I can go out there and get as much done without actually going through a lot of the physical end of this," he told reporters after practice. "Unfortunately, I can't just jump back into it given what surgery I had in the offseason, so right now a lot of it's mental. [I'm] trying to keep the physical side of it going to what extent I can and hopefully be out there full tilt sooner than later."
Light acknowledged that while the lockout caused him to improvise a bit during his recovery, as players weren't allowed to use team facilities for rehabilitation, he insisted it wasn't a factor in his having to return gingerly to the practice field.
The time off has, however, heightened Light's desire to get back into the grind of full-pads practices, as difficult a toll as they can take on a player's body.
"This process," he explained, "was the right way to do it. I've had shoulder [injuries] in the past and the protocol is the same every time. You want to feel how it goes. You want to do some drills without the – when you're hitting a live body, it's a whole lot different than hitting a bag, so it's better to break in easy than blow something up on day one. We've got a little bit of time here and like I said, hopefully sooner than later I can get out there and do the full deal."
Looking for something more special
The performance of the Patriots special teams units against Jacksonville was a topic of conversation during Bill Belichick's daily press briefing, as results from the first preseason game were so-so in that regard.
On the down side, New England's kickoff team allowed nearly 200 yards in returns, including one that went for 84 yards. Another kickoff sailed out of bounds, and the team's second extra point try of the night was botched from the start. It squirted past holder Zoltan Mesko, who wound up kicking it bounds deep in his backfield to avoid the Jaguars from recovering and returning it.
"I think we had our moments," the head coach said. "At times we covered well. We only punted once, but we covered that well. We covered some kickoffs well, [but] there's definitely one we didn't cover very well. In the return game, we didn't return the kickoffs very well. I was disappointed in that. We had one long punt return called back. It was a close call [and] we had that called back, but it was a little bit of a sign of life there.
"But there were some good things in terms of our return game where we had a number of blocks made, but just not enough to really spring a big play. Again, things we can build on. I think we need a little bit better play out of the specialists as a group. You can't really be strong in the kicking game if the specialists don't play well, so we have to have good execution out of that group."
Of note in today's practice, cornerback Darius Butler took several reps with the kickoff return team. Perhaps that was a consequence of wide receiver Julian Edelman, a regular in that spot, watching in shorts and a t-shirt, but after what Belichick said, it caught the attention of some observers.
On the kickoff coverage team, rookie Chris Koepplin continues to handle the kicking duties, as incumbent Stephen Gostkowski continues to work back incrementally from his quad surgery. Gostkowski booted every point-scoring opportunity kick against the Jaguars, but has yet to be seen kicking off in public since last November.
"We'll see how it goes. I mean, eventually he'll do it," Belichick predicted. "The recommendation that we have as far as his schedule is it's a progression and I feel like we're on track on that progression … haven't had any setbacks. Steve is doing well, so we'll just go the way that it's set up unless there's a reason to change it."
With Dan Connolly nursing what appears to be an elbow injury and versatile backup Ryan Wendell on the shelf as well, the Patriots are somewhat thin at the interior line position at the moment.
To stanch the roster wound, New England brought in rookie free agent Zach Roth (long o, rhymes with 'growth'), a 6-6, 320-pounder from Texas Christian. To make room for Roth, the Patriots released veteran o-lineman Chris Morris, who'd missed several practices with a presumed injury, and defensive lineman Steve Williams.
Safe to say it was an inauspicious debut for Roth. Early in practice, during the one-on-one rushing/pass protecting drill between the o- and d-lines, Roth was sent on a penalty lap for some transgression and appeared to be laboring in the effort. The next time he was seen, a few minutes later, he was being assisted onto the back of a flatbed cart and wheeled off to the locker room. He did not return to action.
Weather: Overcast, mild, low 80s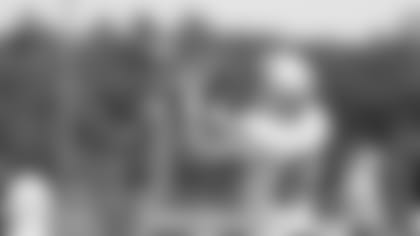 The Pro Bowl wide receiver looked as sharp as he has all summer, getting open with great route-running and catching everything thrown his way.
Who's Not: Rich Ohrnberger
The third-year offensive lineman, getting an opportunity to play right guard with Tom Brady and company, had a rough outing in one-on-one blocking drills against the defensive line. He got eaten up several times, but one in particular against Vince Wilfork really stood out.  
During situational 11-on -11 team work in the middle of practice, Brady dropped back to pass and quickly surveyed the field. He then rifled a pass straight down the middle of the field, between the hash marks, to an area that looked like it was being occupied by three defenders. However, at the last moment, Welker came running into view, splitting the trio of blue shirts. The ball sailed just over the head of trailing linebacker Jerod Mayo and into Welker's hands with his having to break stride. The play was then blown dead, but would have been a pickup of at least 30 yards.
Quote of the Day: "Most of it was transcendental meditation ... Maharishi Mahesh Yogi. You should look into that, it's pretty deep."
Matt Light, joking about what he and Bill Belichick discussed prior to his re-signing