INDIANAPOLIS – There is little question 2008 first-round pick and eventual NFL Defensive Rookie of the Year Jerod Mayo will be the centerpiece of New England's linebacking corps for years to come. And just as Mayo brought to the inside last season, the group could probably use an injection of youth on the outside this fall. But that doesn't rule out the possibility that the team could also look to the inside once again on draft weekend to find someone to plop down next to Mayo in the 3-4 front.
Tedy Bruschi (who'll be 36 by training camp) isn't getting any younger and is coming off a knee injury that sidelined him for the final month of last season. Beyond Bruschi there isn't a lot on the depth chart. Gary Guyton did a decent job stepping in as an undrafted rookie who looks best suited to play in sub packages. Junior Seau filled in last December, but he's certainly not a long-term option and could very well be at the end of the road. Larry Izzo and Eric Alexander(restricted) are both free agents, and neither special teamer is really an option on defense.
Sure both Mike Vrabel (34 in training camp) and Adalius Thomas (32 in training camp) have the ability to slide inside when needed, but given the general lack of depth in the middle getting Mayo a young partner in crime is a legitimate need moving forward.
While this year's crop of inside linebackers isn't considered an overly elite group, there are certainly some alluring names atop the rankings as well as some latter round possibilities that bear watching. As always, though, finding players who fit New England's two-gap 34 front is a challenge when most college programs don't use the scheme on a regular basis.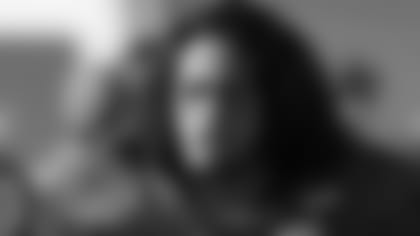 Two players who very well could have been high picks in last year's draft project as first-round inside linebackers again this spring. Both USC's Rey Maualuga (6-1, 249) and Ohio State's James Laurinaitis (6-1, 244) could be seen as potential inside options in a 3-4. In terms of landing in New England, though, both players could be gone by the 23rd pick and one wonders if the team would take an inside linebacker in the first round in back-to-back drafts.
Maualuga is a big hitter with the ability to be a true inside run stuffer, although he's also shown the athleticism to make plays in coverage at the college level and is seen as a true three-down linebacker. Even though he's considered a top prospect, Maualuga mentioned a number of times in his Saturday press conference that he wants to be "rediscovered" at the Combine.
"People may know my name, but people don't know who I am," Maualuga said at Lucas Oil Stadium. "Like they say, first impression counts. Just to be out here, just to meet the coaches, shake their hands and compete against these guys, just to get my name out there. They know my name just being at 'SC, but they don't know who I am competing against guys and competing under pressure. That's what I felt coming in here was my biggest job to do."
As for NFL linebackers he follows or compares to, Maualuga first noted those who share his Samoan roots.
"I look up to guys who are my heritage like Lofa Tatupu and Junior Seau," Maualuga said. "But I'm a big fan of Brian Urlacherand Ray Lewis, guys who bring intensity and can change the whole scheme of a defense and impact a game because of who they are and what they bring to the team."
The seemingly humble Trojan also went on to downplay any comparisons between himself and Lewis.
"I'm nowhere near Ray Lewis," Maualuga said. "Ray Lewis is a respectable man who brings a lot to the table. I'm just a guy coming out of college and being compared to Ray Lewis, I've got a lot to prove, a lot to work on. I respect Ray Lewis. I'm way far away from his game."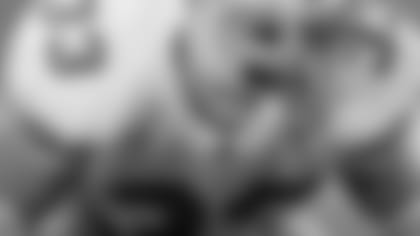 Laurinaitis is the son of former professional wrestler Joe "The Animal" Laurinaitis.
"I've been blessed with great genetics (his dad) being a wrestler and a meathead and my mom (Julie) being a fitness model," Laurinaitis said. "So I have a unique set of genes, but I'm very blessed."
Though his stock may have fallen a bit since this time a year ago, the Buckeye star in no way regrets returning to Ohio State for his senior year. Well decorated with Butkus and Bronko Nagurski Awards, Laurinaitis has the total package of physical skills even if he hasn't made as many big plays in college as some scouts might have liked.
"I knew that coming back, there's going to be guys that stayed that would be more competition. I'm not one to shy away from competition, that never bothered me," Laurinaitis said. "I never looked back at the coming back thing like, `Oh, I've got to leave early because some other guys may come out next year.' OK, whatever, let's go, I'd like to see how I compare to them. I took it as a challenge, and it's something that it's a great opportunity to get out there amongst those guys."
After the top two many of the inside linebackers slated by NFLDraftScout.com to go in the second, third and fourth rounds are more 4-3 players. That list includes LSU's Darry Beckwith(6-1, 233), Southern Miss' Gerald McRath (6-3, 224), Georgia's Dannell Ellerbe (6-1, 236) and TCU's Jason Phillips (6-1, 236).
One intriguing prospect projected as a possible third-round pick is Pittsburgh's Scott McKillop (6-1, 244). The Big East Defensive Player of the Year totaled 288 tackles over the last two seasons. He's not a guy whose measurables jump out, but his production and game tape should impress the scouts.
His big concern at the Combine was trying to prove he has the 40-speed and overall athleticism that's required at the next level.
"I'm hoping to run fast and lift a lot and look well in linebacker drills and show everyone I am athletic, contrary to what a lot of people think about me," McKillop said. "I just think with being a white linebacker (you) get labeled as an overachiever in college. I think I can play. This is one of a bunch of steps I need to take to reach that goal."
He also wants to show that you don't have to come from a football factory to be ready for the pro game.
"I think it's important for anybody, but it's more important for myself because it's my opportunity to go up there and match myself against the USC linebackers and the Ohio State linebackers and show I can compete with them," concluded of the value of the Combine.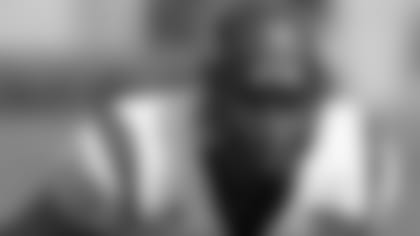 While the middle rounds project to be filled with 4-3 types, the later rounds could bring a number of options for teams looking inside in the 3-4. California's Worrell Williams (5-11, 242), Nevada's Josh Mauga (6-2, 245), Virginia's Antonio Appleby (6-4, 243) and South Carolina's Jasper Brinkley (6-1, 252) all have the size required of the position. Only Appleby has the experience playing in the scheme full-time in college, but Mauga and Brinkley are both intriguing options.
Mauga played a variety of different spots at linebacker for Nevada where he showed good instincts and proved his toughness while playing parts of last fall with a torn pectoral muscle that he had repaired two months ago. He's not working out at the Combine, rehabbing up until his pro day, but still hopes to impress the top decision makers in Indy.
"Just to get my name out there. Hopefully get on the map with all these other guys," Mauga said of his intentions. "I'm a player that brings a lot of intensity, a guy that flies around, makes plays and plays sideline to sideline."
At least based on his own words, he's a good fit for a two-gap scheme and taking on guards.
"I love contact with the o-linemen. I love blowing up the gaps," Mauga said with a smirk.
Brinkley's biggest issue this week is proving that he's healthy. He clearly has the size and power to play inside in the 3-4. But he missed all but four games in 2007 with a torn ACL and by many accounts wasn't the same player when he returned to the field this past fall. If healthy, his pure physical tools could make him a potential late-round steal.
"I like to consider myself as a run stuffer. But the thing I've been trying to get at is that I'm not just a two-down linebacker," said Brinkley, who said he'd met with the Patriots on Friday night. "I'm an every-down linebacker.
"I'm willing to accept any challenge."
Given that the Patriots used a high pick on Mayo a year ago, finding a late-round player like Brinkley who might be able to pair up with the reigning Rookie of the Year on the inside in the future would be a real coup. Regardless of where the player comes from, don't be surprised if Bill Belichick continues to add young players to his linebacker depth chart this spring as some of his most proven playmakers at that level move closer toward the end of the road in New England.