The draft is a special day for football fans. In the weeks leading up to it, anyone can be a general manager. From sports talk radio hosts to fans on Internet message boards, people gives their opinion on which players their favorite team should draft.
After the draft is over, everyone switches from general manager to draft critic. Which teams won and which teams lost? Mel Kiper gives out his draft grades but in reality, no one knows how well teams drafted until two or three years later when we actually see the players perform on the field.
Some teams can assess their draft class faster than others. Usually teams picking near the top play rookies right off the bat. Their rosters aren't loaded with a lot of talent and they need their younger players to get on the field as soon as possible in order to have success. Defending Super Bowl Champions usually don't fall into this category but because of injuries at virtually every position last year, the 2005 Patriots weren't your typical defending champions.
Rookies were forced into action earlier than expected for the Patriots last year. It's safe to say that entering training camp only one rookie - first-round selection Logan Mankins - was projected to see significant playing time.
The Patriots selected Mankins with the final pick in the first round. An Outland Trophy candidate from Fresno State, he was rated the best offensive guard prospect coming out of college by The NFL Draft Report, despite playing his entire career at tackle for the Bulldogs. Mankins started every game at left guard for the Patriots in his first year with the team and looks to be a cornerstone on the offensive line for years to come.
Mankins was expected to come in right away and compete for a starting job but Nick Kaczur - a third-round selection out of Toledo - was originally drafted to provide depth on the offensive line. However, after Matt Light went down with a knee injury in Pittsburgh, he went from a player with future potential to the Patriots starting left tackle. Having two new starters on the left side of the offensive line may not be a team's ideal situation but both Mankins and Kaczur played very well last season.
Kaczur, especially, was a pleasant surprise. He held his own against some of the best pass rushers in the NFL like the Dolphins Jason Taylor and the Colts Dwight Freeney.
Head coach Bill Belichick liked what he saw last year out of his two rookie linemen.
"I think they're both coming along and making progress," Belichick said late last season. "Logan has played inside the whole year, so he's locked in there. Nick has spent time at both tackles but now more at left tackle since Matt is injured, so he has kind of settled in there. They have both done well for us.
"Both of them work hard and are well prepared. They have seen some things and situations they may not be familiar with but overall they have managed it well with minimal mental errors."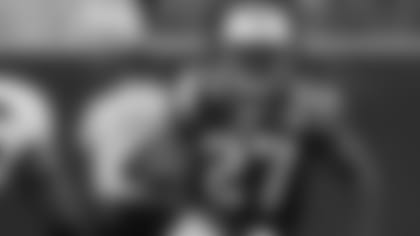 Ellis Hobbs**, the speedy cornerback out of Iowa State, was the Patriots first of two third round selections. New England drafted Hobbs with the 84th pick, 16 spots ahead of Kaczur.
He's a player whose role expanded as the season went on in 2005. During the first half of the season, the former Cyclone saw time in the Patriots nickel defense and was a big contributor on special teams. After Duane Starks became the fifth defensive back to be lost for the year, Hobbs was forced into the starting job and the young cornerback was more than ready to take on the challenge.
"It was one of the things I prepared myself for day in and day out during training camp," he said. "I just kept telling myself to always be ready and if my time comes, be prepared to take advantage of my opportunity."
Belichick called Hobbs a tough, smart player and the corner is thankful he was able to get playing time early in his career; something Hobbs believes will help him in the future.
"Just getting your feet wet in the NFL is helpful," Hobbs said. "So many guys in their third and fourth year haven't seen the field much and when they finally get out there, it's like starting all over again. I feel like I have a jump in that sense. I'll take what I learned as a rookie and move forward next year."
James Sanders was Mankins teammate at Fresno State. The hard-hitting safety started against Denver but an ankle injury slowed him for much of his rookie season.
Sanders hasn't done enough yet to really make an impression on the field but he has made an impression with defensive captain Rodney Harrison. The injured safety said Sanders is an intelligent player who is mature for a young player. Harrison believes Sanders will do well in the Patriots defensive system. Sanders will enter 2006 as one of many candidates fighting for a starting job at safety until Harrison returns.
The surprise of training camp last year was Mike Wright, an undrafted free agent from Cincinnati. The rookie defensive tackle beat out veteran Rodney Bailey for a roster spot and saw a lot of playing time in his first year because of the injury to Richard Seymour.
"When I get in there, it's great," Wright said. "It's under the circumstances to give the other guys a rest and that's fine with me. As long as I can help the team in that way, it's fine. Every little bit counts. You get a little nervous just sitting on the sidelines but once you actually get into a couple of games you get more confidence, so it's good now."
Late in the 2005 draft Patriots fans looked at each other when it was announced the team drafted a quarterback from USC whose name wasn't Matt Leinart. The Patriots selected Matt Cassel with one of their two seven-round draft picks. Cassel backed up Heisman Trophy winners Leinart and Carson Palmer at USC. When Palmer left to go to the NFL, Leinart narrowly beat out Cassel for the starting job.
Despite his lack of game experience, the Patriots liked what they saw in the strong-armed backup. He won a spot on the roster as the third quarterback after a good training camp.
Cassel played a majority of last year's season finale against the Dolphins, completing 11-of-20 passes for 168 yards and two touchdowns. With Doug Flutie recently retiring, Cassel is hoping he can build on his performance in that game and win the backup job in 2006.
"I believe and hope I can be the backup if that opportunity comes up," Cassel said. "Hopefully after having a year under my belt, I will be able to establish myself as the No. 2 guy if I get the chance."
A lot of players from last year's rookie class were forced into playing time because of all the injuries the Patriots suffered in 2005. That was a blessing in disguise because the experience they got on the field will allow them to contribute even more this upcoming season. Mankins is entrenched as the starting guard while Hobbs, Kaczur and Sanders will all compete for starting jobs in training camp. With the possibility of Cassel being the backup to Tom Brady and contributions on the defensive side of the ball from Wright and maybe even linebacker Ryan Claridge, the Patriots 2005 draft class is looking very promising after only one season.