When Kyle Love entered the Patriots locker room today, he was instantly surrounded by reporters eager for his comments.
Sure, they wanted to discuss the upcoming game against the Jets and Love's improved play in his second season.
But there was another major topic on their minds: the release of high-profile defensive lineman Albert Haynesworth (who has reportedly been picked up by Tampa Bay), and what that means to the young Love.  
"I don't really want to get into all that," he demurred. "That's not my deal."
However, the good-natured d-lineman did acknowledge that the transaction could positively impact him.
"I just know I have to step up even more now, you know. Probably get a little bit more playing time, so, just got to step up a little more," he said.
After making the roster as an undrafted player last season, Love has been pegged as an underdog since day-one, gradually earning more and more playing time with each passing week.
He insisted, though, that Haynesworth's arrival in Foxborough for the first half of this season was more helpful than restrictive to Love's growth as a player.
"I was actually excited. I get to learn something from another d-tackle. He has a big name in the league. Albert Haynesworth and Vince Wilfork, I get to learn a lot of stuff from these guys. So, I kind of just soaked it all in."
Now, with Haynesworth gone and Love having become a regular contributor and frequent starter in New England's defensive line rotation, Love asserted that there is a clear lesson to be learned.
"Same thing I feel about everything: just play harder. Guys come in and out, it could happen to anybody. Just play harder, that's all."
It's that type of approach that has earned Love the label of an underdog.
He cited his pass-rush abilities as the main area where he's improved since becoming a pro, through improved technique, more in-depth film study, and doing what his coaches ask of him.
Being dubbed an underdog is starting to get "overplayed," Love told reporters, maintaining that he's "just trying to be a better man and a better player as an individual."
He understands, however, that the term is meant as a compliment, particularly when it comes from someone like Jets head coach Rex Ryan tosses, who tosses them around like manhole covers. Today, on a conference call with reporters, he referred to Love as "underrated."
"It's pretty good to hear that from an opposing coach. What can I say, I really appreciate that, coming from him," Love responded.
But don't for a moment think he's letting that rare praise from Ryan go to his head.
"I'll just take that in stride and keep doing what I'm doing," Love continued, "play hard from week to week.
"I'm always going to be like that. Nothing like that is going to change about me. I'm always going to play hard. I feel like this is what the coaches ask of us. You have to live your life like that and being a competitor in everything you do."
Speaking Ryan, he was asked about a movie cameo he recently shot, in which he plays a die-hard Patriots fan. Ryan is seen in an office bedecked with Boston sports memorabilia, including a Tom Brady poster and a Bill Belichick bobblehead doll.
"It was a stretch, no doubt, but it was great, a lot of fun," chuckled Ryan.  
"They had a lot of Red Sox stuff in there, a lot of Patriots stuff all over the place, even Bruins stuff … Quite honestly I'm not a fan of any of those Boston teams.
Ryan concluded with a characteristic quip, saying, "For some reason, I think [the Belichick bobblehead] got knocked over and broke into several pieces … Just joking."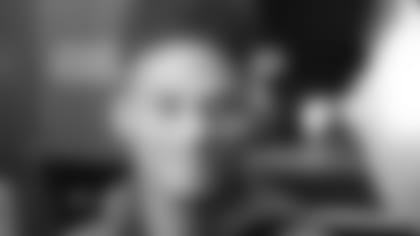 While New England parted ways with Haynesworth, they also brought back a few players this week who were with the team earlier this season. One is wide receiver Tiquan Underwood (known for his old-school, Kid-n-Play high-top-fade hairdo).
The Rutgers product is good friends with former Scarlet Knight teammate Devin McCourty, who encouraged Underwood during the past several weeks while he worked out on his own in Arizona.
"He told me, 'Come in here ready to compete, you have a good opportunity in front of you, come ready to work and do your job and you should be fine,'" Underwood revealed. "That's the approach I'm going to take."