Patriots safety John Lynch.


Even as a Denver Bronco, John Lynchknew the Patriots had something special brewing in New England.
"I've always admired this organization from afar," the veteran safety said Friday following his first practice at Gillette Stadium after signing with the team on Thursday. "You come out here, and you have star players all over – Randy Mossto Tom Brady, to [Mike] Vrabel, [Tedy] Bruschi[and] Rodney [Harrison].
"You can go on and on – [Richard] Seymour, [Vince] Wilfork– but to me, the thing that has impressed me the most is the way they play the game. I think they play it the right way.
They embody the sense of team as well as anyone. That's led to the success. I think everybody in the league wants to be a part of that. I thought Denver would be my last stop, but things happen, and I'm happy to be here."
Lynch – now entering his 16th season – almost ended up in New England as a free agent four years ago, but ultimately signed with Denver, where he totaled 304 tackles and seven sacks while earning four consecutive trips to the Pro Bowl.
Unhappy with his limited role on defense, Lynch asked the Broncos to release him from camp this summer, and they granted his wish on July 31. After losing safety Tank Williamsto a season-ending knee injury against the Ravens, New England brought Lynch in for a visit Wednesday and reached a deal on a reported one-year contract less than 24 hours later.
"I'm excited to have John on the team," Patriots head coach Bill Belichicksaid. "He's a guy I've admired for a long time with his playing style and his production. I had the opportunity to coach him in Hawaii a couple years ago [at the Pro Bowl]. I have a lot of respect for John, the way he plays and the way he prepares."
Lynch's role is unclear at this point, though he spent most of his time at practice Friday working as a nickel back roaming near the line of scrimmage. The lively veteran also blitzed off the edge on several plays and worked primarily on third-down packages.
"I'll just try to come out here and be the best I can be and see where that leads us," Lynch said. "This is a place where they utilize veteran guys very well. When someone has a track record, you're interested in being a part of that, so I'm extremely excited about being here."
"I functioned well on such little sleep," he said. "I was out here early in the week, went home [to San Diego] to discuss it with my family, felt good about the decision, came back and learned the playbook in one night, and got through it pretty good. That was a good first day."
Though it's unlikely considered he just arrived, there's a chance Lynch could suit up Sunday night and make his preseason debut against the Tampa Bay Buccaneers, who originally drafted him with the 82nd overall pick in 1993.
"We will look at the film, talk to him, see how he feels and see how we feel," Belichick said. "He's only been here one day. We have a long way to go."
Whether he plays Sunday or not, Lynch is ultimately looking forward to working with 15-year veteran Rodney Harrison, who also has a reputation as one of the hardest-hitting safeties in the NFL. Harrison hasn't been on the practice field since Monday and his status for this weekend is uncertain.
"I studied him," Lynch said. "You try to emulate guys that are the best, and take little parts of their game. I think he's a guy I've always respected for the passion he plays with and the way he plays. It's going to be fun to play with him.
"Hopefully, we can both teach each other some things. Sometimes you learn things from young guys. That's the great thing about this game. You're never done learning. You never have it figured out. That's the challenge that keeps guys going."
Randy Mossworried about living up to expectations?
"I'm actually kind of nervous," Moss said Friday following a rare – yet brief – interview at the end of the Patriots' final training camp practice of the season. "The reason why is because of what we did last year as a whole unit. We're going to try and come out and put points on the board. That's what we are coached and asked to do.
"The expectations and bar are set so high here. Not by you all [media] or the fans, but just by the coaches and the team. We have high expectations for this offense and this team as a unit. With what we did last year, I don't think we can live and dwell off that because that was last year. Like I said before, there is a little bit of nervousness because of how high the bar is set here."
Answering only three questions from the assembled media, Moss also attributed last year's loss in the Super Bowl to his decision to re-sign with the Patriots after setting an NFL record with 23 touchdown catches in 2007.
"First and foremost, we have some unfinished business," Moss said. "I like the camaraderie around here, especially in the locker room and on the field. They have a great group of guys in the locker room. I think that's all you can ask for.
"Coach Belichick understands football and understands his players. He puts us together as one and we come together as a team. That is something you can respect playing in this profession and in this league."
No wonder he's so worried – not necessarily for his teammates, but for the opponents who'll be assigned to cover the Patriots in 2008. Just imagine what they can do with Moss, Wes WelkerandTom Bradytogether for another full season.
"For us to have a whole offseason and training camp under our belts to really understand the offense is scary," he said. "That's why I say I'm nervous, because there's really no telling what we're going to do. The bar is set high and we'll see what happens."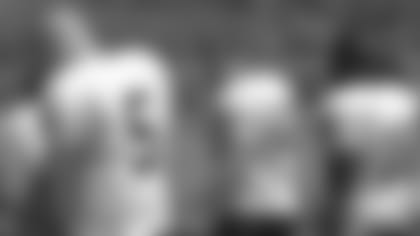 ]()The annual tradition of rookie hazing took place Friday as the Patriots wrapped up their final public practice of training camp. The first-year players walked onto the field sporting brand-new haircuts, with the term "haircut" used loosely.
The design shaved into the side of linebacker Shawn Crable's head slightly resembled the insignia from the helmet worn by his alma mater, the Michigan Wolverines, while third-string quarterback Kevin O'Connelltook snaps boasting a fresh Mohawk.
Others had far less intricate patterns woven into their scalps. Bo Ruudavoided the stares from on-lookers since the veterans shaved his head completely bald, and Vincent Reddmanaged to keep his dreadlocks, though the same can't be said for his eyebrows.
"For some of them, it's an improvement," joked Belichick.
Who's hot: Jabar Gaffney – The receiver caught several passes Friday, primarily at the expense of newly-acquired cornerback Ade Jimoh, who had a hard time keeping up on defense. Gaffney beat Jimoh twice over the middle during 11-on-11 drills, further highlighting the Patriots' need for quality coverage in the secondary.
Who's not: Fernando Bryant– The veteran cornerback got beat on a touchdown to Benjamin Watson, then injured himself trying to rip the ball from the tight end's hands as he fell to the ground. Bryant walked off with his left arm dangling at the side of his body and received treatment on the sideline before sitting out the rest of practice – a rough day at the office regardless of the severity of the injury.
Play of the Day: Rookie cornerback Terrence Wheatleycontinued to make positive strides in his bid to win a starting role, making a leaping interception near the middle of the field on a pass from O'Connell intended for Watson. Wheatley made a nice adjustment on the under-thrown ball and caught it with both hands over his head.
Seventeen players missed practice Friday: Wide receiver Kelley Washington, cornerback Jason Webster, cornerback Jonathan Wilhite, cornerback Lewis Sanders, running back LaMont Jordan, cornerback Mike Richardson, fullback Kyle Eckel, guard Stephen Neal, tackle Ryan O'Callaghan, center/guard Russ Hochstein, tackle Matt Light, tackle Oliver Ross, tight end Stephen Spach, wide receiver Sam Aiken, defensive lineman Le Kevin Smith, Brady and Harrison. … The Patriots worked on running plays under the influence of crowd noise by playing loud music through the speakers during goal-line and short-yardage drills. … Safety Antwain Spannspent a considerable amount of time lined up next to Brandon Meriweather on the first-team defense.