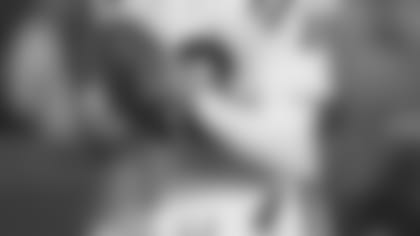 ]()Despite all the success he's had in the NFL, including a record-breaking 49-touchdown season in 2004, there are some numbers Peyton Manning just can't escape. 2-10. That's Manning's career record against the Patriots. Zero. That's how many wins the Colts signal-caller has in New England, where he is 0-7 in his career. Three. That's how many points the Colts high-powered offense scored in last season's playoff game. Those are the numbers Manning is up going up against Monday night and those are the numbers he would like to see put to rest once and for all.
Even though the Colts are undefeated at 7-0, Manning is looking forward to playing the Patriots and seeing how good his team really is.
"We've had good teams here the past few years," Manning said. "All we are is off to a good start this year. We put ourselves in good position over the first seven games. So this will tell a true tale of what kind of team we are and what kind of team we had."
The Colts have indeed come into Foxborough with good teams in the past. In last season's playoff game, the Colts were actually favored to beat the Patriots on their home field after they dismantled the Broncos 49-24 the week before.
The high flying Colts offense never got going that day as they were stymied by both the weather and Patriots defense. Manning went 27-out-of-42 for 238 yards and an interception. It was the first time all season Manning and the Colts didn't score a touchdown in a game.
Manning wouldn't comment about his lack of success against New England, saying only it's better to win than lose. He did, however, admit this was an important game for the Colts, coming into Foxborough to take on the defending Super Bowl Champions.
"When you're playing a team like New England, who is going to be there in the postseason, this is a great test to see what kind of team you are," he said. "When you play against a good team, you sort of see where you stack up. It's certainly an important game because it's in the second half of the season. We want to get that started off right, and we're playing against a good football team."
This season has been a little bit different for Manning. Edgerrin James has rushed for 801 yards and seven touchdowns and the Colts defense ranks fourth in the NFL. This is certainly a far cry from last year when Manning and the passing game got all the attention.
Manning joked that fantasy football players are mad at him this season because the team is running the ball more and playing good defense. Besides not toping the fantasy football charts, Manning couldn't be happier.
"You sleep a little bit better at night," Manning said. "It's nice going into a game knowing the defense is creating field position for us or causing turnovers for your offense. It's a little different. I will say that. I always get people saying that defense has been the story and you must not like that because you're not getting any attention. Are you kidding? This is what I love. This is the way good teams should have it."
Bill Belichick said don't believe the numbers. The Colts offense is still as explosive as ever.
"When people say they're slowing down, I don't know what games they're watching," Belichick said at his Wednesday press conference. "I'd like to be able to go out and average 35 points a game."
Manning and the Colts come into New England hitting on all cylinders. The Colts players have said for the most part this week that despite all the hype, this is just another game. For Manning, one would have to think that's not the case. The Colts quarterback has been beat up by the Patriots like a kid gets beat up by a bully for their lunch money. For Manning and the Colts, this may be their best chance to finally slay the big, bad bully and get the Patriots monkey off their back once and for all.
Patriots and Colts connectionsBelichick began his NFL coaching career as a special assistant for the Colts in 1975…Assistant head coach/offensive line coach Dante Scarnecchia was the offensive line coach for the Colts from 1989-1990… Special teams coach Brad Seely got his first NFL coaching job with the Colts as a special teams and tight end coach…Tom Brady made his first NFL start against the Colts on Sept. 30, 2001. Brady completed 13-of-23 passes for 168 yards in the Patriots 44-13 victory…Rosevelt Colvin, Brandon Gorin and Matt Light all attended Purdue University…Colts safety Dexter Reid and running back Kory Chapman were both on the Patriots roster for the 2004 season. Chapman was on the practice squad while Reid played in 13 games, including two starts.
Notes
Former Patriots Antuan Edwards and Wesly Mallard have caught on with other teams. Edwards signed with the Atlanta Falcons and Mallard with the Tampa Bay Buccaneers…The Patriots have an all-time winning percentage of .642 against the Colts. That is the highest winning percentage against any team they have faced more than 10 times...The Patriots signed running back Mike Cloud on Friday to add depth at the running back position. To make room for Cloud, the team cut safety Arturo Freeman. The move comes as a bit of a surprise seeing that Freeman started at safety against the Bills and the Patriots are thin right now in the secondary.