Much has been and is being made of New England's 15-game winning streak over their AFC East rivals in Buffalo and how that might impact Sunday's tilt in Orchard Park.
To second-year corner Devin McCourty, the past means little.
"We have a bunch of guys who haven't been here a long time to know about those past games," the co-captain told  reporters Thursday. "So, if you just look at last year, we've been in tough battles with them. We already have that respect for them and I think they're now proving it to everyone else. They're 2-0, had two great games to open the season.
"Yeah they have that confidence. Anytime you're playing well and you go out and win two games to start the season, that's where the confidence comes from."
Since he brought up the subject, McCourty was asked about his own confidence, and whether it's been damaged after he and his teammates in the Patriots secondary have given up substantial yardage totals and touchdowns to opposing receivers in the opening weeks of this season.
While acknowledging that he always sees plenty of room for improvement for himself as a player, he contends that he hasn't lost faith in his abilities.
"It's key when you're playing the cornerback position. You're going against great receivers, great quarterbacks in this league. Once you lose confidence, it can all go downhill from there. That's a key, just keeping your confidence and playing the techniques you're taught."
Confidence often is generated by big plays. McCourty made plenty of those last season (seven interceptions, 17 passes defensed, two forced fumbles), but has yet to come down with an INT so far this year. But he's not worried.
"No, I'm just going to keep playing," said McCourty. "Those plays come, and when you get the opportunity, I think it's more important, when you talk about interceptions, to bring it in because those change the game. I don't think you gain more confidence with interceptions, but just playing well and sticking to it."
McCourty also conceded that teams have now placed a bull's-eye on him and the Patriots secondary, after their inauspicious debut to 2011, but he chalked that up to being "part of the job." And he also agreed with safety Josh Barrett's assessment earlier this week about the degree to which changes need to be made to New England's still-evolving defensive backfield.
What needs to be fixed might be minor, but that makes it no less urgent to solve the problem.
"In the game of football, what you might consider minor always turns out to be something major," explained McCourty. "So, yeah, the little techniques we have to fix start as being like a minor thing, but sometimes you could make a minor mistake and the play will go away [from your side of the field], and then maybe that same minor mistake, if you make it next week, they throw at you and the guy scores. It's a bunch of minor mistakes that we've made that we have to continue to fix or they'll turn into big things."
One problem they might not be able to fix in time for Sunday in Buffalo is the health of Patrick Chung. The safety reportedly underwent thumb surgery following the Charger game and was not at practice the past two days.
"Someone just has to step up. We're not really worried about that," came McCourty's response.
Left unsaid was that McCourty probably hopes the player who steps up is him.
Expecting action from Jackson
While McCourty and Co. have plenty to worry about with Buffalo's passing game, the Bills' rushing attack is no less formidable. Fred Jackson has been a thorn in the Patriots' sides in several recent contests and could be again on Sunday.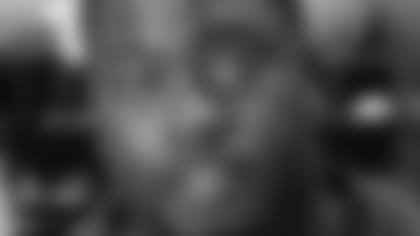 What makes him so dangerous?
"Speed, speed ... that's what you see when you look at him is a lot of speed," said defensive lineman Shaun Ellis. "He has great cut-back ability and can get to the edge. So, for us, just have to play gap-integrity defense and gravitate toward the ball.
"They do different things [offensively]," he continued. "They're not your traditional 'We're-going-to-line-up-and-run-the-ball' [offense]. They spread you out, mix in some runs with their passing game. Buffalo's doing a great job of executing their plays and the quarterback [Ryan Fitzpatrick] is getting rid of the ball and hitting guys on target. And Fred Jackson, as we mentioned earlier, does a great job protecting his quarterback in pass blocking. When teams do send blitzes to him, he picks them up pretty well."
Ellis, the long-time former Jet, is also wary of Buffalo's new offensive threat, former New York backup QB, receiver, and kick returner Brad Smith.
"Brad is Brad," Ellis observed. "They're going to try to get the ball in his hands any way that they can, whether it's special teams, whether it's wildcat, whether it's quick throws. He's an excellent football player with great instincts and ability. He can hurt you. Definitely, we have to key on him when he's in the game."
Like McCourty, Ellis also downplayed the significance of New England's win streak as a psychological advantage for the Patriots, but did suggest that Buffalo could try to use it to help end the dubious mark.  
"Anytime you strap on this helmet, you're going to get a team's best shot. It'll be one of those games where they're at home and they'll want to come out and make a statement. We just have to battle through the adversity and keep playing."
Garay fined for hit on Brady
Remember "The Brady Rule," so named after New England's Tom Brady was knocked out for the season with a knee injury in 2008. The modification to the NFL rule book dictates that defensive players cannot dive at a quarterback's legs below the knee.
Last week against San Diego, it appeared as if Chargers defensive lineman Antonio Garay (a former Boston College Eagle) did just that. Brady twisted awkwardly to the ground as he released the football on a play shortly after halftime, but Garay was not flagged by the game officials. However, after further review by the league office in New York, Garay has been fined $15,000 by the NFL for that hit, according to media reports.