Brent Myerswatched intently as Patriots offensive line coach Dante Scarnecchiaheld a chalkboard session with Louisville's George Busseyduring a pre-draft visit. As Scarnecchia drew different lines to indicate various blocking schemes Myers, the Cardinals offensive line coach, was mesmerized.
"Coach Scarnecchia put on one of the most impressive clinics I've watched in a long time," said Myers, a veteran of 29 college coaching seasons. "He was diagramming all sorts of combinations and I was pretty wrapped up in it. He's an outstanding teacher. Then I looked over and saw George, and he was right there with Coach Scarnecchia."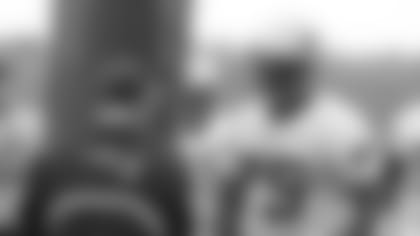 ]()George would be Patriots fifth-round pick (No. 170 overall) George Bussey, a versatile offensive lineman with loads of starting experience. The 6-3, 306-pounder is a native of Louisville who turned down some offers to play at lower-level schools and walked-on with the hometown Cardinals. Five years, 37 starts and three All-Big East selections later Bussey became a member of the Patriots.
Most of Bussey's work at Louisville came at tackle, but he'll likely be moving to guard due to his size. Myers agrees with that projection but doesn't feel the switch will be difficult in any way due to Bussey's aptitude for the game.
"George is a real intelligent kid," Myers said. "He understands the concepts of what the offense is trying to do, and you could see him moving right along mentally with Coach Scarnecchia during that session. He had a real good visit with Coach Scarnecchia. He makes very few mental errors so I don't see the position switch as any problem in George's development."
The Louisville offensive line also included center Eric Wood, who was chosen in the first round by Buffalo. Myers said the Bills plan to move Wood to guard as well, and added that he didn't see much difference between the players during their time with the Cards.
"Both guys are very smart and athletic," Myers said. "The only difference I could really see is that Eric's been an interior player his whole career while George is obviously going to have to make the switch. In my mind, George was pretty close to Eric in terms of pro potential but evidently the scouts didn't see it that way."
That fact baffled Myers right from the start. Bussey stepped into the lineup at tackle as a red-shirt freshman back in 2005 and remained there for the rest of his career. He had a streak of 28 consecutive starts snapped in Week 2 of his senior year when a high ankle sprain sidelined him for two games.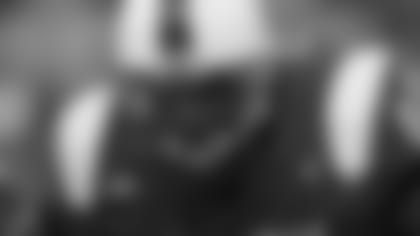 ]()He earned first-team All-Big East honors as a sophomore and senior and was named to the second team as a junior. He was also named to the Rotary Lombardi Watch List and Outland Trophy Watch List.
Despite that production, he failed to produce an invite to the Senior Bowl or the Scouting Combine.
"For the life of me I still can't figure that one out," Myers said. "But the Patriots got a player with very good value in the fifth round, regardless of what the scouts thought."
Bussey is an unassuming kid who displays a mean streak at times. Myers said he often watched as Bussey routinely pancaked his man to the turf while also displaying the athleticism to move to the second level and clear out extra space for the running backs. The Cardinals used an inside-outside zone-blocking scheme and Bussey's power was evident.
"He has the ability to move in space as a tackle," Myers explained. "I know the Patriots like to get their guards out in space on screens and things like that. Some of that will be new to George and there will be some adjustments that he'll need to make. But he has that ability. He has an idea about that scheme and has some experience learning various systems."
Bussey was one of three offensive linemen (Sebastian Vollmer, second round; Rich Ohrnberger, fourth) the Patriots chose in this year's draft, and none of them were invited to the Combine. Three of the team's returning starters, including both guards, are set to become free agents after the 2009 season.
In addition, Russ Hochstein, Billy Yates, Wesley Britt, Ryan O'Callaghan and free agent pickup Al Johnson all are pending free agents as well. That could give the rookie trio a leg up in their quests to earn roster spots.
"George is going to have a nice NFL career," Myers predicted. "I'm not sure about the Patriots because they are just so deep and talented, but he will absolutely compete. He'll bring his lunch pail and get to work and he'll carve out of role for himself somewhere."