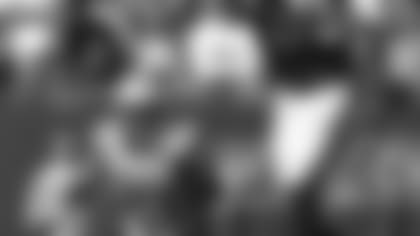 ]()It's not quite as bad as last season. At least not yet. The Patriots don't have a receiver playing cornerback and a linebacker playing safety but injuries have once again hindered a secondary that now finds itself searching for answers, and playmakers.
When the season began, the Patriots secondary looked pretty formidable. Rodney Harrison and Eugene Wilson were the safeties, while Tyrone Poole, Asante Samuel and Randall Gay manned the top three corner spots. The team also signed veteran corners Chad Scott and Duane Starks to provide depth in the secondary. After four games, while Troy Brown hasn't been called upon to play defense yet, he is one more injury away from hearing his phone ring.
Poole was injured in the first game of the year against the Raiders, Gay a week later in Carolina and of course, Harrison's season ended in Pittsburgh the following week. The injuries have proven costly, as the Patriots secondary has struggled the last two weeks giving up a lot of big plays.
The Steelers Hines Ward had 110 yards receiving and two touchdowns against the Patriots and a week later the Chargers shredded the New England secondary. The team had no answers for tight end Antonio Gates and Starks, starting because of all the injuries, had a particularly tough day giving up two touchdown passes.
Head coach Bill Belichick isn't blaming one guy for the poor play in the secondary last week. In his opinion, the entire defense needs to start playing better.
"I think Duane has done a pretty solid job," said Belichick. "Like everybody back there he has certain plays he would like to have back."
Belichick went on to say, "The bottom line is, as a secondary, we have given up too many big plays in the passing game. Some of that is the entire defense and some of that is the secondary."
Gay and Poole are still listed as questionable on the Patriots injury report. Belichick said both are getting better but the team won't know until close to game time if either player will be available this week in Atlanta.
Another player who has been pressed into action with the injury to Harrison is second-year safety Guss Scott. Scott had an up-and-down game in his first start last Sunday. He played solid in coverage for most of the game, even though he lost a battle with the bigger Gates on a jump ball, setting up the Chargers with a first-and-goal at the one. Scott did have good coverage on the play but he was simply out-jumped by the bigger, stronger Gates.
Scott was also run over by backup running back Michael Turner late in the fourth quarter but he certainly wasn't the only Patriot who missed tackles against the Chargers. Scott isn't letting last week's performance get in the way of the big picture.
"I'm starting to get more comfortable," Scott said. "The more you play, the better you get. We need to move forward and improve. This team doesn't point fingers at anyone. It's a matter of everyone doing their job week in and week out."
One thing that may help the Patriots injured secondary get healthy is the lack of production from the Falcons receivers. Through four games this season, Atlanta wide outs have caught a total of 30 passes, with 14 of those receptions going to veteran Brian Finneran.
The biggest threat in the Falcons passing game is tight end Alge Crumpler, who ranks second on the team behind Finneran with 13 receptions this season. The Patriots may have more luck covering Crumpler than they did Gates because the Falcons don't have the same proven playmakers on the outside that the Chargers posses.
There is good news and bad news for the Patriots secondary. The bad news is Harrison is gone for the season. The good news is Gay and Poole appear close to returning and their presence should help improve the play of the secondary. Either way, the Patriots need to limit big plays in the passing game.
"We feel we need to improve in that area and give up fewer big plays," Belichick said. "Our communication needs to be better and our execution need to be better. We need tighter coverage in the secondary, whether it be man or zone or whatever."
Still, things aren't as bad as last year and everything turned out pretty well for the Patriots in 2004. Only time will tell if history repeats itself this season.
McGinest expects Patriots to make a statement in AtlantaPatriots linebacker Willie McGinest is not big on words. He would rather his play, and that of his team, do the talking on the field. When asked if the veteran addressed the team after their loss to the Chargers, McGinest fired back, "For what? That's what Bill does. Voices don't win games, playmakers do. This Sunday we'll all be out there. All the guys who need to make statements will be out there making statements against one of the best teams in the league. That's where we'll make our statement."
McGinest also commented on Falcons quarterback Michael Vick. He said Vick was an elite quarterback when it came to running the ball but when asked if he puts the Flacons quarterback in the same class with Tom Brady and Peyton Manning, McGinest replied, "No I don't. Absolutely not. He's a different quarterback. I don't compare Peyton to Tom. I don't compare Tom to anybody. I don't compare Vick to anybody. He's his own quarterback and he does what he does very well."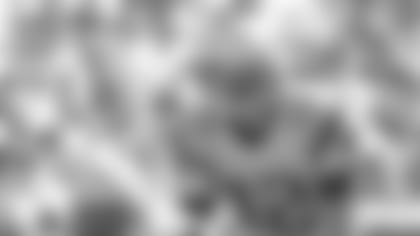 ]()Brady fires backAt his Wednesday press conference,Tom Bradydid not take too kindly to remarks made by Chargers head coach MartySchottenheimer** after last Sunday's Patriots loss.
Schottenheimer didn't exactly bury the Patriots but he did start to get the shovel out, saying after the Chargers victory, "I just think what happened is you've only got 10 fingers to stick in the dike. You can't keep replacing players. At what point in time are you pushed over the edge? They had eight new starters out there from their team of a year ago. That's nearly half your starters. Where's the limit?"
Brady replied to Schottenheimer's post-game comments saying if people want to count out the defending champs, that's fine by him.
"When an opposing coach comes out and says stuff in the fourth game of the year, you take it for what it's worth," said Brady. "We won three of the last four Super Bowls and we realize the character and toughness of this team. If people want to write us off, that's fine by us. Go for it. But I don't think that's the wisest thing to do."
Brady went on to say the Chargers coach should worry about his own team and not be concerned with the status of the Patriots. "I just assumed you talk about your own team," Brady said. ""You don't talk about our team. He has no business talking about our team. We'll let our coach talk about our team. We'll let our players talk about our team. The only thing we ever do is give respect to the other teams. They played a good game. They beat us. That's what it is…It's a new week now. We're done with San Diego and moving on to Atlanta."
Belichick supported his quarterback on Thursday saying, "I have a lot of respect for Tom and what he thinks and I have no problem with what he said."
NotesThe Patriots have not lost consecutive games since December of 2002. Their streak of 37 straight weeks without back-to-back losses is the longest current streak in the NFL and the longest in team history. The post-merger NFL record for consecutive weeks without two straight losses is 60, set by the San Francisco 49ers from 1995-1999…Tight end Christian Fauria, who played sparingly against the Chargers, had a red non-contact jersey hanging in his locker on Thursday…The 41 points scored by the Chargers last Sunday was the most points given up by the Patriots in nearly seven years, dating back to Nov. 8, 1998 when this week's opponent, the Atlanta Falcons, defeated the Pats 41-10 at Foxboro Stadium.