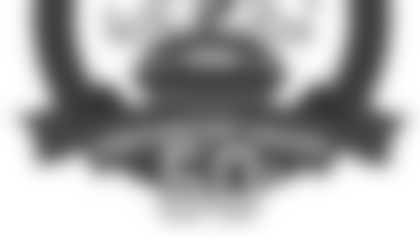 The 2009 NFL season marks the 50th anniversary for the eight teams that played in American Football League, and plans to celebrate that benchmark were announced Tuesday at the NFL Annual Meeting in Dana Point, Calif.
The American Football League, which merged with the NFL in 1970, played its first season in 1960 with eight teams. They were the Buffalo Bills, Denver Broncos, Kansas City Chiefs (played as the Dallas Texans), New England Patriots (played as the Boston Patriots), New York Jets (played as the Titans of New York), Oakland Raiders, San Diego Chargers and Tennessee Titans (played as the Houston Oilers).
The NFL will highlight the 50th anniversary of those teams during "Legacy Games" throughout the 2009 season. During one home and one road game, former AFL teams will meet head-to-head while wearing their chosen historic uniforms.
On Sept. 14, ESPN will host a Monday Night Football doubleheader that will be part of the NFL's celebration of the 50th anniversary season of the AFL. The first game (7 p.m. ET) will pit the Bills against the Patriots, the decade's winningest team (102-42 since 2000), in Foxborough, Mass. The nightcap (10:15 p.m. ET) will be an AFC West showdown as the Raiders host the three-time defending division champion Chargers.
Also, the Bills will take on the Titans in the Pro Football Hall of Fame Game on Sunday, Aug. 9, in Canton, Ohio. The game will be televised nationally by NBC at 8 p.m. ET.
The NFL and the eight former AFL teams are planning to celebrate the 50th anniversary season with numerous events this year.
NFL Network, NFL.com and NFL Films will commemorate this anniversary with unique content and programming highlighting the history of the AFL and the original eight teams.
A "legacy" collection, featuring new retro-themed apparel and products, will be introduced this summer and will be available on NFLSHOP.com and at other retail locations. Among the merchandise offered will be hats, T-shirts, sweatshirts, jackets and pennants.
Game-worn jerseys and signed memorabilia will be auctioned at NFL Auctions throughout the season, with the money raised going to the NFL Player Care Foundation.
Below is a list of what each of the eight original AFL teams will wear as their historic uniforms during the 2009 season:
| | |
| --- | --- |
| AFL Team | Legacy Uniform |
| Buffalo Bills | 1965 AFL championship season: White helmet featuring a simple red buffalo. |
| Denver Broncos | 1960 season: Brown and yellow uniform; brown helmet. |
| Kansas City Chiefs (Dallas Texans) (Played in Dallas from 1960 to 1962 before moving to Kansas City.) | 1962 AFL championship season: Red and white uniform; red helmet featuring an outline of the state of Texas. |
| New England Patriots (Boston Patriots) | 1963 divisional championship season: White helmet featuring the original Patriots logo. |
| New York Jets (Titans of New York) | 1961 season: Gold and navy uniforms; navy helmet. |
| Oakland Raiders | 1963 season: White (away) jersey featuring silver numbers outlined in black; silver helmet with original Raiders logo. |
| San Diego Chargers | 1963 AFL championship season: White pants with yellow bolt down the legs. |
| Tennessee Titans (Houston Oilers) (Played in Houston from 1960 to 1996 before moving to Tennessee.) | 1960 season: Blue and white jersey with red accents; blue helmet with derrick logo. |