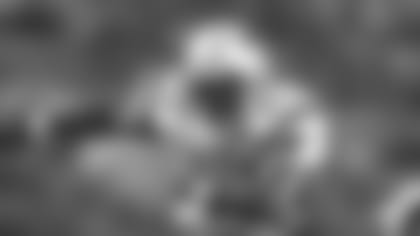 ]()Every good team has players on their roster that do things that may not show up in the stat sheet. The so-called dirty work, if you will. Patrick Pass is one of those players for the Patriots. His contributions may not show up on ESPN but he is an important part of the Patriots success.
The word that comes to mind when thinking of Pass is versatility. Since joining the team as a seventh-round draft pick out of the University of Georgia, Pass has played running back, fullback, receiver and has been a key member of the special teams unit. With the injury to Kevin Faulk, Pass is prepared to step in and help take over Faulk's third-down duties if he is called upon. "This is a team game and when someone goes down, the next guy has to step up and I'm the next person in line," Pass said.
Pass has had an up and down career in New England. He was waived by the team as a rookie and then signed to their practice squad two days later. In his first season, the Patriots tried to make Pass a receiver, a move Bill Belichick called "dumb" on Thursday.
After playing for the team for three years, Pass was released by the Patriots in 2003 but re-signed less than a month later. Pass said after he was released, he knew his days in New England weren't over. "I knew I had a home here," Pass said. "I had a lot more football left in me. I knew it wasn't over."
Pass said he didn't think being released really affected his play but Belichick said at his Thursday press conference that while he wouldn't say it was because of his release, Pass has become a better overall player over the past couple of seasons. "Patrick has become more dependable over the past couple of years, more consistent. It has really come together for him."
Pass showed the kind of versatile athlete he is when he was drafted by the Florida Marlins organization in 1996. After a couple of seasons as an outfielder, Pass knew baseball wasn't for him. "I never really considered pursuing baseball full-time," Pass said. "Football is my game. I love the contact."
Pass' ability to play both fullback and running back makes him a valuable commodity to the team. Belichick praised Pass for his vision saying that a good fullback is the eyes for a running back because if the fullback goes the wrong way, the running back usually goes the wrong way too.
With Faulk injured and newly acquired Amos Zereoue learning the system, look for Pass' role in the offense to increase in the coming weeks. As Belichick said, "Patrick is a guy we have a lot of confidence in. Not too many players can do the things he's done and do them as well as he does."
Pass says he is up for the challenge. "You are always trying to improve and get better in case they call your number. Now it's my turn to step up and deliver."
Zereoue signs to provide depth
The team signed former Steelers running back Amos Zereoue on Wednesday. Zereoue will help add depth to the running back position with Faulk hurt. To make room for Zereoue, Andre' Davis was released. Davis was acquired via trade this offseason from the Browns.
Zereoue will likely play on some third downs so the team can take advantage of his receiving skills. Zereoue has caught 136 passes over his six-year career.
Zereoue was originally drafted by the Pittsburgh Steelers in the third round of the 1999 NFL Draft. The 5-8, 205-pound running back has played in 81 games with the Steelers and Oakland Raiders. The former West Virginia University running back became a free agent following the 2004 season and Belichick called him the best player available for what they do here. "He is similar to Faulk in many ways," Belichick said.
Zereoue said Thursday that he has been working out but he still needs to get in football shape. "You can never really be in football shape unless you are playing football. I was doing some running but as far as catching up with these guys it is really tough right now and I found that out yesterday."
Zereoue said his former teammates with the Steelers weren't thrilled when they heard he was signing with the rival Patriots. Zereoue said they asked him, "You could have signed anywhere else, why there?" Zereoue fired back, "Hey, I need a job. What am I going to do? Are you going to pay me?"
Following similar pathsBelichick said this week Marty Schottenheimer is a coach he has followed closely over the years because of the way their careers have paralleled one another. Schottenheimer was the defensive coordinator with the Giants in 1977, while Belichick was an assistant coach in Detroit.
In 1978, the year Belichick left Detroit for Denver, the Lions hired Schottenheimer as their linebackers coach. A year later in 1979, Belichick became the special teams coach of the Giants, Schottenheimer's old team.
More than a decade later, the two found themselves following one another once again in Cleveland. Schottenheimer coached the Browns from 1984-88 but resigned after the 1988 season and was replaced by defensive coordinator Bud Carson. Carson was fired after only two years in Cleveland and replaced by Belichick. Belichick went on to coach the Browns for the next five years, leading the team to two playoff berths.
Belichick said Schottenheimer is a coach he has a lot of respect for. "I've followed his career very closely as it has been right there with mine," Belichick said. "Both of us being defensive coaches and coming up with the same franchises. I have an awful lot of respect for what Marty has done as an assistant coach, coordinator and head coach."
NotesBelichick said Thursday that the Chargers receivers are one of the best groups in the league at finding the open spots in opposing defenses. "They are always open."…Belichick said on Thursday that middle linebackers Chad Brown and Monty Beisel are both playing well so far this season. The Patriots coach praised both players saying, "I love both guys playing style, the way they throw their bodies around out there."