Last Sunday night Bill Belichick's team answered a lot of critics and doubters with an impressive win over the previously unbeaten Bengals. But one win does not a season make, and the Patriots (3-2) head to Buffalo Sunday afternoon to take on an upstart Bills (3-2) bunch with first place in the AFC East on the line. The game certainly has the potential to be an intriguing one, with a variety of competitive matchups on both sides of the ball. Kyle Orton will never be confused with a franchise quarterback, but he got his first win in Detroit last week and the veteran will be looking to keep things rolling in front of the home crowd. Tom Brady topped 50,000 passing yards and seemed to quite enjoy his own home crowd last Sunday. But No. 12 and the New England offense are far from hitting on all cylinders heading into this battle with a pretty impressive Buffalo defense. After a couple weeks of prime-time action, the Patriots are back with a traditional Sunday afternoon affair against a Bills team that New England has bested in 25 of 28 games during the Belichick era, but two of the three losses came in Ralph Wilson Stadium. Coming off a blowout win, New England will look for some momentum in Western New York. As you get prepped for this division battle, down this Patriots at Bills Pregame Six-Pack!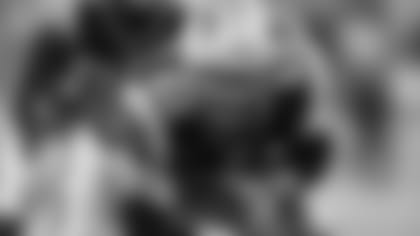 Protection continuation** - The story of the season on offense so far for New England has been the offensive line and pass protection. Losses, and even ugly wins, involved Brady getting beat up and that taking the life out of the passing game. Last Sunday night's win saw a new-look offensive line and some decent success. Brady had more time to work against the Bengals and the Patriots also churned out 220 yards rushing. That's certainly a nice game to build on for Dave DeGuglielmo's much-criticized offensive line. Ryan Wendell slid into the starting lineup at right guard, one week after rookie Bryan Stork took over at center, and that may have been a factor in the line's improvement. But with Stork missing practice on Friday due to a head injury that crept up in practice this week, that could mean another change to the five-man lineup in front of Brady. If Wendell slides back inside to center it will call for someone like Marcus Cannon, Jordan Devey or Josh Kline to step up at guard considering Cameron Fleming is also dinged up with a finger injury. Whatever the group is, it will face a test against the Bills. Buffalo is tied for the NFL lead with 17 sacks. Mario Williams, who's never sacked Brady as a Bill, is a key part of that off the edge, as is Colts cast-off Jerry Hughes. But the interior defensive line is maybe even a bigger issue with veteran Pro Bowler Kyle Williams and ascending talent Marcell Dareus. Dareus leads the Bills with five sacks as the former 2011 No. 3 overall pick has come into his own early this season. The Bills front line poses a major challenge for a Patriots offensive line that needs to continue to prove itself and give Brady and the backs the ability to do their jobs. It all starts up front once again.
Simple football** - The key statistics in football are pretty simple. The score. Turnovers. Red zone. And third down. Those will all also likely be the simple story of this game in Buffalo. Both teams are very good in the area of turnovers, tied for best in the NFL with a plus-six differential. By contrast, neither team has been all that great in terms of red zone offense this season. New England ranks 18th in the NFL, coming off a game in which it went three of six in red zone trips and while kicking a total of five field goals. The Bills offense is tied for 31st in the red zone, notching just six touchdowns in 18 trips. Football math says that seven beats three every time, so the team that puts the ball in the end zone will be the team to beat. Finally, third down is an area in which neither team has had much success on offense. New England is 24th in the league, Buffalo a few spots worse at 28th. But it's the Patriots offense that faces this biggest challenge in this matchup given that Buffalo brings the NFL's No. 1 third down defense to the field. Brady's unit has had trouble keeping drives on the field, so it has plenty to prove against a team that finds a way to get off the field. And New England's own third down defense is simply middle of the pack at No. 14 in the NFL. If the teams play up to their rankings in some of the key stats in the game then turnovers and the red zone could be a wash, meaning third down success could tell a major tale, as is so often the case. Of course with the Patriots owning the No. 12 unit in both points scored and points allowed, the biggest factor could be whether the Bills impressive No. 5 scoring defense tells more of the story or if its Buffalo's 28th ranked scoring attack that leaves the home squad vulnerable.
3. More Island time - Belichick didn't seem too agreeable with the contention that Darrelle Revis spent more time manning up with Cincy's A.J. Green than he had most of the season. And while Revis did spent a lot of time running with Greg Jennings in Week 2, the work against the All-Pro Green seemed like vintage Revis Island coverage. It's also something that most think should continue moving forward. Revis looked more engaged and energetic as he channeled his competitive nature and pure skills to make life very hard on Green. If Revis gets the matchup job again this week the likely candidate would be Bills first-round rookie Sammy Watkins. The fourth overall pick in May's draft ranks second on the Bills with 24 catches for 284 yards and a team-high two touchdown receptions. He's a dynamic young playmaker who supposedly liked the idea of transitioning to the veteran Orton at quarterback. Watkins is also supposedly back to full health after dealing with a rib injury. At 6-1, 211 Watkins is a different build than Green and given that he's only played in five games there isn't a lot of tape on the talented young rookie. But given a Bills passing attack that gets a lot of work out of the running backs and tight end, Watkins certainly would seem to be the most dangerous weapon at receiver and the most likely, preferred option on which to deploy Revis. Revis once again proved last Sunday he's at his best when tasked with taking away an opponent's most dangerous weapon. It would be nice to see that be the case once again on Sunday against Watkins and the Bills.
!4. Gronk spike! - Rob Gronkowski appears to be building up toward full power. He's no longer on the Patriots injury report and has said he's sick of talking about his health. He's coming off a 100-yard effort in which he scored his fourth touchdown of the young season. He looked more physical and energetic last week, even if he still did have a couple drops. Gronkowski has always enjoyed playing in Buffalo, notching five touchdowns in three games returning to the area in which he grew up. There is also the idea of taking advantage of the middle of the Bills defense much like the Patriots did against the Bengals. It's well documented that Brandon Spikes' weakness is in coverage and his aggressive nature on play-action passes. Buffalo is also working through the post-Jairus Byrd era at safety. Combine all these factors and it wouldn't seem farfetched to expect a big game from big No. 87 in Buffalo. The more Gronk feels like Gronk the better it is for Brady and the worse it is for any opposing defense. Look for a play-action big play to Gronk early on, maybe thanks to old friend Spikes.
5. Running with trends - The Patriots rushing attack and run defense each made positive strides against the Bengals. But neither is a reliable constant at this point in the season. Offensively Stevan Ridley and Shane Vereen face a unit that's allowing just 3 yards a carry and ranks 2nd in the NFL. So while there may be an ideal goal of staying balanced and trying to continue the momentum from the ground success against Cincy, that will be a major challenge. Conversely, Vince Wilfork and the run defense need to prove they are capable of being stout each week, something that's eluded the front through the first month-plus. Fred Jackson has been a thorn in the Patriots side over the years, although he's questionable for Sunday due to an ankle injury. Jackson's 92.8 yards from scrimmage against the Patriots over the years is best among active running backs against New England (min. eight games). He's averaged better than 4 yards a carry in the last three meetings with the Patriots and found the end zone four times in the last five battles. Of course no Bills runner other than now backup quarterback E.J. Manuel has notched a rushing score this season. And while Jackson is averaging 4.8 yards a carry on the season, C.J. Spiller is at just 3.5 per attempt on a team-high 62 rushes. Spiller did have 105 yards against New England last December, though and remains a dangerous runner. There are still questions about what front best suits the Patriots - 3-4 or 4-3. There are questions about the depth on the defensive line with Dominique Easley hurt and Sealver Siliga on IR. The front seven needs to step up if/when the Bills try to establish the run in this one and the Patriots will certainly earn any success they find for themselves on the ground.
Emotional balance** - Momentum and emotion are funny things. They were the Patriots worst enemy in a blowout loss in Kansas City two weeks ago. They were the team's great strength in the blowout win over the Bengals last Sunday night in Foxborough. But a big part of Brady and Belichick's success over the years has been their team's ability to remain steady and even-keeled. The Patriots may not be able to muster the same energy they had at Gillette Stadium against Cincy. But the New England players, young and old, need to show the ability to match what the Bills, Spikes and the Buffalo crowd are going to bring on Sunday in the first game of the Pegula's ownership of the team. Getting up for one game is what a lot of other NFL teams do, what a lot of Patriots opponents have done over the years. But Belichick's team needs to prove that isn't the story of this team, this week. It won't be an easy, friendly environment in Buffalo. But New England must come out ready to play, ready to make plays and ready to match the brunt of the Bills early onslaught. It's up to Belichick and his veteran leaders to make sure that happens. A big letdown from last Sunday night's performance would indeed be a big letdown this week.
Prediction:
History says that the Patriots always beat the Bills. And that's true. But these Patriots haven't yet proven they can live up to their own impressive historical resume. One very impressive win does not wipe out four questionable games to open the season. On paper, based solely on this year, this looks like a pretty interesting, even matchup. Each team has strengths and weakness, but based off of last Sunday's win the Patriots are the road favorite. So what does it all mean? It means there is a challenge at hand, not any sort of show-up-and-win-because-it's-Buffalo game. It certainly feels like the Patriots came together and learned something about themselves last Sunday. Now they have a chance to prove it. That will take some protection and some playmaking in the passing game against a good defense, although there should be some plays to be had in the secondary. Look for Gronkowski and maybe Tim Wright to once again be key in the middle of the field. This could also be a game where Shane Vereen gets some chances to create mismatches in the passing game. As much as the Bills pass rush has been productive and as many questions as the Patriots line has had, I think Brady will get time to work more often than not. Defensively I just am not sold on Orton leading his troops to victory. Assuming Revis takes Watkins out of the game, the rest of the attack isn't that scary right now. As long as the linebackers and defensive backs tackle well on the running backs and tight ends, the Bills shouldn't move with too much ease. Getting Devin McCourty back - he's listed as probable with his rib injury - should be huge. As long as the Bills can't run with too much ease - like the Dolphins and Chiefs did - I think Matt Patricia's unit will hold up well against Buffalo. Lump it all into one pile and I'm expecting something like a 24-16 Patriots victory. It may not be as momentous as last Sunday night, but it will be a nice step for a team looking to solidify its 2014 identity. It would also put the Patriots in sole possession of first place in the AFC East.