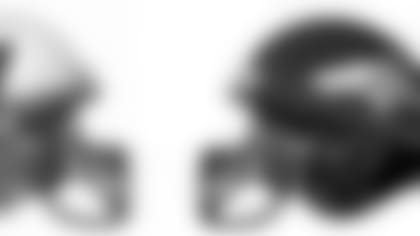 NEW ENGLAND PATRIOTS(3-2) vs.DENVER BRONCOS (4-2)
Monday, October 20, 2008 8:30 p.m. EDT - Gillette Stadium (68,756)
***Download Game Release** >>*
The Patriots will host their first Monday night game since 2005 when the Denver Broncos come to Foxborough on Oct. 20 to begin a stretch of two home games in a seven-day span for the Patriots. New England will seek its first win in three tries against Denver at Gillette Stadium, where the Patriots have won 10 of their last 11 games during the month of October.
ANDRE TIPPETT NIGHT
Monday, Oct. 20 will be Andre Tippett Night at Gillette Stadium in honor of Tippett's enshrinement in the Pro Football Hall of Fame as part of the Class of 2008. The Patriots and their fans will honor the legendary linebacker in a ceremony on the field at halftime. Beginning on Thursday, Oct. 16 and continuing through the weekend, Tippett's Hall of Fame bust will be on display at The Hall at Patriot Place presented by Raytheon. It will be the only time fans can see Tippett's bust up close without traveling to the Pro Football Hall of Fame in Canton, Ohio.
TELEVISION:This week's game will be broadcast to a national audience by ESPN. The game can also be seen in the Boston area on WCVB-TV Channel 5. Mike Tirico, Ron Jaworski and Tony Kornheiser will call the game, while Michele Tafoya and Suzy Kolber will provide sideline reports.
SPANISH TELEVISION:This week's game will be broadcast to a national audience in Spanish by ESPN Deportes. Alvaro Martin and Raul Allegre will call the game, while John Sutcliffewill provide sideline reports.
RADIO:WBCN 104.1 FM is the flagship station for the Patriots Rock Radio Network. A complete listing of the network's 36 stations can be found here. Play-by-play broadcaster Gil Santos is in his 32nd season as the voice of the Patriots and will call the action along with Patriots Hall of Famer Gino Cappelletti. Santos and Cappelletti are celebrating their 25th anniversary season.
NATIONAL RADIO:This week's game will be broadcast to a national audience by Westwood One. Marv Albertand Boomer Esiasonwill call the game.
NATIONAL SPANISH RADIO:This week's game will be broadcast in Spanish to a national audience by Univision Radio. Clemson Smith Muñiz and Roberto Abramowitz will call the game.
SERIES HISTORY
The Patriots and Broncos will meet for the 42nd time in series history and for the 13th time in the last 15 years. The Broncos have won five of the last six regular-season and playoff contests, including a 2-0 mark at Gillette Stadium. Denver has won the series' last three games, including two regular-season contests and a 2005 AFC Divisional Playoff matchup. The last time the two teams met was in week three of the 2006 season when the Broncos won a defensive battle, 17-7, Sept. 24 at Gillette Stadium. The Broncos own a 26-15 advantage in the series, including a 2-0 mark in the playoffs. Of the 41 previous games in the series, only 16 have been played in New England. The Patriots have played more games against the Broncos than any other team that has never been in New England's division. The history between the teams dates back to the first days of the American Football League in 1960. The Patriots played the Broncos in the inaugural game of each franchise, a 13-10 Denver win on Sept. 9, 1960 at B.U. Field. The teams squared off twice a year in the decade prior to the AFL-NFL merger, with the Patriots taking a 10-7 advantage out of those games.
Denver is just one of just two opponents to hold a winning record at Gillette Stadium (2-0, following a 24-16 win in 2002 and a 17-7 win in 2006). The other is Green Bay (1-0).
The Broncos are the only NFL team to which the Patriots have a current losing streak of multiple games. New England has lost its last two regular-season contests to Denver (three games including playoffs).
The Patriots are 2-5 in their last seven regular-season games against AFC West teams. New England was 1-3 against the AFC West in 2005, 0-1 in 2006 (falling to Denver), 1-0 in 2007 (defeating San Diego) and 0-1 in 2008 (losing to San Diego).
The Broncos are the only team the Patriots have lost to twice in the playoffs (1986 and 2005). New England's 11 other playoff losses have been to 11 different clubs.
Patriots head coach Bill Belichick was an assistant special teams coach and an assistant to then Broncos defensive coordinator Joe Collierin 1978.
When Patriots head coach Bill Belichickwas the head coach of the Cleveland Browns, he hired Jacob Burney as a defensive line coach. Burney is currently the defensive line coach for the Broncos.
Broncos special teams coordinator Scott O'Brien held the same position for the Cleveland Browns during Patriots head coach Bill Belichick'stenure (1991-95) as the Browns head coach.
Broncos center Tom Nalen is a native of Foxborough, Mass. He attended Foxborough High and also attended Boston College.
Patriots cornerback Deltha O'Nealwas originally drafted by the Broncos in the first round (15th overall) of the 2000 NFL Draft. O'Neal played for the Broncos from 2000-03 and earned a Pro Bowl selection in the 2001 season.
Broncos tight end Daniel Graham was selected by the Patriots in the first round (21st overall) of the 2002 NFL Draft. Graham played for the Patriots from 2002-06 and was part of the 2003 and 2004 Super Bowl teams.
Patriots defensive end Richard Seymour and Broncos cornerback Champ Bailey were teammates at the University of Georgia from 1997-98. Broncos linebacker Boss Bailey, Champ's brother, was also teammates with Seymour at the University of Georgia from 1998-2000.
Patriots tight ends coachPete Mangurian was an assistant coach for the Broncos for five seasons from 1988- 92. He served as Denver's tight ends/H-Backs coach (1988- 90) and also as the Broncos' offensive line coach (1991-92).
Patriots special teams coach Brad Seelywas a graduate assistant at Colorado State in 1979 and served as the Rams' offensive line coach in 1980. Seely also served on the New York Jets coaching staff in 1994 with Broncos defensive coordinator Larry Coyer.
Patriots wide receiver Jabar Gaffney and Broncos safety Marquand Manuel were teammates at the University of Florida from 2000-01.
Patriots cornerback Terrence Wheatley and Broncos tackle Tyler Polumbusare both rookies out of the University of Colorado.
Broncos cornerback Karl Paymah was born in Boston, Mass.
Patriots nose tackle Vince Wilfork and safety Brandon Meriweatherwere teammates with Broncos linebacker D.J. Williams at the University of Miami. Wilfork and Williams were part of Miami's 2001 BCS National Championship team.
Patriots tight end David Thomasand Broncos defensive end Tim Crowder and running back Selvin Young were teammates at the University of Texas and were part of the Longhorns' 2005 BCS National Championship team.
Patriots fullback Heath Evans and wide receiver Darrell Jackson were teammates on the Seattle Seahawks from 2001-04. Broncos linebackerNiko Koutouvides and safety Marquand Manuel were on the Seahawks in 2004.
Patriots running back LaMont Jordan and Broncos defensive tackle Dewayne Robertson were teammates on the New York Jets from 2003-04.
Patriots linebacker Adalius Thomas and Broncos wide receiver Brandon Stokley were teammates on the Baltimore Ravens from 2000-01.
Patriots cornerback Deltha O'Nealand wide receiver Kelley Washingtonwere teammates with Broncos linebacker Nate Websteron the Bengals from 2004-05.
PRO BOWL BALLOTING UNDERWAY
NFL Pro Bowl balloting begins this week and runs from Oct. 13 through Dec. 9. Fans may vote for their favorite NFL players to represent the AFC and NFC in the 2009 Pro Bowl in Honolulu on Sunday, Feb. 8. Fans may vote online at nfl.com/probowl or on Web-enabled mobile phones by going to NFL.com. The AFC and NFC All-Star squads are determined by the consensus votes of fans, players and coaches. Each group's vote counts one-third towards determining each conference's 43-man roster. NFL players and coaches will cast their votes on Dec. 11-12. The Pro Bowl teams will be announced at 4:00 p.m. EST on Tuesday, Dec. 16 in a Pro Bowl Selection Show on NFL Network.