Foxborough, Mass. (June 14, 2012) -- Sixteen volunteers from across New England were honored as Myra Kraft "Community MVPs" in a ceremony at Gillette Stadium yesterday. Patriots Chairman and CEO Robert Kraft, Patriots Charitable Foundation President Josh Kraft, Pro Football Hall of Famer and Patriots Executive Director or Community Affairs Andre Tippett, Patriots quarterback Tom Brady, tight end Rob Gronkowski and punter Zoltan Mesko were all on hand to congratulate the winners, who were collectively awarded $100,000 in grants for their charities.
The Myra Kraft Community MVP Awards, a New England Patriots Charitable Foundation program for the past 12 years, honor individuals who exemplify leadership, dedication and a commitment to improving their communities through volunteerism. In 2011, the Kraft family and New England Patriots Charitable Foundation announced the renaming of the awards as part of the "Celebrate Volunteerism" campaign in honor Myra Kraft's example of being a lifelong volunteer. The 2012 MVPs represent all six New England states and a variety of nonprofit organizations.
"Volunteers are the unsung heroes of our nonprofit communities," said Robert Kraft. "Unfortunately, they often go unrecognized for their contributions. These awards give us a chance to thank and recognize them. What I love most about this event is the touching stories and the opportunity to show a small token of our appreciation to these outstanding individuals."
Lou Cimaglia, Sr., a volunteer at Local Heroes in Wilmington, Mass., was the grand prize winner, earning $25,000 for the association. Five runners up received $10,000 for their charities and 10 additional MVPs were awarded $2,500 (bios attached).
The Patriots Charitable Foundation treated the MVPs and their guests to a luncheon prior to the ceremony.
Myra Kraft Community MVP Bios: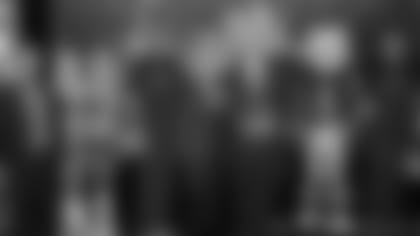 $25,000 Agency Grant Recipient
Lou Cimaglia, Sr., Grand Prize
Local Heroes – Wilmington, Mass.
Wilmington, Mass. Resident | Age: 49
A veteran of the first Gulf War, Lou understands the significance of a care package. A small gesture perhaps, but more than 15,000 packages later, Local Heroes has become more than a simple gesture. Never once looking for recognition or personal gain, Lou has watched many families reunite at Local Heroes as well as watch them cope when a loved one is lost. He has been an invaluable resource to veterans returning from war. Shaken and readjusting, they often need a role model and a friend. Lou is both of those things to countless returning soldiers. He also provides support for military families including aiding devastated families in unimaginable ways, seemingly becoming a part of their family.
His love for his country and community is unwavering and his spirit of volunteerism runs even deeper than his commitment to the armed forces. Often times local soldiers send letters and pictures of appreciation, and seek Lou out when they return. He believes the sacrifices these young men and women make is what makes the country so great.
$10,000 Agency Grant Recipients
David Geetter, Second Prize
Easter Seals Capital Region & Eastern Conn. – Windsor, Conn.
Hartford, Conn. Resident | Age: 78
For an amazing 40 years, Dr. David Geeter has provided free top-of-the-line medical care for free to Connecticut residents that may otherwise not receive treatment. He is the medical director, is on the board of trustees, and under his guidance, numerous programs have been created and developed including the community's first traumatic brain injury rehabilitation program and the first cancer rehabilitation program in Connecticut. He set high standards of quality in the delivery of care and then challenges everyone to exceed them. He has served more than 20,000 patients with compassion and excellence and at 78 shows no signs of slowing down.
Avril Okeke, Second Prize
National Association of Black Accountants – Boston, Mass.
Quincy, Mass. Resident | Age: 46
Avril has served as President of the Boston Chapter of the National Association of Black Accountants for five years developing several key partnerships and developed programs that aim to increase the understanding of accounting and business career opportunities among high school students from underrepresented ethnic groups. She serves tirelessly without compensation and is a great representation of NABA's motto: "Lifting as you climb."
Rosa Young, Second Prize
The Treehouse Foundation – Easthampton, Mass.
Easthampton, Mass. Resident | Age: 67
In 2006, Rose was listening to the radio in her home state of Michigan when she heard about Treehouse - a newly planned multi-generational community in Massachusetts where children who experienced foster care were being given a chance to thrive in permanent loving homes, to be adopted by caring people where elders volunteered as "grandparents" and served as mentors to children and families. In response, Rosa jumped in her car with her dog and belonging and drove 1,000 miles to Treehouse where she has been a pillar of the community.
Maurice Camire, Second Prize
First United Methodist Church – Manchester, N.H.
Manchester, N.H. Resident | Age: 69
Maurice built the first "closet" that stored food nearly 20 years ago and since then has served thousands of people in New Hampshire. The food pantry is now the largest of its kind in the state. In 2009, on Christmas day, Maurice went to the hospital suffering from heart failure. While at the hospital, he arranged for someone to pick up the donations that day. Currently undergoing chemotherapy and radiation, he never misses a trip to Panera and is always there for anyone that needs him.
Phyllis Swerling Kellem, Second Prize
Dana-Farber Cancer Institute – Boston, Mass.
Chestnut Hill, Mass. Resident | Age: 82
Phyllis, otherwise known as "Fifi," has been the face of Dana-Farber for an unprecedented 36 years. She is described as a stabilizing, matriarchal force always ready to help families going through some of the most challenging times in their lives. After losing her daughter to ovarian cancer at age 20, and three short months after losing her husband in a fire, Fifi began volunteering as a means of honoring the memory of her loved ones. Over the past 36 years, she has volunteered a staggering 42,120 hours and touched the lives of many.
$2,500 Agency Grant Recipients
Melissa Cline, Third Prize
Day One – Providence, R.I.
Providence, R.I. Resident | Age: 23
To become a volunteer for the Victims of Crime Helpline through Day One, Melissa was required to complete 30 hours of training, and at least one 6 ½ hour volunteer shift per week for a year. Often volunteering 20+ hours a week, Melissa far exceeds those requirements and is on the front lines of advocating for victims of sexual assault and domestic violence. Physically going to support victims at hospitals and police stations, Melissa provides emotional support, reassurance and compassion to victims at a point of crisis in their lives.
Scott Gullatt, Third Prize
Westbrook Youth Center – Westbrook, ME
South Portland, ME Resident | Age: 33
Scott serves in several capacities at the youth center dealing with issues including crisis intervention, homelessness, parental physical and sexual abuse, neglect, hunger, low-self esteem and more. Scott utilizes his personal experience and triumph over abandonment, homelessness and abuse, to mentor teens. As a former semi-pro football player, his heart is large in size, in more ways than one.
Larry Laflamme, Third Prize
Gales Ferry Fire Company – Gales Ferry, Conn.
Gales Ferry, Conn. Resident | Age: 79
Larry has been an active member of the fire company for more than 30 years. He is a lifetime member. In his mid-70's he was diagnosed with cancer, and often times on his way home from receiving chemotherapy he would call the firehouse. He is committed to keeping people safe on a daily basis.
Brian Angell, Third Prize
United Way of R.I. – Providence, R.I.
Providence, R.I. Resident | Age: 28
Brian volunteered because he wanted to see where his donation was going. He leads the Young Leaders Circle, which mobilizes young professionals to make an impact in their community. He took over leadership from the original staff-led initiative, increasing participation by 25%, with 100% of members fully engaged in participation. He is a quiet, unassuming leader who cares about others first.
Louis Solis, Third Prize
The Courage to Speak Foundation. – Norwalk, Conn.
Norwalk, Conn. Resident | Age: 42
Louis is a business owner, just opening his second restaurant in Norwalk. Louis is also passionate about saving lives by empowering youth to be drug free, as well as encourage parents to communicate effectively with their children about the dangers of drugs. He continues to utilize his resources including attaching flyers to pizza boxes, hosting fundraisers at his restaurants, donating food and providing literature to the community. He also organized a Spanish Advisory Council to introduce a Courageous Parenting 101 class in Spanish. He continuously finds ways to braid the Courage to Speak drug prevention message into the day-to-day operation of his businesses, and in doing so, helped educate and save the lives of many.
Michelle Abou- Raad, Third Prize
Boys & Girls Club of Lawrence – Lawrence, Mass.
Methuen, Mass. Resident | Age: 18
As a high schooler, Michelle approached the Boys & Girls Club looking to partner for a mentoring program. She identified goals and objectives and in two short years has engaged more than 100 first through third graders in mentoring relationships with high schoolers. She responded to a community in distress and is a shining star among her peers.
Ronald Joy, Third Prize
Rise Again Outreach – Loudon, N.H.
Concord, N.H. Resident | Age: 51
Ronald has volunteered more than 3,800 hours to support people in New Hampshire through free food, clothing, personal care items and services. Known as 'the guy with the bus' he is passionate about bringing the resources people need directly to them. He has never cancelled a mobile bus stop and has served nearly 10,000 people in need.
Rick Cote, Third Prize
The Upper Valley Haven – White River Junction, Vt.
Williston, Vt. Resident | Age: 44
Rick works tirelessly to provide shelter, food, clothing and support to those who are homeless. He is described as 'a rare individual' who makes the organization his own. His commitment is further illustrated when he spent one month living on the equivalent of a standard food stamp allocation of $4.18 per day. Under his direction, the Upper Valley serves nearly 10,000 individuals per year, with Rick repeatedly showing there is nothing he wouldn't do to help the organization.
Rajiv Kumar, Third Prize
Shape Up R.I. – Providence, R.I.
Providence, R.I. Resident | Age: 29
As the founder and chairman of Shape Up R.I., Rajiv works to reduce obesity among Rhode Island residents. For the last seven years he has enabled and motivated 70,000 Rhode Islanders to improve their lifestyles. He collaborates around the clock and has garnered both national and international attention for his radical use of technology and social networking to improve health on a broad level.
Matthew Martinelli, Third Prize
Lights Out, Green In Inc. – Johnston, R.I.
Boston, Mass. Resident | Age: 29
Matthew is a great example of turning his passion about the importance of conserving energy into a nonprofit that is making a difference. As the founder of Lights Out, Green In, his vision is to educate and give people tangible tools to live more efficiently. He has collected hundreds of energy conservation pledges and work tirelessly to help curb climate change.