The Patriots began the second day of drafting with just two selections remaining. They wound up with a pair on Friday and an extra one on Saturday.
They also left most draft followers scratching their heads with the first move they made Friday night.
With their first pick in the second round (48th overall), New England chose Illinois defensive back Tavon Wilson (6-0, 205). Though a regular contributor for the Fighting Illini over the past few seasons, he was widely considered a player on the fringes of even being drafted.     
Wilson played both corner and safety, the latter out of necessity when others at the position were injured. So, his versatility and leadership qualities as a captain were certainly traits Bill Belichick found attractive.
"He played primarily safety, but also some nickel-, dime-type responsibilities as well," the head coach explained. "He played plenty, against all the Big Ten schools, Arizona State … of course, leadership and character and the guy's relationship with this teammates and the respect that that comes with."
It may have come as a surprise to most that New England chose Wilson, but the team did work him out in Illinois during the pre-draft process.
"I didn't really know. I was hearing a lot of different things as far as what round and all that stuff," admitted Wilson during a conference call Friday night. "I just tried to focus, keep my head down and just keep on working. I never knew where I was going to be taken, but I just knew it was all over the place. It was out of my hands.
"I just did everything I can to get drafted as high as possible. I feel like I worked hard enough to go as high as anybody. It was out of my hands, so I just did my part. I just prayed and hoped for the best."
New England was scheduled to pick again at the end of the second round, at 62, but the club traded that selection to Green Bay for the Packers' third-round choice (90th overall) and fifth rounder  (163rd overall).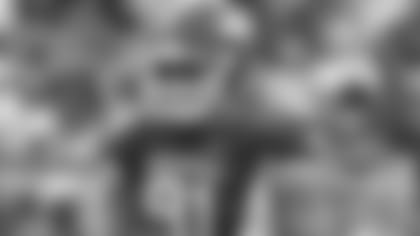 In the third, the Patriots continued drafting defenders by selecting Arkansas defensive end Jake Bequette (6-5, 275).
"Bequette was a very productive guy in the SEC … primarily a productive pass rusher for Arkansas over his four years," said Belichick.
Like Wilson, Bequette was a captain for the Razorbacks and has the versatility to play on either side of the line of scrimmage and in various schemes.
"I played the 4-3 end mostly in college," Bequette began in his phone Q&A with the media, "but I also stood up a little bit in the outside linebacker position in the Senior Bowl and Combine. The more I did it, the more it grew on me. I feel comfortable in both. I can't wait to see what the coaches have in store for me."
The Patriots also met with Bequette on a number of occasions over the past couple of months.
"They wanted to see, first of all, my pass rushing ability, my get-off out of my three-point stance, but also, quite a bit of two-point work, working out in coverage, spot drops, and doing everything with the linebacker aspect," Bequette revealed.
An hour before the draft resumed, the Patriots' pair of first-rounders arrived in Foxborough. Chandler Jones and Dont'a Hightower met the local media for the first time and posed for their ceremonial No. 1 jersey presentation photos.
The third and final day of drafting begins at noon Saturday.