HOUSTON – After a week of work back in New England, the Patriots moved their preparations for Super Bowl LI to Texas on Monday.
Landing in Houston in the afternoon, the first official event of the week for Bill Belichick's team was Super Bowl Opening Night at Minute Maid Park. The event, a new spin on the traditional Tuesday media day, included a more raucous atmosphere with lighting, live music and, capping things off, fireworks.
And while Monday was a day dedicated to travel and the big, crazy media stage of Opening Night in front of more than 10,000 fans at the home of the Astros, there was still some actual football talk.
For Patriots defenders, at least those in the front seven, that talk seemed to revolve around Atlanta's dangerous duo of running backs Devonta Freeman and Tevin Coleman. While MVP candidate quarterback Matt Ryan and all-world wide receiver Julio Jones get much deserved credit for the Falcons No. 1 scoring attack, an argument can be made that the men in the backfield are the key to any defensive plan to stop Atlanta.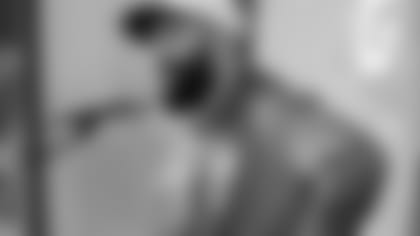 "Explosive," was the first word that came to Rob Ninkovich's mind regarding the backs. "Both are very explosive. Very fast. Not only can they just run the ball…they can catch it and run. When you have two backs that are explosive in the running game and also can be involved in the passing game, you have to be alert where they are at and how they are going to attack you."
Freeman not only notched 1,079 yards and 11 touchdowns on his 227 rushing attempts, but also caught 54 passes for 462 yards and another two scores. Coleman gets his touches, too, including 520 yards and eight rushing scores on 118 attempts, as well as 31 receptions for 421 yards and three scores. His 13.6-yard average is almost unheard of for a passing back.
"They do a good job of keeping them out in space, putting them in situations where they can make moves," Patriots linebacker Dont'a Hightower said. "Obviously Coleman and Freeman are really good behind the line of scrimmage, but when you are able to put guys out in space that are able to run routes like wide receivers and get open that opens up the play book and makes a bigger deal for the defense. Obviously we have to be aware of that and will be working on it throughout the week."
Earlier this week, Freeman threw out what some might consider challenge. Others might consider it potential bulletin board material.
"We can do whatever we want," Freeman told Pro Football Talk. "Pick your poison. ... We've had the game plan. The game plan doesn't change."
The same could be true for the Patriots defense. It's a unit that tied for third in the league against the run. It tackled well all year against both the run and in the short passing game. Continuing that trend will be important in the final game of the year with all the world a watching.
"Absolutely. That's not just with the running backs. That's everybody," Hightower said. "They all do a good job with yards after contact and run after catch. That's why sometimes you see Matty Ice throw a 3-yard pass and it turns into 25 or 30. Kyle [Shanahan, Falcons offensive coordinator] does a good job getting his skill players in space and allowing them to make plays."
"There are multiple keys. It's having awareness. Understanding where (the running backs) are at," Ninkovich added. "Everyone getting to the football. That's a really big part of this game, everyone getting to the football. Whenever you have guys that are that explosive – guys, not just one – everyone has to run to the football."
"On any play, they can score. When that's the case, everyone has to get to the ball. You don't know if you are going got be the guy to stop the play. So you just have to get to the ball."
And get to Freeman and Coleman.