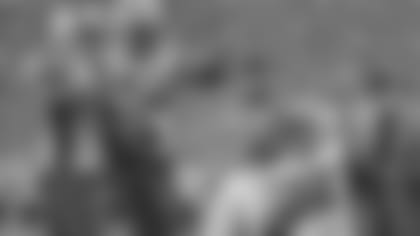 ]()GREEN BAY, Wis. (Aug. 26, 2005) -- The New England Patriots heeded their coach's advice to treat their trip to Green Bay as though this were November and not August.
"Every game is a regular-season game, anywhere, anyplace, any time. It doesn't matter who, when, where, why, what," insisted Asante Samuel, whose early interception set the tone in the Patriots' 27-3 pasting of the Green Bay Packers on Friday night.
The Super Bowl champs sure look like they're in midseason form.
Tom Brady guided the Patriots on five scoring drives and Corey Dillon ran for two touchdowns, pleasing coach Bill Belichick, who had admonished his players to view their first trip to Lambeau Field in eight years as more than a mere exhibition.
The Packers, who turned the ball over four times, are just glad this one didn't count.
"It doesn't matter because in November we're not going to be talking about this," Green Bay center Mike Flanagan said. "But right now it matters because there's evaluations to be made, we got progress to make, we've got to get some continuity, timing, rhythm and all the things that we need to do.
"So, it does and it doesn't matter."
The Packers had a forgettable first half that included numerous breakdowns on special teams and eight accepted penalties. Brett Favre threw two interceptions -- a third was wiped out by a flag -- and he lost receivers Javon Walker (finger) and Antonio Chatman (neck) on the same series.
Things only got worse when Ahman Green fumbled the ball on the Packers' first snap after halftime.
Linebacker Chad Brown punched the ball loose and Willie McGinest recovered Green's third fumble of the preseason at the Packers 27, setting up Dillon's second TD run, from 3 yards, to cap the scoring before the rains came.
Favre completed 9 of 21 passes for 69 yards and had a paltry passer rating of 11.9 before giving way to rookie Aaron Rodgers. The rookie's unimpressive training camp continued with a showing of 5-for-9 for 52 yards with an interception while playing with the first string for the first time.
Dillon gained 70 yards on 14 carries and Brady completed 12 of 21 passes for 127 yards. He capped an impressive 77-yard drive with a 12-yard touchdown toss to David Givens that made it 17-3 in the second quarter.
Randall Gay intercepted Favre's pass into coverage with 1:21 left in the first half, leading to Adam Vinatieri 's 37-yard field goal that made it 20-3 at halftime. Vinatieri kicked a 44-yarder following Favre's first interception.
The Patriots needed just two minutes to get into the end zone after Ellis Hobbs returned the opening kickoff 43 yards and Earl Little's face-mask penalty tacked on 5 more yards. Dillon covered the final 28 in three carries, the payoff coming on a 12-yard cutback behind a key block by rookie lineman Logan Mankins.
The Packers committed three penalties on their first possession, which ended with Favre throwing an interception on third-and-35 to Samuel, who returned the pick 29 yards to the Green Bay 32.
"Penalties killed us there," Favre said. "Throwing the ball to the other team isn't going to get it done either."
Samuel's second interception -- and 41-yard return to the Packers 17 -- was negated by linebacker Don Davis' holding infraction, but it proved costly nonetheless. Chatman sprained his neck on the play, and later in the series Walker dislocated the middle finger on his right hand when he couldn't handle Favre's fastball.
The only points the Packers mustered came on Ryan Longwell 's 26-yard field goal after a punt bounced off Tyrone Poole and into the arms of Green Bay gunner Chris Johnson inside the Patriots 10.
"It was like a circus because we kept shooting ourselves in the foot," Packers offensive lineman Mark Tauscher said. "But at least our wounds were self-inflicted and we can clean those things up."
Belichick said it was a thrill to play at the Packers' storied stadium, and keeping Green Bay out of the end zone made it all the sweeter: "I'm just glad they didn't do the Lambeau leap today."
Notes: Chatman said he blacked out and had tingling in his arms for several minutes, but insisted he'd be back at practice next week. ... Packers DE Kabeer Gbaja-Biamila (neck) and S Nick Collins (thigh) also got hurt. ... The only Patriots injury came when Givens had the wind knocked out of him on his TD.