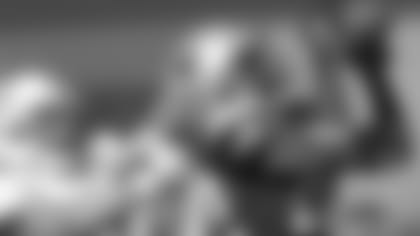 ]()Gillette Stadium fans witnessed a stingy defensive struggle on what was a beautiful fall day in New England.
Both teams had trouble running the ball consistently. Miami's Ronnie Brown was held to only 39 yards by a stout Patriots defense while the Miami defense was up for the challenge of stopping Laurence Maroney, limiting him to only 38 yards on 18 carries. Corey Dillon had a 4.5 per carry average but only ran the ball 10 times as he was used sparingly in the second half.
Tom Brady struggled at times as he often does against the Dolphins. His numbers were 16 of 29 for 140 yards although he did have two touchdown passes without an interception.
The player of the game on offense for New England was Troy Brown with his 5 catches for 58 yards. On defense, Asante Samuel had two interceptions.
The Dolphins made a gametime decision to sit Duante Culpepper, who was listed on the injury report with a bad shoulder, in favor of Joey Harrington. The question was, would the more mobile quarterback be a boost to the Miami offense and pose problems for the Patriots defense, or would the erratic play that drove Harrington out of Detroit continue on this day.
The answer was probably neither. Although Harrington threw two interceptions, he actually kept his team close for most of the game, finishing with 26 of 41 passing for 232 yards.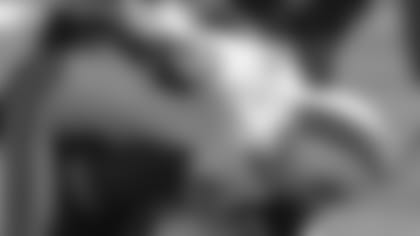 ]()New England converted an early Dolphins turnover into three points. On Miami's first possession of the game, Brown fumbled on a Rodney Harrison tackle. Tedy Bruschi recovered and New England was first and 10 on the Dolphins 37. Brady converted a third and 2 with an 11-yard pass to Brown but other that play and an 8-yard run by Dillon, New England got no further than the 17 and settled for a 35-yard Stephen Gostkowski field goal.
Miami embarked on a methodical drive that had them as close as the New England 24. A holding call on Justin Peelle knocked them back 10 yards and from there New England held on. Olindo Mare attempted a 40-yard field goal but the kick was blocked by Mike Wright to preserve the 3-point lead for New England.
New England made it 2 for 2 on drives for points with another Gostkowski field goal, this one a 31-yarder on the following possession. The Patriots played it conservative throughout the 15-play drive, converting one fourth and 1 with a 5-yard pass to Reche Caldwell along the way.
Harrington followed up with a third and 10 interception. Samuel made a good read on a ball intended for Wes Welker and took the return 26 yards to the Miami 10-yard line. After a run for no gain by Maroney, Brady hit Brown in the middle of the end zone for a 13-0 lead with 7:49 left in the first half.
Miami finally got on scoring track with a 2-yard Brown run up the middle. Harrington heated up his passing numbers with looks downfield to Derek Hagen for 17 yards, Randy McMichael for 23 and Welker for 25 that put his team on the Patriots 2.
New England got the ball back with 2:51 left in the half but mustered only a net -2 yards, giving Miami another chance that it converted into 3 points on a 40-yard field goal. Harrington made getting into scoring position look easy until two straight incompletes from the New England 22 brought on Mare to make the halftime score 13-10.
Other than the one interception, Harrington was keeping his team in the game with 17 of 22 passing for 176 yards in the first half.
Neither team threatened throughout the third quarter. The Patriots defense had Brown bottled up forcing Harrington into several third and long situations that he was having trouble converting. Meanwhile, the Dolphins defense gave Maroney no room to run and Brady was barely getting his passes over the line of scrimmage with two of his balls tipped. Even a Kevin Faulk fumble of Miami's third punt of the quarter had no significant effect on the scoring one way or the other as Miami went three and out after the recovery on the New England 37-yard line.
Finally, Samuel's second interception of the day set up a Patriot score with 9:47 left to play in the game. Harrington was looking for Welker and fired a bullet behind his receiver. The ball popped up off Welker's arm and Samuel made the catch, taking the return to the Miami 24.
New England took over and after an incomplete and a 2-yard Maroney run, Brady looked for Doug Gabriel deep. Will Allen was in coverage with his back to the ball, banged into Gabriel and was flagged for pass interference at the 1-yard line.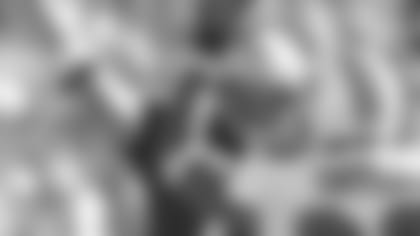 ]()The break was all Brady needed. On the next play he lobbed a pass to a wide open Heath Evans for a 20-10 lead.
Miami had a chance to get close on their next drive. Harrington took advantage of a facemask call on Jarvis Green on a play that would have been a series-ending sack. Instead, Harrington took the first down and ran a reverse to McMichael for 18 yards. He then hit the tight end for another 18 yards to the New England 29. But on third down, Miami's Brown got hit in the backfield on a short pass by Samuel and Rosevelt Colvin for a 3-yard loss. Mare came on for a 50-yard attempt that had no chance from the moment it left his foot and New England took over.
That was Miami's last chance as New England took over with 5:59 left to play and ran out the clock by getting down to the Dolphins 6-yard line with a Maroney run for 11 yards on third and 7 from the 17. Earlier, Ben Watson made a drive-extending 15-yard catch on fourth and 4 that he actually could have gone the distance on had he not tripped.
It was the usual Miami vs. New England scrapper ending with the Patriots entering their bye week with a 4-1 record, on top of the AFC East.