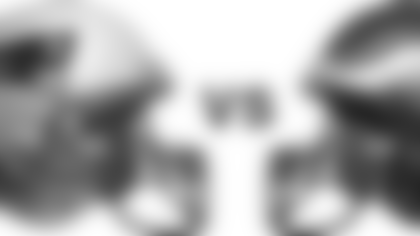 NEW ENGLAND PATRIOTS vs PHILADELPHIA EAGLES
Friday, August 22, 2008 - 7:30 p.m. EDT
Gillette Stadium (68,756)
The Patriots will face the Eagles at Gillette Stadium on Friday night in the third of four preseason tune-ups in advance of New England's Sept. 7 season opener against Kansas City. The Patriots are looking for their first win of the preseason after falling to Baltimore on Aug. 7 and Tampa Bay on Aug. 22. New England closes out its preseason slate at the New York Giants on Thursday, Aug. 28.
TELEVISION:This week's game will be broadcast by the Patriots Preseason Television Network and can be seen in every New England state as well as Eastern Canada, Alaska and Hawaii. The network's flagship station is WCVB-TV Channel 5 in Boston. Veteran CBS broadcaster Don Criqui provides play-by-play and is joined by three-time NFL Pro Bowler and CBS analyst Randy Cross. WCVB principal sports anchor Mike Lynch offers on-field reports from the sideline.
Massachusetts
         Boston, Mass. WCVB-TV Ch. 5  

         Springfield, Mass. WWLP-TV Ch. 22

Rhode Island
Providence, R.I. WNAC-TV Ch. 64
New HampshireManchester, N.H. WMUR-TV Ch. 9
Maine
Portland, Maine WMTW-TV Ch. 8
Bangor, Maine WVII-TV Ch. 7
         </td>
         <td valign="top">**Connecticut**  

Vermont
Burlington, Vt. WVNY-TV
Channel 22
Hawaii
Honolulu, Hawaii KGMB-TV
Channel 9
Alaska
Anchorage, Alaska KIMO-TV
Channel 13
Canada (Quebec/Maritimes)Rogers Sports Net East
RADIO:WBCN 104.1 FM is the flagship station for the Patriots Rock Radio Network. A complete listing of the network's 36 stations can be found here. Play-by-play broadcaster Gil Santosis in his 32nd season as the voice of the Patriots and will call the action along with Patriots Hall of Famer Gino Cappelletti. Santos and Cappelletti are celebrating their 25th season as a tandem.
SERIES HISTORY
This week's contest will mark the 18th time the Patriots and Eagles have clashed in the preseason. The Patriots own a slim 9-8 lead in the previous 17 games. The Patriots have won six consecutive preseason matches against the Eagles with five of them coming by double digits. This week's game will mark the first time the two have faced in preseason since 2004 when the Patriots opened their championship season with a decisive 24-6 victory at Gillette Stadium. The Patriots also closed the 2004 season against the Eagles when they won Super Bowl XXXIX over the Eagles on Feb. 6, 2005 by a 24-21 score. That victory was the Patriots' ninth consecutive playoff victory, which tied the Green Bay Packers (1961-67) for the longest in NFL history. The Patriots went on to break the record with their tenth consecutive playoff victory in 2005 with a win over the Jacksonville Jaguars in the first round. The two teams met last season in Week 12 of the regular season. Tom Brady led his 26th fourth-quarter comeback of his career by recording the fourth highest yardage total of his career with 380 yards while completing a season high 34 passes to help the Patriots to a 31-28 victory.
Eagles chairman and CEO Jeffrey Lurie was born in Boston, Mass.
Eagles linebacker Dan Klecko and Eagles cornerback Asante Samuel were both drafted by the Patriots in the fourth round of the 2004 draft. Klecko played for the Patriots from 2003-05 and Samuel played for New England from 2003-07.
Patriots wide receiver Jabar Gaffney and his cousin, Eagles cornerback Lito Sheppard, were teammates at Florida. The two also attended the same high school.
Eagles assistant secondary coach Otis Smithplayed in 56 games with 48 starts at cornerback for the Patriots in 1996 and from 2000-02. Smith also served as an coaching intern for New England in 2006.
Patriots guard Stephen Nealspend three months of the 2001 season on the Eagles' practice squad before being signed to the Patriots' active roster in December, 2001. He was originally signed as a rookie free agent by New England and was waived following the 2001 training camp.
Patriots linebacker Pierre Woods and Eagles wide receiver Jason Avant were teammates at Michigan.
Patriots tight end Stephen Spach played in 13 games for the Eagles during the 2005 season.
Eagles wide receiver Bam Childress was originally signed by the Patriots as a rookie free agent in 2005 and was on the active roster or practice squad with New England from 2005- 07.
Patriots defensive lineman Le Kevin Smith and Eagles linebacker Stewart Bradley were on the same Nebraska defense. Patriots guard Russ Hochstein and Eagles running back Correll Buckhalterheld down the other side of the ball together four years earlier.
Patriots tight end Benjamin Watson and Eagles wide receiver Reggie Brown, guard Max Jean-Gilles and defensive end Chris Clemons were teammates at Georgia.
Patriots defensive lineman Mike Wright and Eagles tight end Brodrick Bunkley played on the same University of Cincinnati team.
Patriots wide receiver Wes Welker and Eagles cornerback Joselio Hanson attended Texas Tech together.
Patriots quarterback Matt Casselattended Southern California with Eagles tackle Winston Justice and defensive tackle Mike Patterson.
Patriots quarterback Matt Gutierrez and Eagles linebacker Pago Togafau were teammates at Idaho State.
Patriots fullback Kyle Eckel is a native of Haverford, Penn.
Patriots center Dan Koppen is from Whitehall, Penn.
Eagles offensive assistant Mark Whipple was the head coach of the University of Massachusetts from 1998-2003.
Patriots cornerback Jonathan Wilhite and Eagles tackle King Dunlap are both rookies out of Auburn.
Patriots offensive tackle Ryan O'Callaghan and Eagles wide receiver DeSean Jackson were teammates at the University of California in 2005.
Patriots nose tackle Vince Wilfork and Eagles defensive end Jerome McDougle were teammates at the University of Miami.
Patriots guard/center Russ Hochstein helped Eagles running back Correll Buckhalter break into the top 10 on Nebraska's career rushing list during their time as Huskers (1997-2000).
Patriots cornerback Mike Richardson and Eagles defensive end Victor Abiamiri and defensive tackle Trevor Laws were teammates at Notre Dame (2003-05).
Patriots defensive lineman Jarvis Green was coached by Eagles defensive line coach Pete Jenkins when Jenkins held the same position at LSU from 2000-01.
Patriots tight end Jonathan Stupar is a native of State College, Pa.
Patriots safety Ray Ventrone is a native of Pittsburgh, Pa.
Patriots nose tackle Steve Fifita and Eagles running back Lorenzo Bookerwere teammates on the Miami Dolphins in 2007. Patriots special assistant-secondary coach Dom Capers was the defensive coordinator for the Dolphins in 2007.
Patriots wide receivers Sam Aikenand running back Sammy Morris and Eagles long snapper Jon Dorenbos were teammates on the Buffalo Bills in 2003.
Patriots running fullback Heath Evans, running back Sammy Morris wide receiver Wes Welker along with Eagles quarterback A.J. Feeley were teammates on the Miami Dolphins in 2005.
Patriots defensive lineman Kenny Smith and Eagles defensive end Darren Howard were teammates on the New Orleans Saints from 2001-03.
Patriots guard Oliver Ross was on the Eagles in 1999.
Patriots tight end Marcus Pollard and Eagles defensive tackle Montae Reagor were teammates on the Indianapolis Colts from 2003-04.
Patriots wide receiver Kelly Washington and Eagles tight end Matt Schobel were teammates on the Cincinnati Bengals from 2003-05.
Patriots tackle Oliver Ross and Eagles defensive tackle Kimo von Oelhoffen were teammates on the Pittsburgh Steelers from 2000-04.