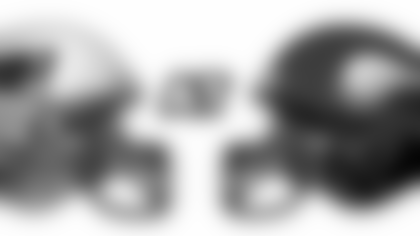 NEW ENGLAND PATRIOTS(5-1) atMINNESOTA VIKINGS** (4-2)
Monday, October 30, 2006 - Hubert H. Humphrey Metrodome (64,121)
8:30 p.m. EST
The Patriots will travel to Minnesota to face the 4-2 Vikings on Monday Night Football. In New England's only Monday night appearance of the season, its sixth ranked rush offense will face its toughest test so far, squaring off against the Vikings' top-ranked run defense, which has allowed an average of just 70.8 rushing yards per game. The Patriots rank fourth in the NFL in allowing just 13.3 points per game, but the Minnesota defense has been nearly as formidable, ranking sixth in the league by allowing only 15.8 points per game.
STRONG STARTThe Patriots have begun the 2006 season with a 5-1 record, tying the second best start to a season in franchise history. The only time the team has held a better sixgame record was in 2004, when the Patriots started the year with a 6-0 record. New England has won as many as five of its first six games for the fifth time in the franchise's 47-season history.
TELEVISION: This week's game will be broadcast by ESPN . The game can also be seen in Boston on WCVB-TV Channel 5. Mike Tirico will handle play-by-play while Joe Theismann and Tony Kornheiser provide analysis. Suzy Kolber and Michele Tafoya will provide reports from the sidelines. The game will also be televised in Spanish by ESPN Deportes, with Alvaro Martin handling the play-by-play duties and Raul Allegre providing analysis.
RADIO: WBCN 104.1 FM is the flagship station for the Patriots Rock Radio Network. A complete listing of the network's stations can be found here. Play-by-play broadcaster Gil Santos is in his 30th season as the voice of the Patriots and will call the action along with Patriots Hall of Famer Gino Cappelletti for the 23rd season.
NATIONAL RADIO: This week's game will be broadcast nationally by Westwood One. Dave Sims and Boomer Esiason will call the game and John Dockery will provide reports from the sidelines.
MILESTONE IN SIGHT
Troy Brown needs just four more catches to pass Stanley Morgan as the Patriots' alltime leading receiver. Brown enters this week's game with 531 career receptions, standing three catches behind Morgan's team-record 534 receptions (1977-89). Morgan has held the Patriots' receptions record since Nov. 11, 1984, when he recorded his 293rd career reception in a 38-10 victory over the Buffalo Bills at Sullivan Stadium in Foxborough, passing Gino Cappelletti's then-record of 292 catches.
SERIES HISTORY
The Patriots and Vikings will meet for the 10th time overall and for the first time since 2002, when the Patriots claimed a 24-17 win at Gillette Stadium. New England will travel to Minnesota for just the fourth time in team history and the first time since 1997. The nine-year gap between trips to Minnesota marks the fourth longest current away game series drought for the Patriots. The Patriots are 1-2 all-time in Minneapolis and are 0-2 all-time at the Metrodome, but hold a 5-4 overall advantage in a series that dates back to 1970. Two of the previous nine games in the series have gone into overtime, including a memorable 26-20 overtime victory in 1994 in which fullback Kevin Turner hauled in a game-winning touchdown pass to complete a comeback from a 20-0 deficit. In that game, Patriots quarterback Drew Bledsoe set NFL records with 45 completions and 70 attempts while passing for a teamrecord 426 yards.
IT'S BEEN A WHILE
The Patriots and Vikings have not played in Minnesota since Nov. 2, 1997, the Patriots' fourth-longest current away game drought, including preseason, regular season and playoff games. The teams have not met at all since Nov. 24, 2002. Since that time New England has played against 29 of the 31 other NFL teams. The only teams with longer current gaps between meetings with the Patriots are Green Bay and Chicago, both of whom New England will face next month.
PATRIOTS IN DOMESThe Patriots will play in a dome for the first and only time this season when they travel to the Hubert H. Humphrey Metrodome. The Patriots have won nine consecutive dome games dating back to 2001, and Tom Brady is a perfect 9-0 in his career in domes. The Patriots have scored 31 or more points in each of their last four indoor games. New England has not lost a dome game since Thanksgiving Day, 2000 when the Detroit Lions rolled to a 34-9 win at the Pontiac Silverdome. The dome domination includes two of New England's recent Super Bowl victories, at the Louisiana Superdome (SB XXXVI) and at Reliant Stadium in Houston (SB XXXVIII).
Vikings wide receiver Bethel Johnson and tight end Jermaine Wiggins are former members of the Patriots. Johnson was drafted in the second round of the 2003 NFL Draft and played with the Patriots for three seasons (2003- 2005), while Wiggins was claimed off of waivers from the New York Jets in 2001 and was a member of the Patriots' Super Bowl XXXVI team in his lone season in New England.
Jermaine Wiggins was an all-city and all-league selection at East Boston High, where he lettered four times in football.
Patriots running back Laurence Maroney returns to the Hubert H. Humphrey Metrodome, his home field while playing for the University of Minnesota from 2003-2005.
Patriots quarterback Tom Brady and Vikings guard Steve Hutchinson were teammates at the University of Michigan for three seasons (1997-1999).
At the University of Southern California, Patriots quarterback Matt Cassel and Vikings defensive end Kenechi Udeze played together from 2000-2003.
Patriots tight end David Thomas played for four seasons (2002-2005) at the University of Texas with Vikings cornerback Cedric Griffin, and was also a teammate of Vikings long snapper Cullen Loeffler at Texas from 2002-2003.
At Auburn University, Patriots fullback Heath Evans played for two seasons (1999-2000) with Vikings linebacker Dontarrious Thomas and for one season (2000) with Vikings defensive tackle Spencer Johnson.
Patriots defensive lineman Vince Wilfork and Vikings offensive tackle Bryant McKinnie were teammates on the University of Miami's 2001 National Championship squad.
Patriots linebacker Mike Vrabel and Vikings cornerback Antoine Winfield played together at the Ohio State University for two seasons (1995-1996), while Vikings linebackers coach Fred Pagac served as linebackers coach and defensive coordinator during Vrabel's four years (1993-1996) at Ohio State.
Patriots offensive tackle Nick Kaczur and Vikings running back Chester Taylor were teammates at the University of Toledo for a season (2001).
Patriots defensive lineman Ty Warren played with Vikings wide receiver Bethel Johnson for four seasons (1999-2002) at Texas A&M before they became New England's top two picks in the 2003 NFL Draft. Warren was also a college teammate of Vikings linebacker Jason Glenn from 1999-2000.
Patriots defensive lineman Richard Seymour and Vikings tight end Jermaine Wiggins were teammates at the University of Georgia (1997-1998), while Patriots tight end Ben Watson and Vikings safety Greg Blue were Bulldogs from 2002-2003.
Several wide receivers on the Patriots and Vikings played college football at the University of Florida. They include the Patriots' Reche Caldwell (1998-2001), Jabar Gaffney (1999-2001), Chad Jackson (2003-2005), and the Vikings Travis Taylor (1997-1999). New England's Jackson was teammates at Florida with Vikings running back Ciatrick Fason (2003-2004).
Patriots wide receiver Doug Gabriel and Vikings linebacker Napoleon Harris were teammates with the Oakland Raiders from 2003-2004, while Vikings linebackers coach Fred Pagac served as Raiders linebackers coach.
Patriots wide receiver Reche Caldwell and Vikings linebacker Ben Leber played together on the San Diego Chargers for four seasons (2002-2005) after being selected in the second and third rounds of the 2002 NFL Draft, respectively. Patriots linebacker Junior Seau and safety Rodney Harrison were also teammates of Leber with the Chargers in 2002.
Patriots offensive lineman Russ Hochstein and Vikings quarterback Brad Johnson played together for a season (2001) with the Tampa Bay Buccaneers.
Patriots linebacker Rosevelt Colvin and Vikings wide receiver Marcus Robinson were teammates with the Chicago Bears for four seasons from 1999-2002.
Patriots running backs coach Ivan Fears was the Vikings wide receiver Marcus Robinson position coach with the Chicago Bears from 1997-1998.
Patriots linebackers coach Matt Patricia was a graduate assisatant at Syracuse University while Vikings cornerback Will Hunter was a member of the Orange (2001-2002).
Vikings special teams coordinator Paul Ferraro has coaching experience throughout New England including at the University of Massachusetts (1992), Dartmouth College (1987) and the University of Maine (1989).
Vikings defensive coordinator Mike Tomlin was the Cincinnati Bengals' defensive backs coach (1999-2000) while Patriots defensive back Artrell Hawkins played for the Bengals. TOM ON TURF
This week's Patriots-Vikings game will be played on an artificial surface, a condition under which Tom Brady has been successful throughout his career.
Brady has compiled a career record of 18-1 as a starter in games played on artificial surfaces, including regular season and playoff games.
Brady is 7-0 in games played indoors and on turf.
In his 19 previous starts on artificial surfaces, Brady has thrown 35 touchdowns and just 15 interceptions.
On turf, Brady has completed 64.6 percent of his passes (377- 584), while completing 60.8 percent of his passes on natural grass (1531-2520).
On turf, Brady has compiled a career passer rating of 96.6, compared to a 86.6 career rating on grass.
The Patriots have won each of the last 11 games Brady has started on artificial turf.
Brady has recorded a completion percentage of 70 percent or higher in five of his 18 previous starts on artificial turf.
ROAD RULERS
The Patriots have won five straight regular-season road games and have triumphed away from Gillette Stadium six times in their last seven road contests. Since their last road loss (11/27/05 at Kansas City), the Patriots have outscored their opponents 156-64 in their five straight road wins, averaging 31.2 points per game while allowing just 12.8 points per game.
13.3
The average number of points per game the Patriots have allowed in 2006.
4
The Patriots' NFL rank in points allowed per game. Only Denver, Chicago and Baltimore rank higher.
14.9
The Patriots team record for fewest points allowed per game in a full season, achieved in 2004.
13
The number of times Bill Belichick's defenses have finished in the NFL's top 10 in fewest points allowed since he was first named a defensive coordinator in 1985.
17
The number of times since 1985 that Belichick's defenses have allowed fewer than 20 points per game.
5
The number of consecutive road games the Patriots have won.
7
The team record for consecutive road victories, achieved from Oct. 19, 2003 to Oct. 3, 2004.
Nov. 27, 2005
The date of the Patriots' last road loss, a 26-16 setback to the Chiefs in Kansas City.
156-64The margin by which the Patriots have outscored their opponents during their 5-game road winning streak.
4
The number of consecutive weeks in which Tom Brady has posted an increase in his passer rating from his previous game.
112.4
Brady's passer rating against Buffalo last week, his highest rating of the season.
33-1
New England's record when Brady posts a passer rating of 100.0 or higher.
55
The number of consecutive games the Patriots have played since they last lost back-to-back games, dating back to December 2002. The streak is the second longest in NFL history. The San Francisco 49ers set the NFL record by going 60 games without losing two in a row from 1995-99.
5
The number of consecutive 9 win seasons for the Patriots, the longest current streak in the NFL.
8
The number of consecutive Patriots overtime victories, the longest current streak in the NFL.
8
The number of career receptions by Patriots linebacker Mike Vrabel (including playoffs). All eight receptions have been for touchdowns.
95
The number of consecutive games, including playoffs, that Tom Brady has started at quarterback.
131
The number of consecutive home games that the Patriots have sold out. The streak includes preseason, regular-season and playoff games and dates back to the 1994 regular-season opener.
4The number of receptions Brown needs to pass Stanley Morgan (534 career receptions) to become the Patriots' all-time leader.
6,171
The number of career receiving yards for Troy Brown, making him the second player in franchise history to reach the 6,000- yard mark (Stanley Morgan, 10,352).
14
The number of seasons in which Brown has donned a Patriots uniform, tying Bruce Armstrong and Steve Nelson for the second longest Patriots tenure, trailing only Steve Grogan (16 seasons).
2
The number of current NFL players who have been with their respective teams for more than the 14 seasons Brown has been a Patriot (Brett Favre, GB, and Jason Hanson, DET;15 seasons).
32
The number of years Bill Belichick has been an NFL coach, making him the longest tenured coach among the NFL's 32 head coaches.
7
The number of head coaches in the NFL or college who were assistant coaches under Belichick (Romeo Crennel, Eric Mangini, Nick Saban, Charlie Weis, Kirk Ferentz, Pat Hill and Al Groh).
39-2Belichick's record in New England when the Patriots score 25 points or more.
60-5
Belichick's record in New England when the Patriots score 21 points or more.
10,757
Corey Dillon's career rushing yardage total, the highest total among any player on a current 53-man active roster.
30
The number of touchdowns Dillon has scored in his 33 regular season games in a Patriots uniform.
28-5
The Patriots' record in games in which Dillon has played since joining the Patriots prior to the 2004 season.
1-4
The Patriots record in games Dillon has missed during his Patriots tenure.
4.2Corey Dillon's average yards per carry since joining the Patriots (2,696 yards on 636 rushes).
4
The number of times the Patriots have appeared in the Super Bowl since Robert Kraft bought the team in 1994. No other team has made more than two Super Bowl appearances in that span.
135-81The Patriots' overall record since Robert Kraft purchased the team in 1994 (including postseason), a .625 winning percentage.
76-31
The Patriots' record at home since 1994, including regularseason and postseason games, a winning percentage of .710.
32-7
The Patriots' record at Gillette Stadium, including regular-season and postseason games (.821 win pct).