It wasn't the Super Bowl, but Katherine Haley and her family found Patriots Fantasy Camp to be a suitable consolation.
The teenager was surprised by Robert Kraft with tickets to the big game back in December, when she and her family visited Gillette Stadium to thank the Patriots chairman and CEO Robert Kraft for his support during her time at Mass General Hospital.
Unfortunately, Katherine wasn't feeling well enough to attend the game in the aftermath of radiation treatment for brain cancer. But to celebrating the good news that could mean her fight is over, she made it back to the stadium with her family -- this time, to meet all her favorite Patriots players and even partake in some drills.
"I was really disappointed that I couldn't go to the Super Bowl," Katherine said. "I totally got why I couldn't, but it was still kind of upsetting because Mr. Kraft gave this to me. So, coming here today for Fantasy Camp was really fun. I don't get to do a lot because I'm bound to a wheelchair, but I had a lot of fun. I got to meet a lot of people and it was great."
After a personal moment at the 50-yard-line with Kraft and Matthew Judon, the Haley family's fun began.
Despite the wheelchair, players like Judon, Lawrence Guy, and Deatrich Wise Jr. made sure Katherine got involved in the defensive drills going on at the first station of the day. By the time they reached the second stop, special teams, Katherine saw that the players had a modification for just about every activity there was.
Conversations with players like Malcolm Butler, Mac Jones and Matthew Slater (to name a few) took up a bit of her time, though.
"When we're able to get in settings like this and see young people like that have a chance to get away from their reality for a day, or even a couple hours, it brings you a lot of joy," Slater said.
"The fact that our job and what we do can have that type of impact on young people is very humbling. It was great to see her with a smile on her face, out here with her family. A really special day for them and glad that I could be a small part of it."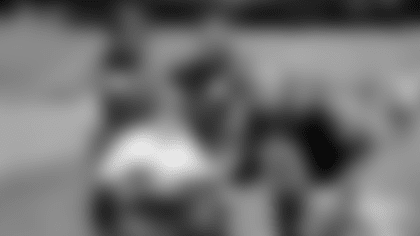 For her father, Ron, it was refreshing to see his daughter get to act like a kid again.
"This day is a gift," he said, proudly looking on as Katherine shared a long conversation with Butler. "We just got word this week through her MRI that her chemo had ended and the word was that everything is clean. So this is the greatest day to celebrate right now."
Katherine was 14 when, while having her usual Sunday brunch with her family, she collapsed.
Ron, a retired member of law enforcement, noticed Katherine had one fixed pupil with her other eye dilated -- common signs of a stroke. As it turned out, she had a brain tumor on her spinal cord. When it was removed cleanly, the pathologist reported the bad news that her fight wasn't over yet. Radiation and chemotherapy for brain cancer would be necessary.
For the Haley family, that meant temporarily moving to Boston from New Hampshire for part of her treatment. They stayed in an apartment at Christopher's Haven thanks to support from the Kraft family.
"The Patriots and the Kraft Family Foundation, people just don't understand what they do and how much they do and how important it is," Ron said.
"Leadership from someone like Mr. Kraft is just off the planet -- it's indescribable to me, because for our family, for the five of us, it's meant everything since the first day we came here. The only reason we ever came here was because Katherine had a room where she got her radiation treatment, and if we didn't have that, we wouldn't have had a home in the city. That helped her actually get an A and honors. She has not missed a day of school. So the fact that we had our own apartment -- that was big deal."
Upon hearing her story, Slater couldn't believe how positive her attitude was.
"Just to get the good news that her scans are clean now was obviously exciting, but I think when you visit with young people like that, and they have a great perspective, it really helps you readjust yours," Slater said. "To hear her talk about how she's going to attack her rehab and recovery, hearing her maintain a positive outlook, I think it's a chance for me to kind of check myself. This young lady, with all this she's going through, is staying positive -- I certainly need to be doing the same thing."
Patriots Fantasy Camp wasn't the Super Bowl, but Katherine didn't seem to care while watching her father, mother, brother, and sister have a blast all day.
Actually, she might have even preferred this outcome.
"I said to one of the players that it wasn't too horrible not going to Super Bowl because the Pats weren't there," Katherine said. "So really, what was the point? This was probably a lot more fun than just seeing a football game in Las Vegas."