Fast starts have often plagued the Patriots in games this season. If their arrival in Indianapolis is any indication of how they'll play in Super Bowl XLVI, New England is off to a very good start.
The Patriots arrived at their hotel in the Super Bowl host city a half-hour ahead of schedule, and within minutes, head coach Bill Belichick was at a podium fielding questions from a ballroom full of media.
He revealed that his team would practice on Monday – the day their opponents, the New York Giants, are scheduled to arrive – at the Indianapolis Colts' facility, take Tuesday off for the circus that has become Super Bowl Media Day, then resume their normal game week of preparation on Wednesday.
It wasn't until halfway through the Q&A session that he was asked perhaps the most pressing question of this Super Bowl week: how is Rob Gronkowski and his ailing left ankle? The All-Pro tight end bounded off the team charter to the awaiting buses, but he was still sporting a Cam Walker boot.
"Yeah, I would say day-to-day," was the only update Belichick would provide on perhaps the most important piece of the Patriots offense other than quarterback Tom Brady. Who, incidentally, had this to say about his injured teammate when the team settled in Indianapolis.
"Hopefully, Rob can play. We'll see how he does. No one really can predict that."
Belichick, meanwhile, was asked by a local Indiana reporter if he expected to receive the famous Hoosier hospitality, considering how his team is one of the Colt's most heated rivals.
"I never had too much hospitality here," he began, setting up his eventual punch-line with a smile, "until I went for it on 4th-and-2, then I was treated in a lot more friendly manner."
The manner in which Belichick and his Patriots were treated Sunday morning could not have been friendlier. A rabid throng of some 25,000 fans descended on Gillette Stadium – clogging Route 1 in Foxborough as if it were a game day – to send the team off in grandiose style.
The scene was overwhelming, even when the team's police-escorted six-bus convoy to Logan Airport snaked north through the crowds. Fans in their vehicles stopped along the side of the road, some hanging out of windows, others climbing onto the roofs to snaps pictures, flash homemade signs, or simply wave at the team and its traveling party.
"Had a great turnout at the stadium," a relaxed and engaging Belichick recalled. "The whole lower deck was packed, really the whole side of the field all the way around the end zones. It was a great send-off. Our fans have been great all year."
At that rally, Brady spoke briefly to the assembled masses, marveling at the spectacle, but adding that he hoped to see a bigger crowd at the party the Patriots hope to throw upon their return to New England.
When it was his turn at the podium in Indy, Brady was asked about that comment, if he was trying to project a confidence on behalf of his team.
"Well, it was a pep rally," he deadpanned, to an uproar of laughter.
With a win next Sunday, Brady will join an elite group of players – his boyhood idol, Joe Montana, and Pittsburgh's Terry Bradshaw – with four Super Bowl rings.
"Honestly, I haven't given much thought to any records or anything like that," he remarked when the subject was brought up. "Really, for me and our team, it's about this one game."
That single-minded focus, however, doesn't mean Brady isn't savoring this moment – one that few NFL players get to experience, yet has become commonplace for Brady, who'll appear in his fifth championship.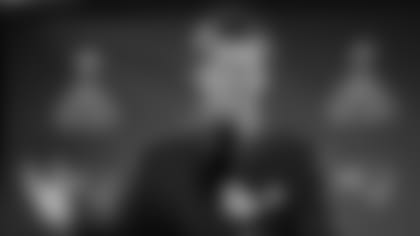 "They're all pretty special. It's hard to win a football game in the NFL," Brady explained. "Thirty-two teams start out the year with hopes of being in this situation, and I think we're very fortunate to be here. We've overcome quite a few … adversities to get us here. We're really honored to represent the AFC. We've certainly earned it, the Giants have earned it. It makes for a great game.
"One week from tonight will be about kickoff, right about this time," he continued at nearly the stroke of 6:30 p.m. Eastern, when Super Bowl XLVI will indeed kick off.
"We'll spend the time getting ready, but I'm sure all the players will be very anxious to get the game going. We drove by Lucas Oil Stadium on the way in … it's great to be here. Regardless of where you play, the Super Bowl is an incredible experience for all of us. I've been very fortunate in my career. I try to communicate to the younger players how special it is to be here, because you really do never know when you're going to come back.
"That's what makes it a fun week …"
Brady paused for effect to deliver his good-natured jab at the media.
"Even dealing with you guys for another week is fun for the players."
And, presumably, everyone else watching, too. Because Super Bowl XLVI Week has officially begun.