PATRIOTS (8-3) at TEXANS (2-9)
Sunday, Dec. 1, 2013 at 1:00 p.m. ET
* Reliant Stadium (71,054)*
The New England Patriots came back from a 24-point deficit to defeat the Denver Broncos 34-31 in overtime last Sunday night, marking the largest comeback win in team history. The Patriots trailed the Broncos 24-0 at halftime before scoring on their first five offensive drives of the second half to overcome the deficit. Teams are 6-and-617 in games trailing by at least 24 points at halftime, a winning percentage of .0096.
With the win the Patriots improved to 8-3 on the 2013 season. The Patriots are now guaranteed to finish the season with a record of .500 or better for the 13th consecutive year. At the conclusion of the 2013 season, the Patriots will be the only NFL team to finish with a record of .500 or better in each of the last 13 years (2001-2013). Each of the other 31 NFL teams had at least one losing season between 2001 and 2012.
The Patriots will begin the month of December this Sunday when they travel to Houston to face the Texans. The Patriots own the NFL's best December record since 2001 with a 45-6 record. A victory over Houston will give the Patriots their ninth win of the season and will give them their 13th consecutive winning season.
Including the Houston game this week, three of the next four games for the Patriots will be on the road.
TELEVISION: This week's game will be broadcast to a regional audience by CBS and can be seen in Boston on WBZ-TV. Greg Gumbel will handle play-by-play duties with Dan Dierdorf providing color. The game will be produced by Mark Wolff and directed by Suzanne Smith.
NATIONAL RADIO: This week's game will be broadcast to a national audience by Sports USA. Larry Kahn and Ross Tucker will call the game. Troy West will report from the sidelines.
RADIO: 98.5 FM, The Sports Hub, is the flagship station for the Patriots Radio Network. A complete listing of the network's 37 stations can be found here. Play-by-play broadcasterBob Socci will call the action along with former Patriots quarterback Scott Zolak, who will provide color analysis.
NFL'S TOP DECEMBER RECORD SINCE 2001
The Patriots have an NFL-best 45-6 record in the month of December since the 2001 season.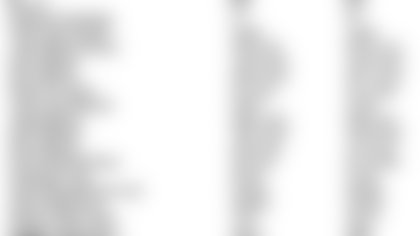 The Patriots and Texans will meet for the fifth time since Houston entered the NFL in 2002, for the second time in 2012 and for the first time in the postseason.
The Patriots and Texans met on Monday Night Football on Dec. 10, 2012, with the Patriots taking a 42-14 victory.
New England is 3-1 against Houston in the regular season with wins in 2003, 2006 and 2012 and a loss in the 2009 regular-season finale.
Houston is 0-2 against New England at Gillette Stadium and has allowed 40 points in both losses. The Texans lost, 47-7, on Dec. 17, 2006 in their first visit to Gillette Stadium and then lost 42-12 in the 2012 Monday Night Football matchup.
Before the Texans joined the league, the Patriots and the Houston Oilers were foes dating back to the days of the American Football League, playing twice a year from 1960- 69 and 33 times overall before the Oilers moved to Tennessee following the 1996 season.
PASSING PERFORMANCES
Tom Brady is slated to start against Houston for the fifth time in his career in the regular season. He is 3-1 in games that he started. In the Week 17 2009 game, the Patriots had already clinched the division, so Brady was relieved for portions of the game by back-up Brian Hoyer.
!SOUTHERN HOSPITALITY
The Patriots have an all-time record of 82-47-1 (.635) against the teams that make up the AFC South. It is the only division in the NFL where the Patriots own winning records against each team. New England owns winning marks against Tennessee (23-16-1), Indianapolis (47-29), Jacksonville (9-1) and Houston (3-1).
Texans Offensive Coordinator Rick Dennison graduated from and played football at Yale University in New Haven, Conn. Dennison also began his coaching career as an assistant at Suffield (Conn.) Academy from 1992-94.
Texans Special Teams Coordinator Joe Marciano served as the wide receivers coach at the University of Rhode Island from 1978-79.
Texans TE Ryan Griffin is a native of Londonderry, N.H., where he attended Londonderry High School before playing college football at the University of Connecticut.
Houston Ties
Patriots Wide Receivers Coach Chad O'Shea is a Houston native and attended the University of Houston for two years from 1994-95, where he was a quarterback on the football team. O'Shea also spent four years coaching at his alma mater from 1996-99.
Patriots T Sebastian Vollmer played college football at the University of Houston from 2005-08 and earned All- Conference USA honors as a senior playing left tackle.
Patriots WR Danny Amendola is a native of The Woodlands, Texas and attended the The Woodlands High School, located just over 30 miles north of Houston.
Former Patriots
Texans LB Jeff Tarpinian was signed by the Patriots as a rookie free agent on Jul. 27, 2011, and spent two years in New England before joining the Texans in 2013.
Former Texans
Patriots Assistant Director of College Scouting Monti Ossenfort spent three seasons with the Houston Texans as an intern with the pro personnel department in 2002 and a pro and college scout from 2004-05.
Patriots DT Chris Jones was drafted by the Texans in the sixth round of the 2013 NFL Draft with the 198th overall pick and spent the summer in Houston before being released on Aug. 31.
Former NFL Teammates
Texans CB Elbert Mack teamed up with Patriots CB Aqib Talib for four seasons (2008-11), CB Kyle Arrington for two seasons (2008-2009), and RB LeGarrette Blount for two seasons (2010-11) on the Tampa Bay Buccaneers.
Patriots DE Andre Carter was teammates with Texans P Shane Lechler during the 2012 season on the Oakland Raiders.
Patriots OL Dan Connolly and Texans FB Greg Jones were teammates for two seasons from 2005-06 on the Jacksonville Jaguars.
Patriots CB Marquice Cole and TE Matthew Mulligan were teammates with Texans LB Ricky Sapp during the 2009 season on the New York Jets.
Former College Teammates
Patriots TE Rob Gronkowski was teammates with Texans LB Brooks Reed and NT Earl Mitchell for two seasons (2007-08) at the University of Arizona.
Patriots RB Shane Vereen and Texans LB Mike Mohamed were teammates for three seasons (2008-10) at the University of California.
Patriots RB LeGarrette Blount was teammates with Texans SS Eddie Pleasant for two seasons (2008-09) at the University of Oregon.
Patriots CB Alfonzo Dennard was defensive teammates with Texans DE Jared Crick for four seasons (2008-11) at the University of Nebraska from 2008-11.
Patriots LB Dont'a Hightower and Texans CB Kareem Jackson were teammates for two seasons (2008-09) at the University of Alabama and were both defensive starters during the Crimson Tide's championship season in 2009.
Texans LB Whitney Mercilus was teammates with Patriots DL Michael Buchanan for three seasons (2009- 11), DB Tavon Wilson for two seasons (2010-11), and TE Michael Hoomanawanui for one season (2009) at the University of Illinois.
Patriots QB Ryan Mallett was teammates with Texans DE Tim Jamison during the 2008 season at the University of Michigan.
Mallett was also teammates with Texans RB Dennis Johnson for two seasons (2009-10) at the University of Arkansas. Patriots DE Jake Bequette teamed up with Johnson on the Razorbacks as well from 2008-11.
Patriots P Ryan Allen and Texans CB Josh Victorian were teammates during the 2010 season at Louisiana Tech.
Patriots DL Marcus Forston was teammates with Texans CB Brandon Harris for three seasons (2008-10) and LB Darryl Sharpton for two seasons (2008-09) at the University of Miami (Fla.).
Patriots DB Nate Ebner and Texans WR DeVier Posey were teammates for three seasons (2009-11) at Ohio State.
WHAT TO LOOK FOR AGAINST THE TEXANS
Bill Belichick to lead the Patriots to his 13th consecutive winning season. Belichick has led the Patriots to 12 consecutive winning records (2001-12). He is tied with Curly Lambeau (12 – 1921-32) for third all-time. The NFL record is 20 by Tom Landry (1966-85) followed by 14 by Curly Lambeau (1934-47) for most consecutive seasons with a winning record.
Tom Brady (2,896) needs 104 yards to reach 3,000 passing yards for the 11th time in his career. He will become one of just six players with at least 11 3,000 yard passing seasons.
Brady (17) needs three touchdowns to finish with 20 touchdowns in a season for the 11th time in his career.
AARON DOBSON
Aaron Dobson (35) needs nine receptions to move past Deion Branch (43 in 2002) for the most receptions by a rookie receiver for the Patriots in the Bill Belichick era. Dobson's 492 yards are the most by a rookie receiver under Belichick. Dobson moved past Branch, who had 489 yards in 2002. Dobson's four touchdowns are tied with fellow rookie Kenbrell Thompkins for the most by a Patriots rookie receiver under Belichick. Chad Jackson had three touchdowns in 2006.
JULIAN EDELMAN
Julian Edelman needs one more punt return for a touchdown to set the team mark with his fourth punt returned for a touchdown. He is tied with Irving Fryar and Troy Brown with three returns for a touchdown.
STEPHEN GOSTKOWSKI
Stephen Gostkowski has 10 field goals of 40 or more yards in 2013. He needs one more field goal of 40 or more yards to tie the Patriots record for most 40-yard field goals in a single season. Adam Vinatieri had 11 field goals of 40 or more yards in 2004 and 1998 and Gostkowski had 11 such field goals in 2012.
Gostkowski needs to convert his next two field goals to match the team record of 23 consecutive field goals in a single season by Adam Vinatieri in 2004. Gostkowski has converted 21 straight field goals so far in 2013.
Gostkowski has scored in a team record 102 consecutive games and needs to score at least one point against Houston to extend that mark.
ROB GRONKOWSKI
Gronkowski has scored a touchdown in three straight games and can extend that streak to four with one against Houston.
CHRIS JONES
Chris Jones can add a sack against Houston and break a tie for the NFL rookie lead with Ezekiel Ansah of Detroit. They both enter this week with 5.0 sacks.
STEVAN RIDLEY
Stevan Ridley has 13 20-yard runs and needs one more to have the most for the Patriots since 2000. He is currently tied at 13 with Antowain Smith and Corey Dillon.
BRANDON SPIKES
Brandon Spikes leads the team with 106 total tackles after a 14-tackle performance vs. Denver pushed him over 100 tackles for the second straight season. He has five 10-plus tackle games in 2013 and needs one more to match the six 10-tackle games he had in 2012.
KENBRELL THOMPKINS
Kenbrell Thompkins needs 53 yards to pass Wes Moore for the most receiving yards (502 in 1995) by a Patriots rookie free agent. Thompkins already has the most touchdowns by a Patriots undrafted rookie (4) and needs 12 receptions to tie Moore for the most receptions by a Patriots undrafted rookie receiver.
TEAM
The Patriots can earn their ninth win of the 2013 season and guarantee to finish the season with a winning record for the 13th consecutive season.
A Patriots win and an Oakland loss will give the Patriots the most wins in the regular season among the original AFL teams. The Patriots and Raiders are tied with 434.
A Patriots win and an Oakland loss will give the Patriots a tie with the Raiders for the most wins overall among the original AFL teams. The Raiders have 459 wins, including the postseason, while the Patriots have 458 wins, including the postseason.
A Patriots win can extend their NFL-best December record with a win at Houston. The Patriots are 45-6 in the month of December since the 2001 season. The next best team is Philadelphia with a 36-17 record.
PRO BOWL BALLOTING
NFL Pro Bowl balloting has begun with fans voting to select players for the 2014 Pro Bowl. Voting is available online and on web-enabled mobile phones by going to NFL.com/probowl/ballot. Balloting will conclude on Thurs., Dec. 26. The Pro Bowl players will be announced in early January on NFL Network's "Total Access". For the first time ever, the Pro Bowl will be "unconferenced." Players will be selected without regard to conference in voting by the fans, coaches and players. Players will later be assigned to team through the first-ever Pro Bowl Draft during the week leading up to the game. The 2014 Pro Bowl will be played on Sun., Jan. 26, 2014 and televised live on NBC at 7:00 p.m. from Aloha Stadium in Honolulu, Hawaii.
2013 PRO BOWL – PATRIOTS PLAYER RANKINGS
The New England Patriots have seven players in the top 10 in Pro Bowl votes in their respective positions, including K Stephen Gostkowski, who leads the fan voting at his position.
QB Tom Brady ..................... (6th in Voting – 256,157)
TE Rob Gronkowski ................(8th in Voting – 100,829)
G Logan Mankins ..................(7th in Voting – 81,396)
DE Chandler Jones ................(5th in Voting – 157,514)
CB Aqib Talib ........................(3rd in Voting – 189,549)
K Stephen Gostkowski ............(1st in Voting – 105,182)
P Ryan Allen .........................(9th AFC Voting – 34.617) 
RELATED LINKS