Guided by two rows of green and yellow cones, New England Patriots wide receiver Wes Welker parted through a sea of Falls Elementary school children in the cozy confines of the gym.
Welker wasn't the only patriot in the room, as Purple Heart recipient Sergeant Michael Downing, who lost both his legs while serving in Afghanistan, entered before him. Downing's son, Jimmy, is a student at the school.
Downing and the All-Pro receiver visited North Attleboro on Tuesday, Nov. 9, to discuss the true meaning of heroism.
Turns out, with this group, Welker was the lesser known of the two.
"What's your name?" asked one of the school children, questioning the stranger in the plaid shirt.
The embarrassed laughter and 'oohs' and 'ahhs' that ensued quickly sucked any remaining doubt out of the air.
Welker's message, unlike his identity, was clear.
"[Veterans Day] means that everybody who has been sacrificing their lives overseas for our safety, we're honoring them and the freedom that we have today because of gentlemen like Sergeant Downing," said Welker to the crowd of cross-legged students perched on the gym floor. "I think there's some misconception a lot of times that athletes are heroes, when guys are over there risking their lives for our lives. People think I go out and risk my life on the football field. That's nothing compared to what these guys do and what they do out there on the battlefield. You can't even compare that to what I do on Sundays."
A fearless competitor on the gridiron, Welker is considered a modern football warrior, routinely crossing the middle of the field evading heat-seeking linebackers - actions that have gained praise, and a little head scratching from the true warrior.
"I think he's the crazy one," Downing exclaimed. "He's out there running around with guys more than twice his size. That takes a lot of nerve. That's something I wouldn't do."
Thankfully hard-hits are at the top of a short list of worries for Welker and his peers. There's no gunfire along the line of scrimmage.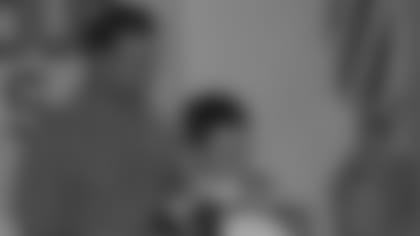 Downing lost both of his legs after a bomb exploded under his vehicle while on patrol in the Logar Province of Afghanistan in 2008. After a year and a half in the hospital, he returned home in April.
A changed man, Downing refused to succumb to his injury. Always a hockey player, he now mans the pipes in a wheelchair. Stubborn and motivated, he has adapted but not changed.
"I drive a truck, I have a motorcycle, I cut my own grass, and I play hockey," Downing said to the young students. "Just because I'm like this, it doesn't mean you can't do things. You just have to do them differently."
An inspired Welker reflected: "A lot of people would be bitter and mad, but the fact that he's here and wouldn't change anything is a testament to him and what he does for our country."
Introduced last summer, Downing and Welker have remained friends ever since, each citing the other as their role model.
"Sergeant Downing and the men and women like him are the true heroes," Welker said. "I want to make sure kids know that athletes like me look up to people like Mike."
Despite being an inspiration to those around him, Downing refuses to label himself a hero; a belief that Jimmy strongly disagrees with.
"He doesn't call himself a hero because he doesn't think so," Jimmy said, his arm resting on his father's shoulder. "But I think so and so do my classmates. I've heard plenty of people say that he's a hero."
For Downing, it was part of the job. Nothing more. Nothing less.
"I just did my job," Downing said. "Same as every other soldier, marine, or anybody in the military. There are heroes; I'm just not one of them. I just did what I was supposed to do."
Downing's refusal to accept the role is exactly why he defines it. And although he may never have a bust in the Hall, he is a true patriot among Patriots.
The New England Patriots will honor all veterans and active service members by granting them free admission to The Hall at Patriot Place presented by Raytheon on Veterans Day, November 11, with valid military or veteran identification.
"Since opening The Hall in 2008, the Kraft family has recognized the important sacrifices made by veterans and active military by offering regular discounted admission and by hosting an exhibit honoring professional football players and personnel who served in the military," said Bryan Morry, Executive Director of The Hall at Patriot Place. "In May, we offered free admission on Memorial Day to all veterans and active military and we are happy to extend that offer for Veterans Day as well."