For one night, at least, Richard Seymour, Ty Lawand Adam Vinatieriwere on the same team again with Bill Belichickand Tom Brady.
The three former Patriots were chosen along with the head coach, quarterback and current Patriots receiver Randy Mossfor the NFL's All-Decade Team. The 53-man roster of all-stars from the 2000s was selected by the Pro Football Hall of Fame Selection Committee, a group of nearly four dozen media members who choose the Hall of Fame inductees each year.
On a soggy Sunday night in south Florida, a ceremony was held just prior to the Pro Bowl to announce the selections. Brady, Belichick and Vinatieri were each one of two people named to the roster at their position. Peyton Manning, Tony Dungyand David Akers were the other quarterback, coach and kicker named to the squad. Seymour was one of four defensive tackles chosen, Law one of four cornerbacks and Moss one of four receivers.
Though Brady was originally selected to play in this year's Pro Bowl and Moss was called on to replace injured teammate Wes Welker, both backed out because of injuries. However, three other Patriots did take part – started, in fact – in the exhibition match, and the one who was least likely to make a game-saving play did just that.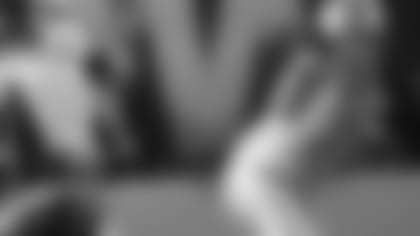 ]()With the game tied 34-34 late in the fourth quarter, the AFC squad had the ball deep in NFC territory. Quarterback Matt Schaubof Houston dropped back to pass, but was sacked and fumbled. Patriots guard Logan Mankinsscooped up the ball and rumbled back to the line of scrimmage before being tackled by NFC defenders.
"I just saw it go rolling by, and I dove right on it," Mankins explained afterward. "Then I realized no one touched me, so I took off. That was important that we kept the ball. I was just thinking don't get blown up. Thankfully, they just wrapped me up and let me fall down."
Two plays later, Titans running back Chris Johnsonscored the game-winning touchdown, as the AFC prevailed 41-34.
"Maybe they'll remember me in this Pro Bowl," Mankins added.
The fans in Miami, where the game was held this year to coincide with the Super Bowl, certainly remembered nose tackle Vince Wilfork and safety Brandon Meriweather. Both Patriots all-stars played their college football at the University of Miami, which is referred to by local fans and alumni simply as "The U."
]()During pre-game introductions, both Wilfork and Meriweather were greeted by a chorus of "UUUUUUU" chants from the Hurricane faithful in attendance.
"It's a dream come true for me. Ever since I was little, I've been watching this game, hoping that one day, I would get a chance to play with some of these guys and actually play in it," Meriweather remarked. He was chosen as an alternate after rookie Jairus Byrdof Buffalo backed out due to injury.
"Now that I've got my chance, I'm just going to embrace it and stay humble."
Meriweather totaled three tackles (all solo), including one for a loss on the NFC's first offensive play.
Wilfork, meantime, played in his second Pro Bowl and insisted he was there simply to "have fun." Apparently, he accomplished his goal, as his name didn't appear in the game's final stat sheet.