Sometimes, coincidences are too cool to ignore.
That was the case for New England Patriots quarterback Mac Jones and United States Navy Lieutenant Rob "MAC" Dolan, who met Thursday at Gillette Stadium to discuss all they had in common.
Start with their shared nickname.
Of course, the Patriots captain goes by Mac, derived from his middle name. But for the F-18 pilot and Winthrop, Mass. native, it's his call sign -- an aviation tradition across all branches of the military.
"In naval aviation, aviators are given a callsign which is essentially just a shorthand nomer that we use over the radios to refer to each other. It's a nickname that you earn – sometimes through a pun on your own name, but usually by making a mistake or something stupid that your other guys will use to keep you humble."
The latter scenario is more along the lines of how Lt. Dolan began answering to MAC – which may or may not be an acronym of "Missed A Curfew." Fortunately, it took new symbolism when New England drafted Mac Jones out of Alabama.
"(The Patriots) took him that same year, too," Lt. Doyle said. "So Mac and MAC kind of happened synonymously."
Lt. Dolan and his family's trip to Foxborough was part of a quick, but special visit back home.
Deployed in Japan for a three-year commitment with the USS Ronald Reagan, the lifelong Patriots fan hadn't been home since December of 2021. His short stay stateside includes cramming in as much time with family and friends as possible, highlighted by meeting his six-month-old niece.
​​"I live with my wife, Sarah, there in Iwakuni where our base is," Lt. Dolan said. "When we're not deployed, we're blessed to have the opportunity to travel all over Japan, all over Southeast Asia -- places we otherwise maybe never would have been able to. As it is difficult at times for both me and her, it's largely a wonderful opportunity at this point in my life."
The trip to Gillette was special too, all made possible by his father, Thomas, who shared photos of the name MAC on the jet (which happens to be labeled No. 110).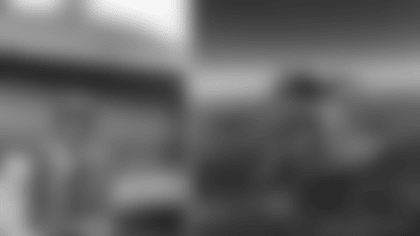 "My dad has a real gift of making Christmas presents really special and cool in a creative way," Lt. Dolan said. "So, for Christmas, he gave me the patches and hat that he asked me to bring home. I was like, 'I have these. This is the laziest Christmas present I've ever seen.' But I didn't actually think that because I knew Tommy was up to something."
Jones and Lt. Dolan talked about having both lived in Florida and Alabama, how the pilot earned his flight wings at NAS Pensacola, and how the quarterback's grandfather was an Army colonel with ties to Southeast Asia.
Lt. Dolan brought gifts from Japan to Jones – including a patch he wears on his flight suit and another representing his squadron, the VFA 102 "Diamondbacks." Jones had a gift for him, too – an autographed Patriots football with "Mac To Mac" inscribed on it.
"This is so bad a--," Lt. Dolan said, of receiving the football and later getting to toss it around with his dad on the field.
"No," Jones replied. "You're the bad a--."