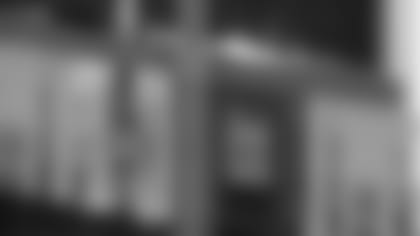 ]()
            Special sauce is making its way to CMGI Field, thanks to a 10-year, $21 million deal between the New England Patriots, McDonald's Corporation and the MAC Inc. Co-op (McDonald's restaurant Owner/Operators of eastern Massachusetts, Rhode Island, and New Hampshire).  

The agreement, announced Thursday, will make McDonald's the official quick service restaurant at CMGI Field. It will also be the first McDonald's restaurant inside the "bowl" of a National Football League stadium anywhere in the country.
There will be four McDonald's restaurants inside the stadium - one in each end zone and one on both the east and west sides of the upper concourse. The menu will consist of Quarter Pounders®, Chicken McNuggets®, McDonald's World Famous French Fries, and soft drinks will be available in order to provide quick service to the anticipated high volume of fans who will come to the restaurants in concentrated time periods. Approximately 125 new jobs are being created through the deal.
"We expect CMGI Field to be the most fan-friendly facility of its kind," said Patriots Vice Chairman Jonathan Kraft in a release. "We are emphasizing fast and friendly service from all of our concessionaires. McDonald's has been providing that service to billions of patrons for generations. By adding McDonald's to our concession options, we are giving our fans the most popular and most familiar fast-food service in the world."
McDonald's Regional Vice President John S. Lambrechts voiced pleasure over the partnership with the reigning Super Bowl champions.
"We are proud to be the first McDonald's restaurants in any NFL stadium in the country," Lambrechts said. "This is an ideal partnership opportunity for McDonald's. It allows us to work with the Kraft family and reach out to our customers in a new and exciting venue."
CMGI Field opens its doors to the public for the first time Saturday night when the New England Revolution hosts the Dallas Burn in Major League soccer action. A sell-out crowd of 22,000 fans is expected.
The largest privately-financed construction project in Massachusetts at $325 million, CMGI Field has generated more than 1,200 jobs. It will host a number of limited capacity events throughout the spring and summer, and when it is completed, it will be the largest outdoor entertainment venue in New England with a capacity of 68,000 seats. The first full-stadium event will take place on Aug. 17 when the Patriots host the Philadelphia Eagles in NFL preseason action. The grand opening of CMGI Field is scheduled for Sept. 9, 2002 when the Patriots host the Pittsburgh Steelers in the season premiere of Monday Night Football.
"On behalf of the McDonald's Owner/Operators in eastern Massachusetts, Rhode Island and New Hampshire, we are proud to be associated with a championship team and one of New England's most prominent business and philanthropic families," says Sid Boorstein, McDonald's Owner/Operator and MAC Inc. Co-op President. "We are looking forward to being on their winning team for many seasons to come."
There are 323 McDonald's restaurants throughout eastern Massachusetts, Rhode Island, New Hampshire and part of Connecticut serving more than 300,000 customers each day. Together, the independent entrepreneurs who own and operate area restaurants and the McDonald's Corporation employ nearly 16,000 people, purchase more than $166 million in goods annually from regional suppliers, and are collectively one of the largest employers in the region