PATRIOTS TE AARON HERNANDEZ
(On the first day of minicamp)
"It felt good. It's good to get back going and being with the whole offense. [It's] looking good."
(On dealing with injuries and moving parts at the TE position)
"I think we'll be fine. Obviously, you know [Rob Gronkowski] is going to come back strong and he's a hard worker and he's obviously freakish with his abilities. We're missing him out there, but obviously he'll be ready when we get back."
(On the 2010 draft class losing last offseason due to the lockout and experiencing his first full offseason as a veteran)
"My rookie year we had [a full offseason], but it hurt us last year and it's obviously good to get started early. I didn't get this far in shape until basically camp last year, so it's good to get a head start."
&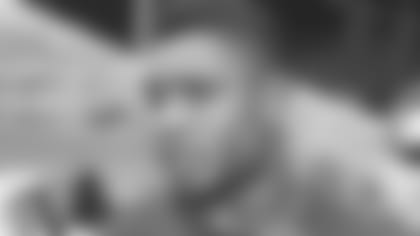 PATRIOTS RB STEVAN RIDLEY
(On if it's nice to go through the process of coming up in the NFL with Shane Vereen, a fellow RB from the same draft class)
" Absolutely. Like you said, to have a guy that you came in with. Shane is actually my next door neighbor, so not only is he a good teammate, but he's my neighbor. We spend a lot of time breaking down the playbook together, studying it together and trying to better each other. I'm running things off of Shane, Shane is running things off of me and we're really working together. It's a team concept here at the Patriots and that's what we need to continue to do if we want to be successful."
(On whether he has discussed the system and the Patriots organization with veteran running back and first-year Patriot Joseph Addai)
" I have. He's asked questions, but there's nothing that he hasn't learned pretty quickly here with Bill [Belichick] because it's pretty cut and dry here. There's one way to do things and we come to work every day. It's going to be hard and we're going to run after practice, and that's one thing that [Addai] says that we do more than anyone else is run. So he has learned that and adapted to that, but besides that it's all football and as players, we just try make it that and not try to make it any harder than it already is. We just have to go out there and be who we are as players."
(On the mindset at the running back position with Joseph Addai coming in and how the group sees the competition shaking out)
"[BenJarvus Green-Ellis] left last year and he was the main guy, so it's wide open. But what we're doing, we're not the ones who say who it's going to be; we're just trying to go out there and learn this playbook. That's all we're doing. We're not really focused on who's going to be the guy or anything like that; we're just trying to help each other out and learn together, because if we can all [learn] that playbook, then they can put us anywhere on the field and we can go out there and be successful. That's when we do better as a unit. One person is not going to get it done all the way through the season and we know that, so we have to be able to depend on everybody."
(On the first day of minicamp)
"You know, it went pretty well. We were able to get out there and really execute together and really work on some things. Overall, I think it was a good day. We still have a lot of work to do, but I think it was a good start for us."
(On if there is a difference between the work the team did it OTAs versus the work they did in today's mini-camp practice)
"Maybe a little more intense. It was a little longer practice, a little more intense. We're starting to kind of expand things a little bit and get a little more complicated and those different things. We're getting into a kind of game-planning mode and really understanding what we're trying to do as an offense."
(On the intensity of the wide receiver competition)
"It's very intense. We're out there every day competing and knowing that we got to get out there and get open and make plays. That's our job and we're all pulling for each other and at the same time we're out there competing and trying to win every time we're out there running a route."
PATRIOTS LB ROB NINKOVICH
(On the importance of personnel groupings at this point)
"It really doesn't matter at this point. It's kind of everybody out there trying to work together. Guys [are] playing all over the place just to get that team going together so everyone is communicating and on the same page."
(On Bill Belichick being in regular season mode)
"Oh yeah, he's always in top shape out there. OTAs, mini-camp, training camp, Week 12, he's always pretty good."
(On Trevor Scott)
"Trevor is a great player. He was in Oakland for a while; had a minor setback a couple years ago with an ACL. I think now he's feeling good. I'm happy to have him on the team; he's a good player."
(On how he likes the group)
"I like it. I think that [Dont'a] Hightower [is] obviously a great player, Chandler [Jones is] long, a good pass rusher. The more guys we have out there at the same time that can get after the quarterback and cover a little bit, it's always going to help the team out so it's exciting."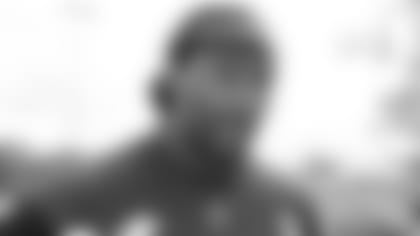 (On getting the call from the Patriots)
"I was excited. This organization is a great organization and a winning organization and I'm just blessed to truly be a part of it and I want to succeed here. Hopefully I can be here for a very long time."
(On his unique career path)
"I always laugh because I say, 'God has a sense of humor', and he gets a laugh out of me all the time. Even coming here, like I said before, I just landed in Mexico and I turned my phone on and my agent is like, 'Where are you at?' I'm like, 'Mexico, Cancun.' He's like, 'Well, you have to get back. The Patriots want to come in and work you out.' I grab my bag, find a flight to get back here and I get back at the wee hours of the morning and I'm ready for a workout the next morning. It's just another chapter in the book, something I can tell my kids and grandkids when I'm old and gray."
(On his game plan for making the team)
"Work my tail off – that's what my life has been all about. I've worked my tail off each and every place that I've been my entire life at everything I've done. One thing about hard work, it always pays off in anything you do, whether it's on the field [or] off the field, in life, in marriage, in relationships, being a friend, being a brother, being a mentor, whatever it is. If you work your tail off, success will find you."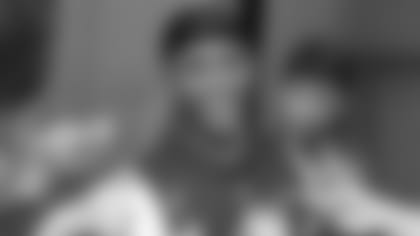 (On the bond between him and Stevan Ridley)
"I definitely think so because we're going through the same struggles on the field and off the field at the same time. Both of our heads were spinning 100 miles an hour last year. It's a very good bond between me and Stevan."
(On if he thinks he and Stevan Ridley complement each other)
"I do. I think we're both good backs. I think we both can do a lot of good things on the field. We still have a long way to go though."
(On if he feels it's his time)
"I think we need to look at it day-by-day. I think we need to take it one step at a time, one day at a time, one snap at a time even."
PATRIOTS CB KYLE ARRINGTON
(On if he's approaching this year differently)
"I think just as individuals and ultimately as a team, we're just trying to build on things we do well and improve on things we did not so well. It's the perfect time to work on our communication as a unit so we're trying to take full advantage of that."
(On what he's improving)
"Things here and there – little things. We all feel comfortable and confident at this level but it's the little things that ultimately get you to where you want to be as far as concentrating harder on techniques when you're tired, still focusing on little things like that."
(On if the wide receiver group provides a good test)
"I would say so. It's a pretty good bunch. They're a very hard working bunch and they don't make it easy out there. It's definitely good competition back and forth."