The Patriots completed their portion of media access early on Wednesday with Bill Belichick and Tom Brady leading off the proceedings with press conferences followed by the entire team being made available in an adjoining tent.
Both Matt Light and Sebastian Vollmer were present and accounted for after missing Tuesday's Media Day due to illness. Tight end Rob Gronkowski also had a large media contingent around him as he sat at one of the round tables.
Light said he was feeling better and said he was excited about practice, although he would not indicate if he would be taking part. When asked if he considered himself day-to-day, the always playful tackle replied, "I'm like Gronk, I'm just today."
The Patriots will practice later in the day with Alex Marvez of FoxSports.com serving as the AFC's pool reporter at the workout. We will post his findings as soon as they are made available.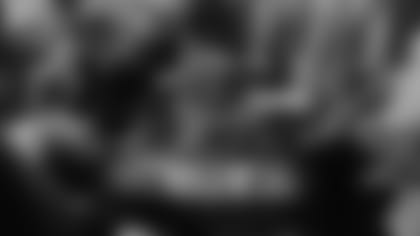 Belichick would not indicate if Gronkowski would practice but the tight end once again was without the walking boot on his injured left ankle. The coach would only say he was "getting better" and "we'll see what he's able to do today."
As for Vollmer, he would not confirm reports from Tuesday that indicated he would play, according to his offensive line coach Dante Scarnecchia. "I didn't read the script," said the tackle, who missed the previous seven games with back and foot injuries. He also deferred all playing time questions to Belichick and Scarnecchia.
Be sure to check back with Patriots.com for Marvez' update following practice.