Foxborough, Mass. - With eight weeks of the regular season in the books, the Patriots have had a good look at running back Corey Dillon.
Patriots head coach Bill Belichick was asked if there was anything surprising about Dillon, who the team traded a second-round draft pick to Cincinnati to obtain, that he has learned since the team acquired him in April.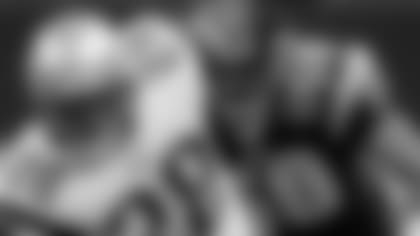 ]()"I would say he is a very consistent player," Belichick said. "Not having been around players, when you see him on Sundays that is one thing, which is all you would ever see a player who is not on our team. When you are with a guy every day, then you have a much better appreciation for his consistency or lack of it, if that is what it is. I think with Corey, the thing that has really impressed me with him has been his consistency. It has been every day. It has been every practice. It is pretty much every play."
Dillon has displayed that consistency on the field, rushing for 749 yards and four touchdowns on 154 carries. In seven games, he has eclipsed the total of last season's rushing leader (Antowain Smith led the team with 642 yards) and has four 100-yard games. Dillon is on pace for 1,498 yards, which would break his personal career-high (1,435 yards in 2000) and Curtis Martin's team-mark of 1,487 yards set in 1995.
"[His consistency] is something that I feel very good about and he has certainly demonstrated from the first day of training camp until yesterday's practice," Belichick said. "That is something that I think the coaches and his teammates all have a lot of confidence in. You know what you are going to get from Corey."
Dillon, who Belichick said leads the team in all-important yards after contact, has also made a strong impression among his offensive linemen.
"He's super explosive," guard Stephen Neal said. "He doesn't need very much. As soon as he sees that hole, he's gone. Like [offensive coordinator] Charlie Weis told us, 'As offensive lineman you better get out of the way, because he's coming.' He'll run into you. He got me one time, and it doesn't feel too good."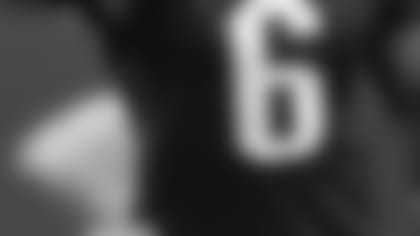 ]()Not Much Rohan** Much was made during training camp about the viability of third-year quarterbackRohan Daveyas the teams back up to starterTom Brady. It has been a non-story line since the season though, as Brady has taken every snap for the Patriots and Davey has yet to appear in a game. Davey has been listed as the No. 2 quarterback in every game this season, with veteranJim Miller the emergency third quarterback.
"Well, nothing has changed there," Belichick said. "It has been consistent and I would expect it to stay that way barring some unforeseen circumstances. I would never rule it out, but basically I see it staying in that direction."
Belichick added that Davey's progress is largely tied to the opportunities he gets in practice each week.
"He has to work through the situation that he has to work through," Belichick said. "[Brady] gets the majority of the snaps, more than the majority, most of them. [Davey] gets his opportunities when he gets them. He runs the scout team. He works with the receivers after practice and in individual drills. Things like that. It is what a normal backup quarterback gets."
Feeling Minnesota
Count Belichick as someone who's not taking the Patriots franchise-best 7-1 start for granted. When asked during his daily press conference what was the most gratifying aspect from a coaching standpoint of his team's record through eight games, Belichick didn't hesitate to point towards the Vikings' collapse during the 2003 season. Minnesota started the season 6-0, but went 3-7 over the final 10 weeks, including a last-second loss to Arizona in the season finale to be held out of the playoffs.
"It is a hard question for me to answer because I don't really look at it that way," Belichick said. "I think, being 7-1, we are in a decent position at this point in the season. That is not any absolute thing. Minnesota was 6-0 last year and they weren't even in the playoffs, so it doesn't really mean anything. How you win them, whether you win them 40-0 or whether you win them 13-12, you take a win however you can get it in this league and feel good about it. So, what is really on my mind is where the team is at now and how to move forward. Seven wins aren't enough, just like 6-0 wasn't enough for Minnesota."
Injury Update
Linebacker Mike Vrabel surfaced on the Patriots official injury report Friday. Vrabel, who is listed as "questionable" with a lower leg injury, missed a portion of team practice Friday and has a 50-50 chance of playing Sunday. Vrabel, who has started all eight games, is sixth on the team with 39 total tackles
The rest of the Patriots injury report remained unchanged from Thursday. Cornerbacks Ty Law (foot) and Tyrone Poole (knee) are listed as "out," while linebacker Matt Chatham (hamstring) and wide receiver Deion Branch are "questionable." All of the above players missed portions of team practice for the third consecutive day.
Cornerback Asante Samuel (shoulder), linebacker Larry Izzo (knee), and quarterbacks Brady (shoulder) and Miller (shoulder) remain probable.
Quick Hits
Patriots rookie defensive lineman Vince Wilfork, a close friend of Willie McGahee and a teammate for three seasons at Miami, knows what to expect of the Buffalo running back on Sunday. "I know what he can do, and I know what he's capable of doing. One thing I know is that we have to stop their running game or it's going to be a long, long night for us. That's our goal, to stop the running game." ... Patriots kicker Adam Vinatieri was named the AFC Special Teams Player of the Week for his performance in last week's 40-22 win over St. Louis. Vinatieri, who completed his first career touchdown pass on a 4-yard play to Troy Brown, connected from 43, 31, 45, and 36 yards. He currently leads all NFL kickers with 76 points. ... The Patriots have won eight consecutive games against AFC East opponents and are 17-3 in the last 20 divisional games. ... The cumulative record of the Patriots last eight opponents is 25-40 through eight weeks of the season. Only Baltimore (5-3) and the New York Jets (6-2) have winning records.