Foxborough, Mass. - While the National Football League made it a point of emphasis for officials to call the league's five-yard bump rule this season, Patriots veteran safety Rodney Harrison apparently is making it a point of emphasis to just play football.
After reviewing the 2003 season, the NFL's competition committee made it a point of emphasis this season to more closely call the official rules regarding illegal contact and defensive holding. Many in favor of the strictly enforcing the rule pointed to last year's AFC title game in which the Patriots used a physical style of play to shut down Indianapolis' passing attack in a 24-14 win.
Pittsburgh wide receiver Plaxico Burress feels the defending Super Bowl Champions are exempt from the rule the NFL has been so intent on enforcing this season.
"It don't apply to them, that's for sure," Burress told the Pittsburgh Post-Gazette Thursday, smiling all along. "They're arm-barring guys out of bounds, Ty Law's pushing guys 10-15 yards downfield, stopping in front of guys and bumping them when they're 20 yards downfield. So, I think it applies to everybody else but them."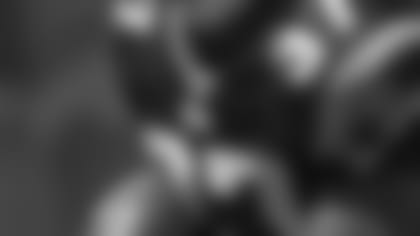 ]()Harrison responded Friday to the comments made by Burress, who further implied the Patriots are playing under a different set of rules in saying officials are "missing all the defensive calls" on the Patriots this season.
"He shouldn't worry about us," Harrison said. "He should worry about him. But he's the main one. All you have to do is watch the film. That's all you have to do."
Harrison took his version of the high road when asked about the comments. Clearly, he would rather have the talking done on the field Sunday when Burress is lined up against Law and fellow defensive backs Eugene Wilson, Asante Samuel and Tyrone Poole.
"Who cares?" Harrison continued. "Just shut up and play. That's what I keep telling these young guys. Just shut up and play football."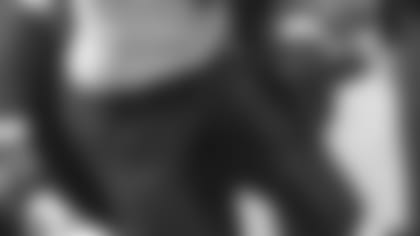 ]()No Rush for Cobbs** Patriots head coachBill Belichicksaid rookie running backCedric Cobbs, who was activated off the physically unable to perform list this week and practiced Wednesday for the first time this season, has quite a bit of ground to make up.
"Everybody is way ahead of him," Belichick said. "One, he's a rookie. Two, he hasn't been on the practice field. Everybody else is significantly ahead of him. He's studied hard; we've put a lot of pressure on him. It's one thing to go from the classroom or on film and another thing to do it in live competition or even in a practice scenario and then in live competition - that's another level. All that being said, he's certainly progressing. We see some things that look good and that we like."
Cobbs, who said running backs Corey Dillon and Kevin Faulk have been major influences, sees it as a blessing in disguise that he has been afforded more time to adjust to the NFL game. He missed all of training camp with a pre-existing injury and began the season on the PUP list, spending the first seven weeks of the season learning the Patriots offense and taking weekly quizzes about his assignments.
"I was coming off an injury, so that took time," Cobbs said. "Then coming back from not playing football, that also takes time to get into rhythm. I'm really comfortable with the way they're handling things and the situations they've put me in and keeping me on top of things. It's not really a whole lot of pressure as far as when I first came in, I felt the pressure because it was on me. Now, since I've been hurt and then [rehabbing], and just learning the system I got a lot more comfortable with it. I know it, it's just a matter of getting out there and doing it and performing it."
Injury Update
Dillon was added to the Patriots injury report late Thursday with a thigh injury and was listed as "questionable" Friday after the team reported he missed a portion of team practice. Dillon, who ranks fourth in the AFC with 537 yards rushing, was questionable with a foot injury leading into the game against Seattle two weeks ago before rushing for 105 yards and two touchdowns on 23 carries.
The rest of the injury report remained unchanged. Fullback Dan Klecko is out, while wide receiver Deion Branch (knee) remains doubtful. Cornerback Tyrone Poole (knee), offensive tackle Tom Ashworth (back), wide receiver Troy Brown and running back Patrick Pass (thigh) are all listed as "questionable." The Patriots reported that all of the above players missed a portion of team practice Friday. Quarterbacks Tom Brady (shoulder) and Jim Miller (shoulder) are again listed as "probable."
Quick Hits
Trick or treat? Sunday will mark the third time since 1993 and the seventh time overall the Patriots have played on Halloween. The Patriots are 2-5 all-time on Halloween, with all games coming on the road. ... Belichick was asked again Friday about the status of injured wide receivers Brown and Branch. "They're each getting better every day," he said. "That's kind of a day-to-day thing with them. When they're ready, and the medical people feel they're ready, then we'll make a coaching decision as to how effective we think they'll be given where they're at." ... Belichick reiterated Friday that the team will rely on several players - which could include running back Rabih Abdullah and tight ends Daniel Graham and Christian Fauria - to fill the void left by the injury to Klecko. "It doesn't alter it too much because there weren't really that many snaps when Klecko was on the field. Somewhere between the tight ends and our other backs, somebody would have to assume that. There are a number of different ways we can do it." ... Belichick placed a phone call to Red Sox manager Terry Francona during the MLB Playoffs. "[I told him] that I thought he had done a great job, that it was going well and that there was a lot of support here from me and the rest of the team to the Red Sox and to say hello to a lot of the guys that we all know and have relationships with there. It wasn't any big hit and run strategy or anything."