Pittsburgh, Pa. - To say that the New England Patriots are thin in the ranks is an understatement. The injury depleted Patriots, playing without several starters against the Pittsburgh Steelers, lost several more players during Sunday's 34-13 loss at Heinz Field.
The Patriots took the field Sunday without running back Corey Dillon, offensive tackle Tom Ashworth and cornerback Tyrone Poole - three starters who were questionable on the injury report Friday but ended up deactivated prior to Sunday's game due to injuries. They lost several others to injury during the game - including left tackle Matt Light and cornerback Ty Law - leaving the team dangerously thin at several positions. Things got so bad for the Patriots that rookie defensive back Randall Gay - Law's replacement - even had to be taken off the field at one point during the third quarter.
"We did the best we could with who we had," head coach Bill Belichick said after the game. "We had problems everywhere, it wouldn't go to one particular spot."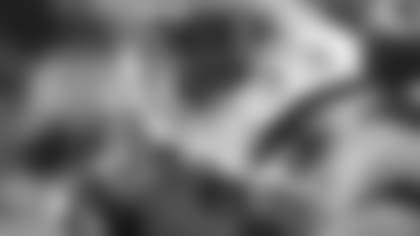 ]()The Patriots were most noticeably hurt by the loss of Dillon, who surfaced on the injury report with a thigh injury on Thursday. He was then downgraded to questionable on Friday before he was scratched leading up to the game. Dillon, who ranks sixth in the NFL with 637 yards rushing entering the week and has two 100-yard rushing games, missed his first start this season. Kevin Faulk started in the place of Dillon, rushing fives times for four yards and catching a team-high eight passes for 72 more yards.
Without Dillon, the Patriots finished with five total yards rushing against the Steelers - the second-lowest total in team history.
"Whether Corey [Dillon] is in there or not in there, we still expect to execute our game plan," quarterback Tom Brady said. "At that point, you have to go with the guys you have. We just didn't play the way we're capable."
New England was hurt by the loss of two other starters - Ashworth and Poole. Ashworth, who originally appeared on the injury report two weeks ago, started and played in last week's 13-7 win over the Jets. Sunday was replaced in the lineup by fourth-year tackle Brandon Gorin, who made his first NFL start. Poole missed his second consecutive game with a knee injury and was replaced by Asante Samuel. The second-year cornerback made his second consecutive start and fourth of his career - three of which have come this season -finishing with three tackles.
Things became worse on the injury front after the game started when cornerback Ty Law left the game midway through the first quarter with an apparent left foot injury and was replaced by Gay. Law, matched up with Steelers receiver Hines Ward on Pittsburgh's third possession, was injured after he bumped the receiver and turned around to his right to drop into coverage. Law immediately left the game and did not return.
"Ty Law is Ty Law," safety Rodney Harrison said. "He's a Pro Bowler. He's the best cornerback in the league, so when you lose him it hurts. It definitely made a huge impact on the team, but we can't make excuses. We have to go with the weapons we have."
Gay, matched up with Pittsburgh's Plaxico Burress two plays later, was beaten for a 47-yard touchdown. He was then injured himself during the third quarter and had to be helped off the field. Starting free safety Eugene Wilson switched to cornerback for several plays in place Gay, who later returned. Gay finished with four tackles and one pass defended.
To make matters worse, starting left tackle Matt Light left the game late in the third quarter when the wind was knocked out of him. Gorin moved to left tackle, while starting right guard Stephen Neal slid over to right tackle and Russ Hochstein came in at right guard. Light did not return in the fourth quarter.
"You have to play football," receiver Troy Brown said. "Everybody on this roster is here for a reason, to come in and play. It's football, people get hurt and you never know when it's your time to come in and play. Not having those guys is no excuse at all."
]()Ground Struggle** The improving New England run defense turned vulnerable Sunday. The Steelers punished the Patriots for 221 yards on the ground, easily the most surrendered to any opponent this season.Duce Staleyled the way for Pittsburgh, rushing 25 times for 125 yards while doing most of his damage through the first three quarters.Jerome Bettis was also effective, rushing 15 times for 65 yards and a touchdown.
The Patriots, who allowed 202 yards rushing against Indianapolis in the season opener, had allowed 92.6 yards rushing per game over the previous five games - all wins. Staley became just the second back to top the 100-yard mark - Edgerrin James recorded 142 - after the Patriots had limited the Jets' Curtis Martin (70) and Seattle's Shaun Alexander (77) the previous two weeks.
The Last Word
Sunday marked the end of several franchise records for the Patriots. For starters, the Patriots record-setting winning streak of 18 straight regular-season games and 21 consecutive games overall came to an end. The Patriots hadn't lost in more than a full calendar year, with their last loss coming on Sept. 28, 2003, when they dropped a 20-17 decision to the Washington Redskins. The streak was the longest in the 85-year history of the NFL, topping the 17-straight wins recorded by the 1933-34 Chicago Bears.
The Patriots had also won seven straight road games, dating back to Week 4 of the 2002 season and the loss to Washington at FedEx Field. Sunday's loss also marked the first time in 22 games that the Patriots failed to record a takeaway.
Browns Makes ReturnThe Patriots got their first extended look of the season at Brown Sunday. Brown saw his first action in a month, finished with five receptions for 59 yards. The 12-year veteran, who did not play the first two weeks of the season because of a knee injury, suffered a shoulder injury in Week 3 against Buffalo and missed the next three games. Brown, who played primarily as the third receiver against Pittsburgh, has six receptions for 65 yards this season.
"I came in expecting to play well, I didn't start off too hot but I had a chance to come in and make some plays," Brown said. "I just couldn't make enough."
Klecko placed on IR; Cobbs makes debut
The team announced prior to the game it placed Dan Klecko on the injured reserve list and activated rookie running back Cedric Cobbs to the active roster. Klecko was injured during the fourth quarter of last week's win over the New York Jets when he was hit by John Abraham following a reception. Klecko, a fourth-round pick in 2003 who has made a successful transition from defensive lineman to fullback, had to be helped off the field. He finished with three receptions for 18 yards while used mainly as a specialist in short-yardage situations.
Cobbs saw substantial action in his NFL debut - mostly in the second half - finishing with one rushing attempt for one yard. He began practicing earlier this week after he was activated from the physically unable to perform list. The team's second of two fourth-round draft picks, Cobbs missed the first seven weeks of the season and had yet to practice with team.
Not A Strong Start
Through the first six games, the Patriots had allowed just 10 total first quarter points. The Patriots allowed 21 first quarter points against Pittsburgh - 14 of which came off turnovers - to trail 21-3 at the end of the quarter.
On The Board
Adam Vinatieri's 43-yard field goal in the first quarter not only gave the Patriots an early 3-0 lead, but continued their streak of scoring first. The Patriots have scored first in 12 straight regular-season games and 15 games overall including the playoffs.
Game Day Inactives
The Patriots deactivated eight players for Sunday's game: Dillon, Pass, Poole, Ashworth, defensive linemen Marquise Hill and Ethan Kelley, and wide receiver Deion Branch. Jim Miller was named as the emergency third quarterback.
Quick Hits
Sunday's attendance was 64,737. The mark set a franchise record for Pittsburgh, eclipsing the previous mark of 64,704 set against New England, and was the largest since Heinz Field opened in 2001. ... Tight end Christian Fauria started as the Patriots began the game in a two tight end set on offense. ... Sunday marked New England's seventh game all-time on Halloween. The Patriots fell to 2-6 overall in those contests, all of which have come on the road. ... Quarterback Tom Brady completed 25-of-43 passes for 271 yards with two touchdowns and two interceptions. ... Safety Rodney Harrison led New England with a game-high 18 total tackles, setting a new career-high. Linebacker Ted Johnson registered 10 tackles. ... David Givens had a game-high 8 receptions for 101 yards and two touchdowns. ... Belichick was asked if he could take anything positive out of the loss. "No. We got beat. We got killed." ... Pittsburgh held a 42:58 to 17:02 advantage in time of possession.