RICHMOND, Va. -- In one of those sound bites you hear from Bill Belichick from time to time he says, "It's training camp, it's supposed to be hot."
Well then Tuesday's joint practice with the Redskins at the Bon Secours Training Center certainly lived up to expectations as the teams pounded out a marathon workout in near-90-degree temperatures. Afterwards players admitted that the length of the near-three-hour-workout and the hot, humid, sunny conditions tested not only conditioning levels but also mental toughness.
From a Patriots perspective, New England once again put forth impressive efforts and production on both sides of the ball. Tom Brady, in what he said was one of the longest practices he could ever recall, once again carved up the Redskins defense with regularity. That was especially the case in no-huddle and red zone work where he got nice production from Danny Amendola and Brandon LaFell, while Julian Edelman continued to shine bright like the sun.
Defensively Vince Wilfork got the energy rolling with an early interception off a screen pass that was batted around a couple times before it landed in the big defensive tackle's deceptively-soft mitts. Jerod Mayo also had a big day, getting pressure on Robert Griffin III up the middle on a couple of occasions and then dropping Alfred Morris with a big hit in late team action, dislodging the ball after a short crossing throw from RGIII. Patrick Chung had his own big hit on the goal line, while Chandler Jones flashed at times in the pass rush, particularly in some sub reps off the left edge.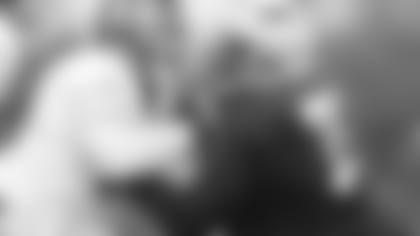 Overall it was another sound day of work as the two teams battled each other and the heat as they build up toward Thursday night's preseason opener.
Beyond the hot temps and the hot play, here are one man's blazing blogservations from field level in urban Richmond:
--A total of 12 players did not take part in the practice for the Patriots. That included Aaron Dobson (foot/PUP), Jeremy Gallon (unknown/PUP), Dominique Easley (ACL/NFI), Chris Martin (unknown/NFI), Jemea Thomas, Tyler Gaffney (knee), Brandon Bolden, Cameron Gordon, Michael Hoomanawanui (leg), Ja'Gared Davis, Braxston Cave and Rob Gronkowski.
Davis was a new addition to the list after limping off with an apparent leg injury during the latter part of Monday's practice.
Jake Bequette was a full participant in Tuesday's practice after spending some time with the rehab group on Monday.
--Sealver Siliga was attended to by the medical staff during Tuesday's session.
--DJ Williams got rolled up on blocking at one point and limped off.
--The heat seemed to affect a number of players late in the workout. Darrelle Revis walked off seemingly a bit gingerly and drank water on the sidelines, while Brandon Browner did not take part in the team's conditioning runs to close out the session. Neither seemed to be much of a concern, though.
--The punt and punt return teams were the focus in the kicking game, with each side getting a lot of reps early on. Nate Ebner continued to take the first reps at personal protector in front of Ryan Allen. Allen put forth a number of very impressive high, booming kicks. Logan Ryan, Justin Green, Josh Boyce, Daxton Swanson, Travis Hawkins, Brian Tyms and Malcolm Butler were among those taking reps at gunner in early drills.
--When thing got flipped and the return team came on Edelman, Amendola and Roy Finch worked as the returners. The guys getting work in the vice spot, with a new-look stacked blocking scheme, included Ryan, Hawkins, Butler, Derrick Johnson, Green, Shamiel Gary, Tavon Wilson, Swanson, Kyle Arrington and Chung.
--With the Patriots dressing at their hotel and arriving at the facility carrying their equipment, there were a couple jersey snafus early on. Tommy Kelly was warming up with no jersey on and actually took a few reps on the defensive line wearing No. 49 before he finally got his traditional No. 93. Duron Harmon took a few plays wearing No. 53 before switching to his usual No. 30.
--Belichick spent some time chatting with Redskins owner Daniel Snyder between the two practice fields early on during the session.
--There was an entertaining segment of 1-on-1s early with the Patriots defensive backs against the Redskins receivers. Brandon Browner held his own in a couple battles with the much quicker DeSean Jackson. Browner certainly uses his length well to either stay in plays or get back in them when some separation occurs. Overall the Patriots did a fair job in the drill, even having decent coverage on some completions they allowed. Ryan Grant did leave Green in the dust on one particularly poor play. Green was a surprise guy last summer in camp, but has not been nearly as impressive this time around.
--Butler continues to get plenty of reps in camp, although he's had some serious ups and downs in that action. He saw some work with the top unit in early 11-on-11s on Tuesday focusing on the passing game.
--The front line in the 3-4 in early team defense segments had Wilfork on the nose with Kelly at left end and Chris Jones on the right side.
--The Patriots defense got toasted for a big play in the drill on a screen to Evan Royster. Screen passes were a problem for the New England defense a year ago and players have openly talked about needing to improve in defending the play this summer.
--On Monday Chandler Jones stayed with the linebackers and defensive backs for 7-on-7 work. Today it was Michael Buchanan who stayed with the skill defenders to get those reps against the passing game, while Jones was down with the defensive linemen working on 1-on-1 pass rush drills.
--A day after really struggling, RGIII was a bit more decisive and productive in the passing game against the Patriots defense. But the third-year player still took a number of would-be sacks and pulled the ball down rather often. Those can obviously be productive plays, but the fluidity of the Washington passing game stills seems a bit disjointed. Certainly the Patriots defense gets plenty of credit for that.
--It seems worth noting that Darrelle Revis appears to wear traditional soccer cleats rather than football cleats on the field. I can't remember another player, other than a kicker, that I've seen wear soccer cleats on the football field. It might make sense, though, as the cornerback position probably requires some of the same change of direction and lateral movement that is key in soccer. Soccer cleats are also generally lighter than their football counterparts.
--Snyder actually roamed the sideline between the two practice fields at various points throughout the workout.
--There continue to be a lot of different safeties earning reps next to Devin McCourty as well as a number of different combinations of safeties working together in various groups. That saw Hawkins and Ebner together, Wilson and Ebner together. Higher reps saw McCourty with Chung and Harmon. I continue to say that the rotational reps at safety are unlike anything I've seen before at any other position in camp over the last 10 years or so.
--Watching from the sidelines of the field, reporters can easily hear what the fans are saying. Some Redskins fans seem to get pretty annoyed with RGIII when his plays break down or he fails to deliver the ball in a timely fashion. "It's like he don't know what he's doing," said one particularly agitated Washington fan.
--Finch and LaFell got punt return reps backed up against their own goal line later in special teams action.
--The top offensive line had a different look on Tuesday. It included Nate Solder at left tackle, Logan Mankins at left guard, Dan Connolly at center, Josh Kline at right guard and Marcus Cannon at right tackle.
--Brady was under more pressure on Tuesday, including at least one play blown dead by Belichick for a would-be sack against a pretty impressive Redskins front.
--Shane Vereen continues to get the bulk of the early reps in passing situations and no-huddle work. He didn't have his best day on Tuesday, though, with a couple drops.
--New England worked on some two-point conversion plays after the hurry-up drill found the end zone on an Amendola touchdown. Brady had to throw one away far past the back line of the end zone. He rolled out right on another player but threw incomplete.
--NFLN's Mike Mayock was once again on the practice field and doing live hits from Richmond during the practice.
--Rookie Zach Moore was in the middle of the Patriots sub defense in passing downs, playing the nose. The rookie didn't seem to have much success rushing from that spot, though.
--Mayo has spent a lot of time rushing up the middle the last couple days and has had some success getting home. He went untouched for a would-be sack on RGIII on Tuesday.
--Revis and Jackson saw plenty of each other during the practice. Jackson had a few short catches in the matchup. Revis had him blanketed, though, on a deep ball from RGIII.
--Wilson Van Hooser had another tough day. He wasn't on the same page as Ryan Mallett on one throw down the seam, a bullet that the quarterback may have been looking for a back shoulder play on. On the next snap the rookie had a bad drop crossing the field.
--The second offensive line included Sebastian Vollmer at left tackle, Jordan Devey at left guard, Ryan Wendell at center, Jon Halapio at right guard and Cameron Fleming at right tackle.
--Mallett tried to find Boyce on a deep throw down the right sideline in team action, but the second-year receiver once again showed a lack of ability to find an extra gear and go after the football. His deep abilities/awareness seem to be lacking.
--A second defensive line in passing situations included Bequette, Chris Jones, Will Smith and Buchanan from left to right. Smith hasn't gotten a ton of high level reps in camp, certainly in the last couple days. Will be interesting to see how the veteran addition fits in as the preseason rolls on.
--Chandler Jones has had a lot of energy throughout camp, including on Tuesday. He seems to celebrate with a playmaking teammate after every play, whether it be in the front-seven or the back end.
--Mayo was in mid-season form on field goal block, calling a timeout just prior to a Washington attempt. The Redskins hit the kick both before the timeout and after.
--The Redskins have the offensive line spots and running back landmarks for various inside and outside runs painted on the practice field in one of the end zones. Many team use what is called a spacer for these types of drills, but the Redskins way shows the exact path the running back takes from his spot in the backfield to the hole on each type of run.
--The Patriots defensive linemen didn't have a ton of success in 1-on-1 pass rush drills with the Redskins offensive line. The few highs included Ninkovich owning Tyler Polumbus and Chris Jones doing well in a couple different matchups.
--Matthew Slater had his most active practice since coming off PUP. The veteran took part in some passing game drills against the Washington defensive backs.
--The Redskins announced an attendance for the practice of 21,665 fans who came out despite the oppressive heat and scorching early sun.
--Vollmer took a number of reps as an extra blocking tight end with the top unit.
--Rookie Taylor McCuller continued to play both ways, seeing action at fullback and inside linebacker with the third-team units. He says he's getting used to the quick jersey change – from No. 48 in white to blue and vice versa – on the fly during practice.
--Amendola had maybe his best practice of the summer, catching seemingly everything Brady threw in his direction for plays in a variety of drills and 11-on-11 action. At one point he caught a pass in the back right corner of the end zone and ended up tangled up under the rope in the fans near the field. It took him a bit to get up and then he tapped out and went to the sideline. He didn't have any apparent lingering issue after practice though.
--Steven Ridley had an impressive second-effort touchdown run in the red zone in which he broke a number of tackles on the way to the score.
--Brady threw a touchdown to LaFell late, with the receiver showing strong hands on the zipped throw.
--Boyce also failed to haul in a throw from Mallett crossing the back of the end zone.
--Asa Watson caught a touchdown from Mallett, another crossing throw with nice zip on it.
--Justin Jones and Devey had to run penalty laps for false starts late in 11-on-11 action.
--Jimmy Garoppolo threw a pick-six to Redskins cornerback Bashaud Breeland on the very first rep in third-team 11-on-11 action.
--While watching Mayock do a live hit for NFLN, I overheard him say that the Patriots three linebackers may be as good as any linebacker group in the league. While the likes of Mayo, Dont'a Hightower and Jamie Collins have high potential, I'm not sure they're among the league's best groups just yet.
--A young boy was wearing a Brady jersey near the end zone of one practice field. Redskins safety Ryan Clark was coming over and asked the boy how he could come to practice wearing a Patriots jersey. The boy quickly changed into a Clark jersey that he apparently had at the ready. It was a funny sight to see unfold.
--Players talking to the media after practice included Tom Brady, Taylor McCuller, James Develin, Julian Edelman and others.
--The Patriots have taken to doing one large circle of team stretching at the conclusion of practice, before breaking up into position groups to end the sessions completely.
--New England and Washington will return to the practice field Wednesday morning at 8:35 a.m. for the final joint practice session of the week.